The concept of international SEO and its related strategies may appear to be a foreign one on the surface, but it is likely that you are more acquainted with it than you are aware.
Consider international SEO to be a variation on geotargeting, except that instead of optimizing your site to get traffic from your state, you are optimizing it for visitors from different countries and different languages.
Devising international SEO strategies is an advanced SEO topic. Do not read this post before going through our basic SEO course if you are a beginner.
What exactly is international SEO?
International SEO is tweaking your site in a way that search engines might understand who you want to target and what your business operations are.
If you are running a simple blog where you talk about local news or topics specific to your country only, then this topic is of no good use to you. You can skip this post.
When your business is international and you deal with both local and international clients, it's time you increase your reach. No better way to reach more audiences than search engines.
To do this you don't have to travel internationally and spend huge amounts. Thanks to the internet, you can just browse Google or Youtube and learn more about the country you are targeting.
Once you learn about your next target country, you need to make changes to your website. These changes will be helpful for both Google bots and visitors from that specific country.
This is what we call International SEO. It is confusing, technical, and a little difficult. Because it also involves local keyword research.
Let's dive into the steps for making your next international SEO strategies.
Performing International Technical SEO
A major part of international search engine optimization is its technical part. It doesn't have to be complicated but needs to be done right.
You can either build a completely new website for your target country. This can include a different language too. A completely new design.
Some languages are written from right to left. For example, the Arabic language. So a completely new design is helpful in this case.
But the problem with this is that a completely new SEO strategy has to be worked on for a new website. Because this is a new website in the eyes of Google crawlers. One of the drawbacks of search engines.
The best way to go for a new country target or a new language is to go with subdirectories on the existing website. This is done by creating new subdirectories for the target country and redirecting users of that country to it.
Let's go over the three methods before we dive into more details of our recommended way of international SEO strategies.
Creating new CCTLDs
In this way, you create a new domain with a country-related cctld. For example, underwp.fr, if ever we wanted to target France. Underwp.it if we wanted to go to Italy.
This is the same as Google. Google has its own CCTLD domain for almost every country. Try for yourself, go to google's homepage and search for the Settings option at the right bottom of the page.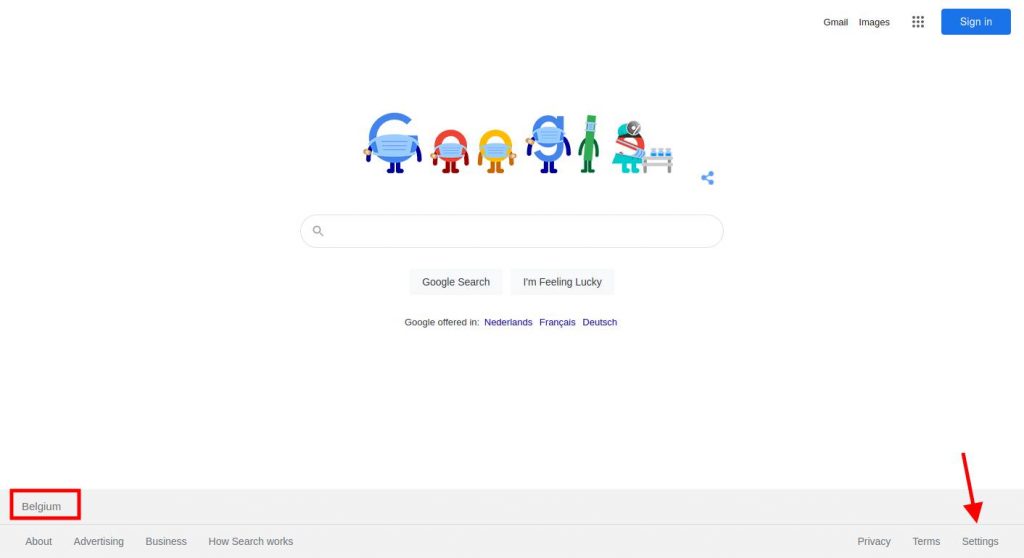 Select search settings and you will land on this page.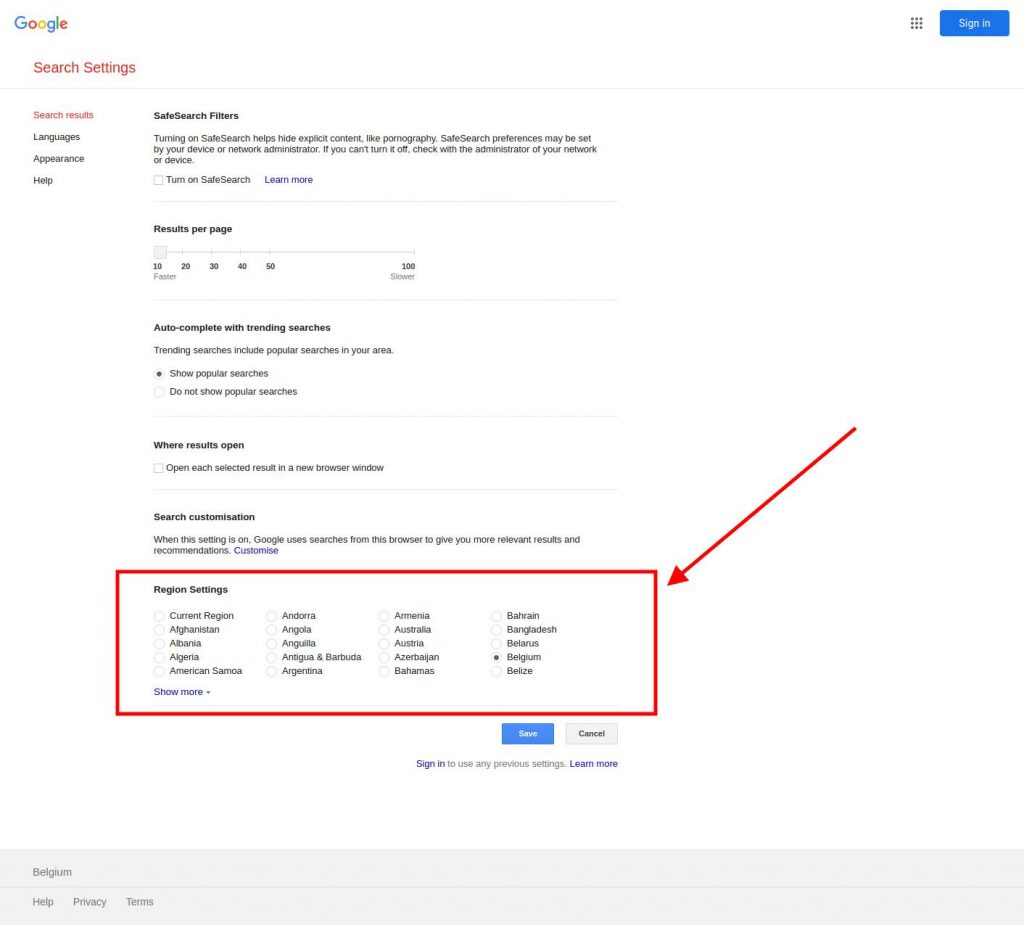 Now select any country and it will take you to the respective page of Google. Google is a step ahead now. It won't redirect the domain but only the country page. An advanced concept for webmasters.
But we learn from the masters that each domain carries its own importance in the eyes of search engines. If done right global SEO, this will result in increasing the authoritative score with search engines.
This type of strategy is perfect for businesses that plan to target 2 or 3 countries. But if you are targeting more countries, we wouldn't suggest this way as it will involve a huge technical work to be carried upon.
In terms of SEO, a huge number of strategies have to be placed and link building campaign on a large scale should be performed. Good for companies with huge digital marketing budgets but not for regular websites.
Creating New Subdomains
This method uses gTLD (generic Top-Level Domain) with a country code subdomain. For example: fr.underwp.com for France or it.underwp.com for Italy.
This option is the next best option after our recommended way which we will discuss next. This sends the right signals for search engine crawlers to categorize the website for specific countries or languages.
This way of creating subdomains is also helpful in managing hosting and its files without any complex architecture. Easy to set up and manage makes this option user friendly.
The only point which keeps us from doing this to our clients is that in recent years, search engines have started to give less importance to subdomains. It is almost the same as creating a new domain.
A new subdomain is treated as a new domain when it comes to SEO. For example, every new blog on Weebly or Tumblr has its own value. They don't carry the same SEO value as the subdomain.
Gone are the days when subdomains used to have the same SEO value as the main domain. This makes it of the same value as the previously discussed topic of new CCTLD's.
Creating Subdirectories
Subdirectories are the country or language-specific directories created on your server to serve the respective content. For example: underwp.com/fr for France country or underwp.com/ae for UAE country.
There are many benefits of this structure as it does not show that it is a new CCTLD or subdomain. It shows the search engine bots that it is the same domain with different content. Also looks like a regular post or page URL on your website.
This is a very good choice in terms of SEO too. You can build links to one domain and different URLs which can include these subdirectories. For each country, a specific subdirectory can be created.
Each subdirectory can have its own design and language too. It is easily manageable from one platform like WordPress with the use of plugins.
Some WordPress plugins also help in creating these subdirectories without actually creating a real subdirectory on the server. They are created using .htaccess rules or PHP techniques.
Subdirectories SEO is easy to build with only a few strategies rather than starting from scratch. This is because the main domain already carries the SEO weight and subdirectories just add more SEO weight to the main domain.
Hreflang Tags
Whether you go with any of the ways for creating a new page for your international audience, there are some other important concepts which we will discuss from here on.
These tags are important in cross-referencing pages with similar content for different audiences. It describes pages as same but for different target people based on country or language in HTML terms.
An example of hreflang tag is:
<link rel="alternate" href="https://www.underwp.com/ae" hreflang="en-AE" />
This hreflang says that the link to people from UAE can be found at https://www.underwp.com/ae
This page can be used to index in Google's AE search engine. The same will be reported in the sitemap of the website.
The X Default Tag
As the name suggests, this is the default tag which says to the search engines to fallback on this if no related country or language hreflang tag is found.
This tag is very helpful and considered among the best practices of technical SEO for any website. It says that if a visitor's country link is not found, then default them to this address.
An example of X default tag is as follows:
<link rel="alternate" href="//underwp.com/" hreflang="x-default" />
As you see from the above link, when you specify the hreflang with "x-default" value, any visitor from outside of the specified scope of languages or countries will be redirected here.
Meta Content Language Tags
With hreflang values, you can specify only the country for your website visitors. And with meta content-language tags you specify the language of the visitor.
The meta content-language tag indicates the written language of the content of the page to search engines. Which helps to classify the pages based on languages for each user in the search engine.
An example of meta content-language tags is:
In the above tag, we are saying the bots that this page content is written in French language, so it is useful for French people.
This is also a good practice of SEO. Always specify a language for your website and new international website.
Adding Scema Markup
Schema markup carries a lot of SEO points for any website. Optimizing and maintaining your schema markup file increases your website value for search engines.
With schema markup you show the search engines what your website is about and what content it has. This is recognized by every search engine on the internet.
Specify about your business and target countries in the schema markup. Also languages and its related subfolders or subdomains can be specified here.
Adding proper schema markup to your website increases the chances of SEO rankings. Google shows rich snippets from websites based on their schema markup values.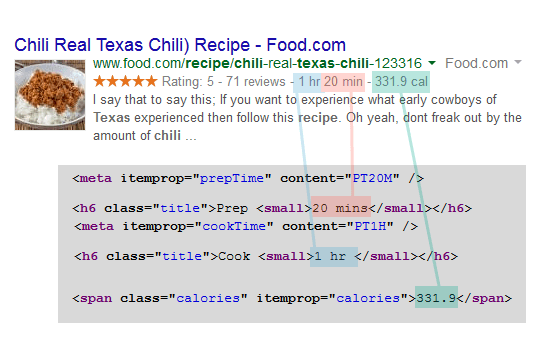 Microdata in schema markup is valuable in terms of SEO. Adding this microdata is not an easy task. When you have a website with a huge number of pages, it becomes more difficult.
We have discussed many tools in our SEO tools post here: https://underwp.com/free-seo-optimization-tools-google-loves/ . Check this post and you will find a couple of tools which can help you with schema markup of your website.
How To Optimize For International SEO Strategies?
Optimizing your website for international visitors and bringing it on top of the respective country's search engine is called International SEO. Local keyword research, competitor analysis research, and international link building are the main parts of it.
Now below we will be discussing about these main topics and a few more important for your international search engine optimization.
International Keyword Research (Local Keyword research for specific country)
Using literal translations of your ranking keywords in a different language does not give same results in the search engine. So the first step is to find proper keywords in target language for which you want to rank.
There are many tools that can help you do this. Check out the keyword research part of our SEO tools loved by Google post here: https://underwp.com/free-seo-optimization-tools-google-loves/
Our favorite tool is the SEMRush keyword research tool for this. You can add many countries or languages side by side and compare too. Also possible to do this in their Free trial accounts.
International Competitor Analysis Research
If your business is product related, we suggest you do this step before anything else. This should be done the moment you think about going international with your business.
Analyzing the target market is best done with the analysis of your competitors. This will show you the direction which you need to take to compete with others.
Thankfully Google has got a tool that can help you do that. It is called Market Finder, part of the Think With Google tools. https://marketfinder.thinkwithgoogle.com/intl/en_gb/
Make sure you do a very detailed study of the top 3 competitors of your business. Everything related to their strategies, keywords, backlinks should be noted down.
One of the major help you get from market research is targeting the right keywords. Check your competitors top ranking keywords and start building your website pages around them.
Then go for low competition-related keywords and start pushing more content towards them. And with the right internal structure and backlinks, you should be on par with those competitors.
International Link Building for SEO
The most essential part of any SEO strategy, link building. The technique which can bring up or down your website in search engines.
If you are planning to go with new CCTLDs or subdomains for your website, make sure to have an elaborate SEO link building plan. Because it is going to take time and proper strategy to build a new domain SEO value.
Link building will help your website rank higher in search engines, If content is the King, according to Bill Gates in his famous interview from 1999, then link building is the Queen I say.
Link building will bring your website on top of search engines and increase it's domain authority. This will get you relevant traffic to your website and help you increase your sales.
Building links in a different language for your target country can help boost your rankings in a short period of time. Also the same if the links are coming from country-specific TLDs. Make sure to keep this tip in your SEO plan.
Our SEO Link building service is a popular one among our clients where we built links for different businesses from various countries. Our team custom design's a SEO plan for every new client and get the maximum results for all our clients.
Check out our link building service here: https://underwp.com/seo-link-building-service/
Adding Your Business To Google My Business
By adding your business to Google My Business, it becomes easier for the Google bots to start tracking your website for that specific country. It also increases your brand's reputation.
These days Google shows local businesses on top of the websites for local product/service keywords. When you are added to it, the chances of ranking higher increase.
You can also specify your new website or page in these local business settings. This is helpful for visitors to directly get to the target country page.
Plus when the search engine users see location on the map, it increases the trust value of your brand. Your business is not just a website but a real located office.
Another alternative to Google My Business is Bing Places. It is almost similar to Google's alternative. Works pretty well in some countries.
Final Words
What we have written here should be good enough to get started with your next Internation SEO plan. We have covered all the basics for it.
To get more advance tips and consultation, our support inbox is always open and welcomes all queries. We would love to help you out with your International SEO strategies. Because it is more difficult when you work on it than just read on it.
So get going now and start your international SEO adventure and let us know in the comments below if you found anything interesting and share it with our readers.