The two popular search features of Google have featured snippets and People Also Ask. You can be part of these two features and generate traffic to your website without even ranking on top spots of Google.
The featured Snippets feature of Google is the most popular one followed by the People Also Ask. We have found in our experience that people click on websites that answer their questions in the People Also Ask tab.
When searchers find a question that they want the answer to, they click on the website that is providing this answer and read more details about it. This is why the chances of getting higher targeted clicks are possible with these two features of Google.
Today we will learn how to find gaps in Google's People Also Asked feature and get ourselves into them. Also helpful to beat your competitor's SEO strategy.
Discover What People Are Asking About
Google's People Also Ask questions is also called Google PAA in the digital marketing circles. These PAA's help you find related topics to your keyword content.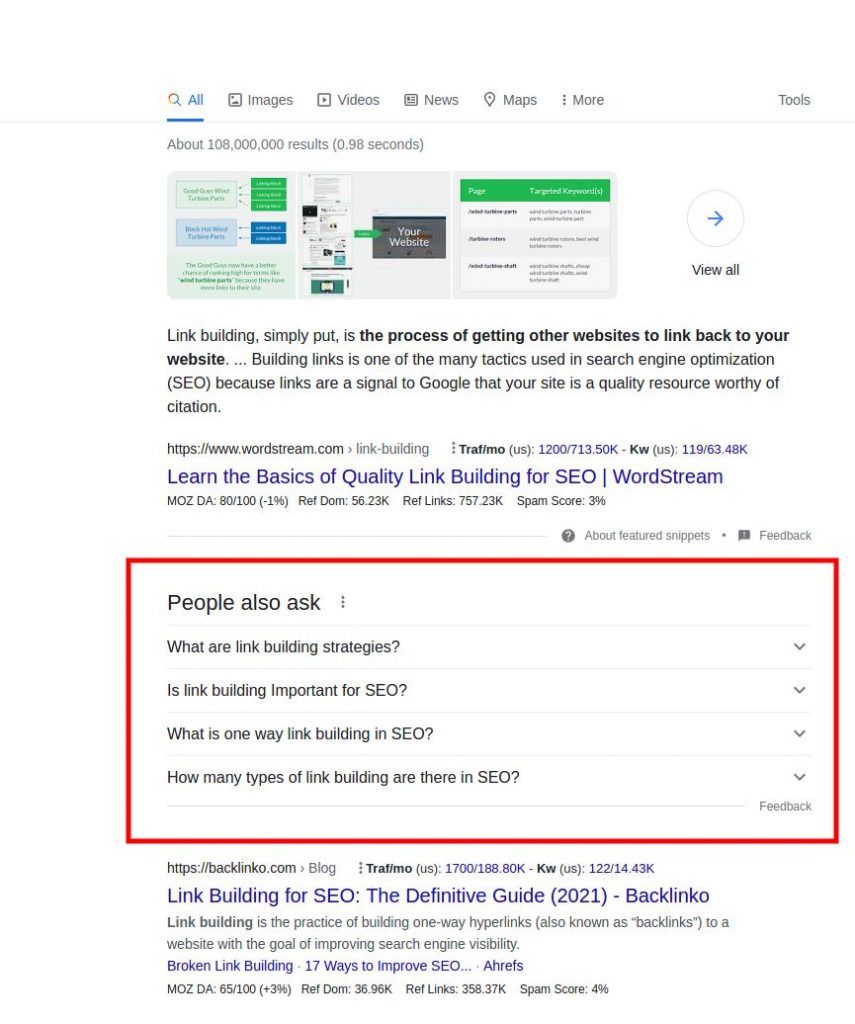 To find what people are asking about related to your keyword, website, or topic, we will use the Semrush SEO tool. This tool has features that help you find gaps in PAA and also help you optimize PAA.
Unfortunately, the filters we are going to use in Semrush are paid features. These filters can be used either for your own website or to research your competitor's ranking.
Semrush Tool For PAA Gaps
Step 1: Log in to your Semrush paid account.
https://www.semrush.com/login/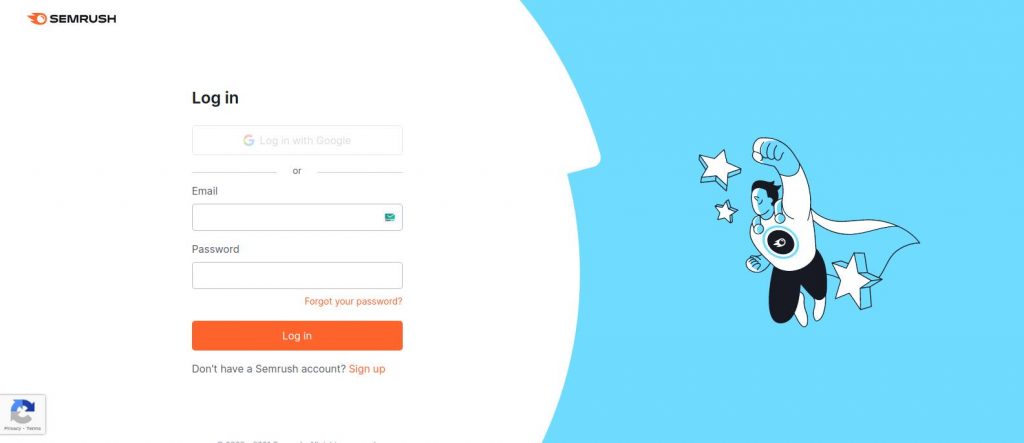 Step 2: Go to SEO -> Organic Research link.
Input your website address or your competitor URL to start the research process.
Step 3: Once the results are displayed for the domain, the Overview tab will be the default page to show all the organic research results.
You can see another tab with the name Positions on the side of the Overview tab. Click on this tab and you will be able to see all the top 100 positions for which your URL ranks.
Step 4: Now we will use filters to find the PAA gaps.
In the filters list, you will see the Positions filter. Click on this filter and select Top 10.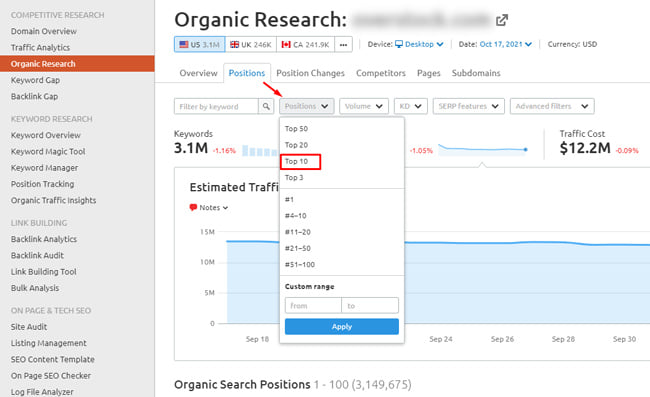 This filter is done to see the top-ranking pages of your URL. The URL might be ranking in the top 10 of Google search results but not in the People Also Ask feature.
Step 5: Filter again for PAA
We will add another filter to the above filter. This filter can be found in the SERP features selection box.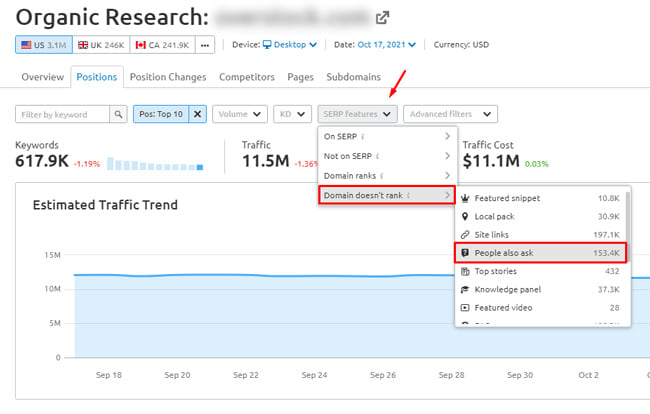 Click on the SERP features -> Domain doesn't rank -> People also ask
With these selections, you can now find all the queries where the URL ranks in the top 10 but not in the People Also Ask module of Google search results.
Step 6: Analyze and Optimize your website for Google's PAA.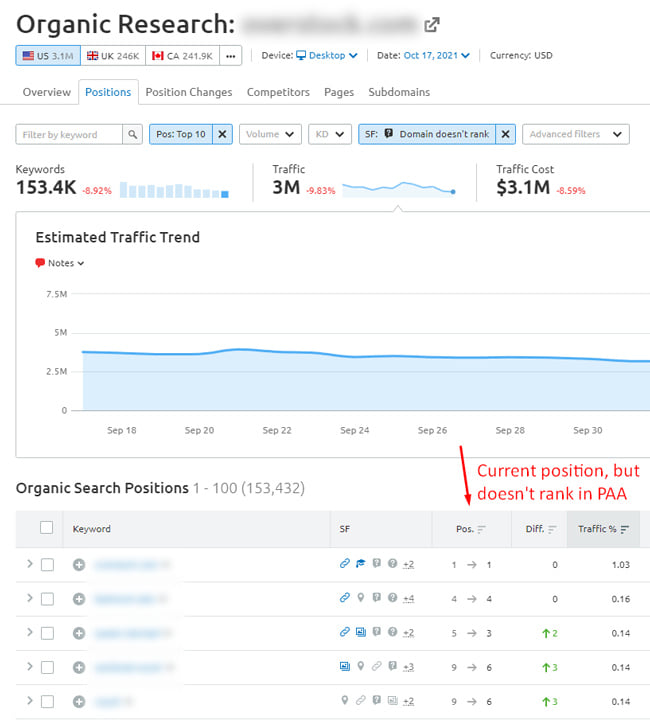 Now that you have all the results for the URL, you can see that your selected URL has top rankings but is not featured in the PAA module of Google.
We also suggest cross-checking these queries that you got from the above steps in live by going to Google's homepage.
You can then optimize the selected URL with suitable content if this is your own website. If you have been scanning your competitor's URL, then you can visit their pages and create better pages to beat them in PAA.
Create content with subheadings that are related to the questions of the PAA module. This is how you optimize your content for the PAA module.
More Tips
What we shared above is just by highlighting only one of the amazing features of Semrush tools. This alone will get you enough optimization points for your content marketing.
The best part of Semrush is that it has very powerful tools that can be used in combination to help you rank in different Google modules. Let's see what other combinations are possible and their results.
PAA By Country Or Language: If you run a website targeting a specific country or language, then just change the target country. Very helpful for local PAA optimization. Which will then impact your local SEO.
Advanced Filtering: Semrush is so powerful that when used properly can get you Google rankings without much SEO effort. Use different combinations of filters to also research about Featured Snippets module. A lot of keywords do not have related content in Featured Snippets. You can write appropriate content and rank yourself in there.
Research By Device: Do not forget the mobile users. Semrush by default shows desktop results. Also, check the same results of your research for mobile users too. Because mobile traffic is going to increase as well with this recent Google update about which we wrote about it here: SEO News: Google To Start Infinite Loading On Its Search Results
Live Checks: As we already wrote in Step 6 above, always make a live check on Google itself in your research. There might be a chance of update delay in the Semrush tool sometimes.
Historical Rankings: The best part about Semrush is that you can check the historical rankings of your URL for PAA or any other search module that you are researching. This is useful information for both your website or your competitor's website.
Final Words
Ranking in the People Also Ask module of Google will boost your organic visitors. This will also impact your Google website rankings. But finding the right keywords and optimizing the content is the challenge here for SEO specialists.
We have here highlighted only one module that can be researched and optimized using the Semrush tool. A similar result can also be found using the Ahrefs tool whose tutorial is posted here.
Hope you like this advanced SEO technique. One of the advanced SEO techniques we use in our digital marketing techniques.
If you liked it, please comment on this post and share it with your friends.