Duplicated content is not a new phenomenon. Duplicated content is called plagiarised content which means the presentation of someone else's work or ideas as new and original instead of derived from an existing source.
It is easy to recognize plagiarism if someone takes the exact words from an article, but in today's content-driven web, modern writing techniques often have lesser instances of plagiarism due to indirect copying, paraphrasing, or close imitation of wording.
But still, checking your content for duplication is a must step before it goes live. This is where plagiarism checking tools come in handy.
Duplicate content checking tools can be helpful in avoiding duplicate content issues that could possibly cause problems down the line. But first, let us give you some background about what plagiarism is and how it occurs in writing.
What is plagiarism?
Plagiarism is defined as "the action of taking someone else's work or idea and passing it off as your own." In other words, it means "to steal and pass off (another's writing or ideas) as one's own.
How does it occur in content?
Plagiarism occurs in content by following stirs:
Copying another person's work word by word
Copying a general idea from another person's work without directly giving credit to them
Borrowing ideas from someone else without referencing them
There are so many types of plagiarism, however, direct plagiarism and indirect plagiarism are the most common types in content writing.
Direct plagiarism
Directly copying content from other sources without citing the original source or resource. This is the most common kind of plagiarism that occurs in content writing.
Indirect plagiarism
Re-wording or rephrasing content from other sources without changing the main idea or structure of the paragraph. This type of plagiarism is harder to detect since it does not involve direct.
Consequences of plagiarism
Writers tend to take ideas or sometimes copy ideas from websites just to get higher rankings in search engines but this is not advisable as Google has started penalizing for duplicate content over the past few years, making it difficult for website owners to rank well in all major search engines.
If in any case, you beat the Google penalties, still the original writer has the right to sue the plagiarist. Copyright regulations are absolute.
You cannot escape from copyright infringements after copying someone's work without referencing and citation. Moreover, it ruins your academic career if you are a student, and your professional career if you are a webmaster or content writer.
So, plagiarism should never be taken lightly, and you should avoid it in the first place.
Another good post related to duplicate content on the same website and how to use canonical tags was written on our blog here: The Complete Guide to Keyword Cannibalization
How to avoid duplicated content?
Fortunately, there are tools available online that can help with identifying duplicate content.
Almost all webmasters rely on these tools quite heavily, you should also keep an eye on links that appear too similar while writing a new post or article by passing it through a online plagiarism checker tool.
Among so many online options, the below-mentioned tools are the most reliable sources to choose from.
Quetext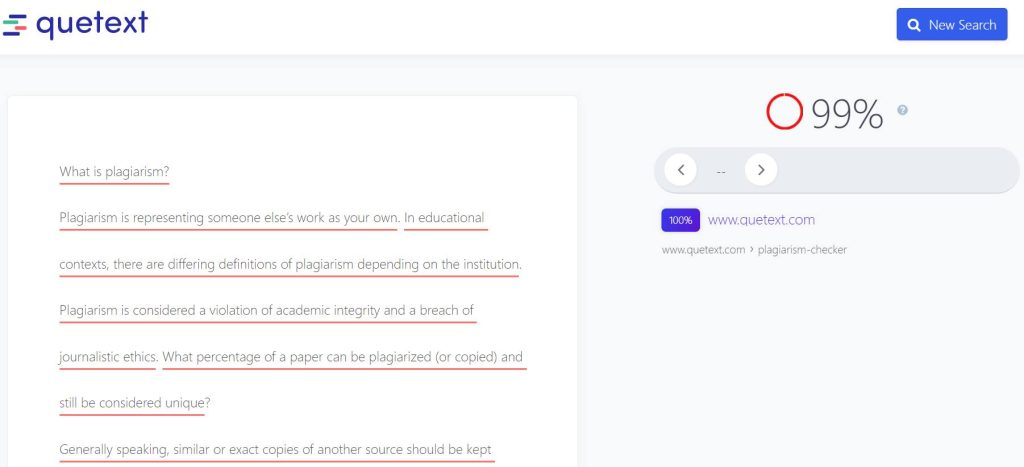 By far it is the most accurate and user-friendly duplicate checking tool available on the internet. Quetext allows you to copy and paste your text into the text field and analyze it for plagiarism.
To check up your file for plagiarism, you cannot just copy-paste the file but also it offers a drag and drop file option from your system to check for plagiarism.
It might take a few seconds but the results will be accurate and are presented in a clear and concise manner, with any plagiarised lines highlighted in red.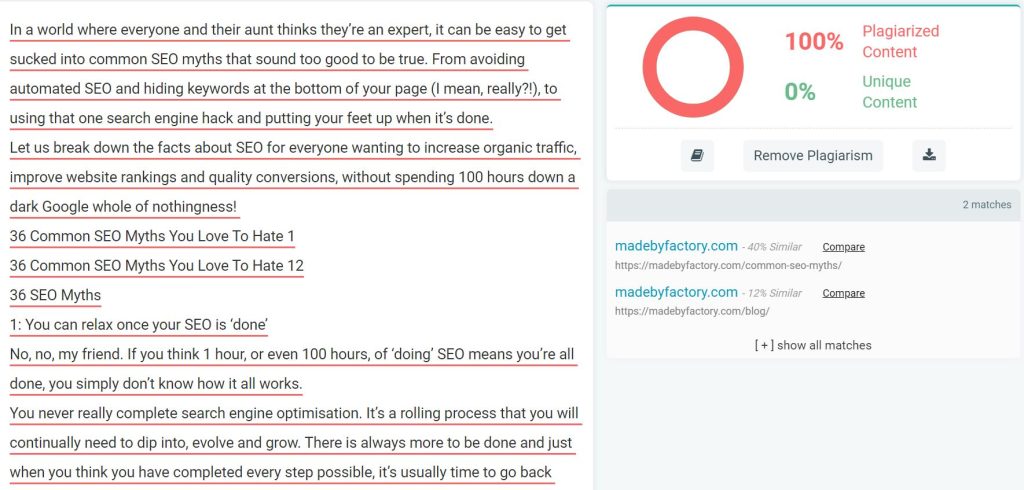 Prepostseo offers another highly effective plagiarism checking tool that delivers you with the most accurate plagiarism information.
Absolutely free, you can just open it from any browser and enjoy unlimited free online plagiarism checker. For writers who are writing content in bulk, this plagiarism checking tool might be a good choice for them.
Unlike many other tools, this effective tool allows you to copy/paste, type plain text, upload a file or add a URL to its input field and start scanning it using advanced deep search technology.
PlagScan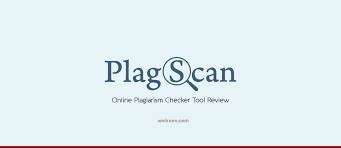 This is an effective tool to check your article against various online sources like other web pages, PDF files, journals, articles, press releases, etc. It is fast and free and produces accurate results within seconds.
Just enter your text and the tool will check your entire article against Google's index and will show you the percentage of uniqueness in the result page so that you can avoid it.
Plagiarisma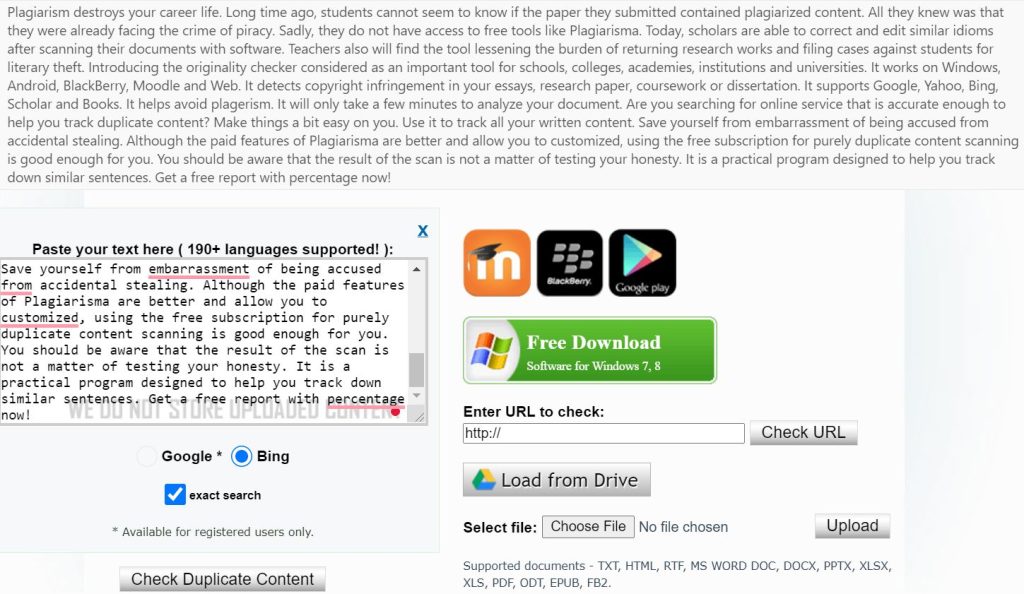 This tool is particularly useful for checking plagiarism in blog posts and other online content since it scans the trillions of files of web content on Google and Other search engines.
You can find out if your material has plagiarism and duplication by the results it provides.
Because of its accurate plagiarism results, it is easier to spot plagiarism in your written material that helps boost up the confidence in your writing as a writer.
Plagium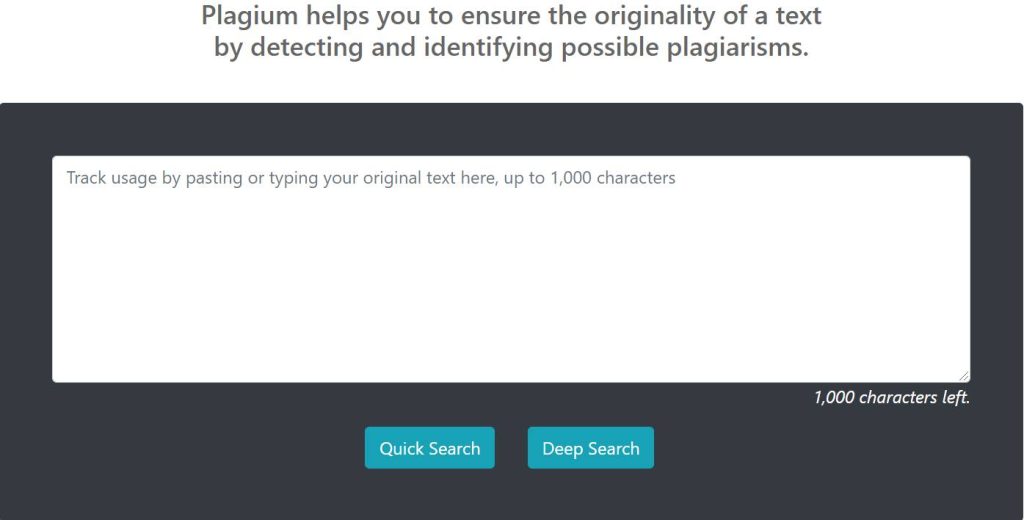 Plagium is another useful tool that does an effective job in detecting plagiarism but it comes with a price. It's simple to type your text in its input field, and the results of the plagiarism will appear below the search.
This amazing tool works by scanning billions of web content files through its deep search algorithms therefore this is a useful tool for all writers out there.
This is a simple tool that only allows copy-pasting, there is no option for uploading a file to check for plagiarism yet the results it gives are completely correct.
It uses "deep search" technology but it does not come for free.
Did you know that having an extra "/" in URL is also considered duplicate content by Google spiders. To avoid these duplicate issues we have an excellent blog post on this topic here: Case Sensitive URLs And Its Affect On SEO
Final Words
Every writer thinks that he/she doesn't need a plagiarism check because he wrote everything from scratch. It does not matter how you create it; it might not be deemed unique.
Why? Because it's possible that something similar has already been published on the internet.
Here the plagiarism checking tools come into bloom as they have access to more than just Google's database but many other search engines.
As a result, students, writers, and bloggers must use these tools to avoid duplication of content.
Using an online plagiarism checker is a great way to make sure your content is 100 percent unique and original. So many plagiarism checking tools are accessible for free on the internet.
However, not every tool will provide you with accurate results. If you're looking for unbiased and accurate findings, we recommend you use the above-mentioned trusted tools.