Domain registrars are organizations that administer and register domain names for international websites. The value of choosing the right domain cannot be overstated, as it can deceive a consumer in a variety of ways. You may also use it to register and buy a domain name. Many of these registrars are accredited by the Internet Corporation for Assigned Names and Numbers (ICANN), which is in charge of domain name management. It is a 501(c)(3) non-profit organization.
These domain names make it easier for anyone to access the internet. Also, if there is no domain name, one must search through an incredibly long list of numbers for the exact IP address. As a result, domain names can effectively fix this issue by allowing websites to consider addresses that include terms like underwp.com.
Both domain names are in charge of recording data, which is then stored in a central database. This domain name needs to be applied to the database that recognizes the relevant data. A registrar is authorized by ICANN to change the details in a domain name. A registrar also gives you access to resources that help you make changes in your web browser.
It's all about having a strong online presence. If you're a startup, freelancer, or creative, you'll need to upgrade and buy a professional domain name at some point to show your customers that you're serious. Cheap domains, on the other hand, are hard to come by these days, and some of the best names are already taken.
Fortunately, there are several cheap domain registration options available to fit every niche with new extensions like .store, .me, .us, etc… Different registrars offer various offers on these extensions. But how can you find the cheapest domain registrar with offers? Well, I got the solution for you with this not so popular but very helpful tool. Read on.
There is this tool programmed and maintained by TLD List here: https://tld-list.com/tld/com which is updated every 2 – 4 hours with the latest prices from different domains for the .com extension.

At present, it has 50 registrars there with their offer prices for domain registration, renewal, and transfer prices. It also has a column with all the Free Features for each registrar. This is a nice add-on for me to select when I am planning for my new domains.
What's more important for me is the WHOIS privacy column, this shows the hidden prices for WHOIS Privacy for these listed registrars. Most of the registrars give it as a free addon but some registrars like Godaddy charge $9.99 for it.
We found our registrar Porkbun for this website underwp.com here in this list. Our previous domain rockinwordpress.com was registered at internetbs.net which was also found here.
This page also has a reviews section which is also helpful in making decision for buy domain from the best and cheapest domain registration at the right registrar.
How to Find The Cheapest Domain Registration for any other domain extension?
If you are looking to buy your next domain with a different extension than .com, simply go to the main url here: https://tld-list.com/ and you can find all the different extensions for the domain with their latest prices from different registrars.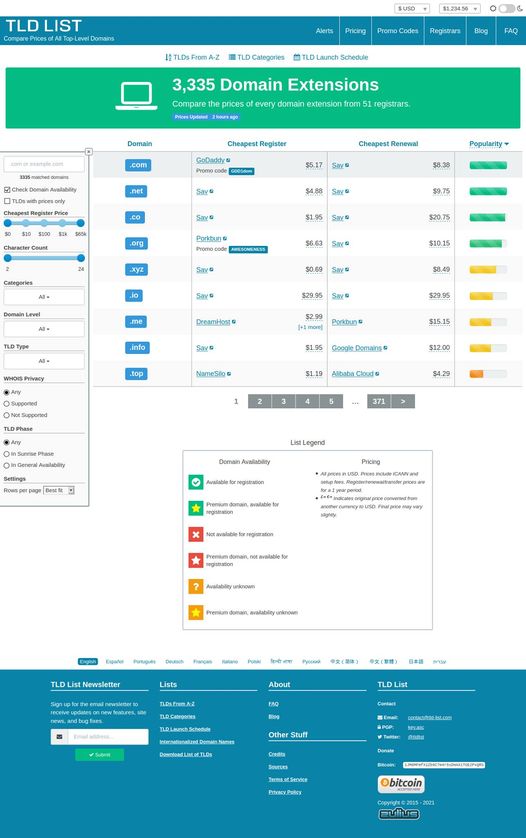 At the time of writing this post, it says that this list has 3,335 domain extensions that can be checked at 51 different registrars on this page. Isn't that convenient?
I use this tool a lot in our domain registrations at different registrars which also gave me a varied experience with different registrars and the kind of services they provide. For me, I go with the registrars who respect my privacy by giving free WHOIS privacy and be there if I have any questions at any time related to my domain.
How do you choose the right domain registrar?
While domain name registrars have an approved license to sell their domain extensions, not all of them do. Some domain registration firms, for example, are only permitted to offer extensions that correspond to their country names, such as (.uk, .or, .io). Domain registrars provide a variety of services in addition to domain registration.
Furthermore, some registrars may offer low-cost domains for promotional purposes or free add-ons in order to attract more customers.
It's important to remember the following details:
First and foremost, look into the domain name costs. Some registrars can offer you lower prices at the time of registration but then raise them dramatically in subsequent years or when you renew your registration. If you want to buy a web address, we suggest registering for a year because automatic renewal would be allowed. Don't forget to look at the renewal and transfer fees as well.
When you pay for a domain name, certain domain name registrars pre-check the add-ons. If you don't uncheck those choices, your bill would skyrocket.
Domain names may be moved between registrars. It is not usually necessary, but if you are dissatisfied, you will want to move. Check with the registrar you're working with to see if that alternative is readily available.
How do domain names work?
You effectively gain the rights to use a domain name for a fixed period of time when you register it with an authorized registrar.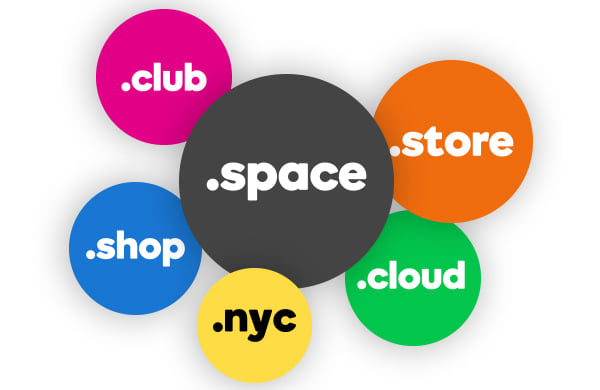 After you've registered your domain name, you'll need to point it to the server that will be hosting your website. It's also worth noting that any changes you make can take up to 72 hours to spread, which is a fancy way of suggesting that various internet providers around the world take time to update their records.
The advantage of owning a domain name is that it can be linked to other resources, such as email addresses. You may also set up redirects and forwarders, as well as build subdomains (e.g., http://subdomain.yourname.com). You can also purchase several domain names and have them all point to the same site.
Domain names are also interoperable, which means you aren't restricted to the provider from whom you purchased them. You can migrate your domain name in the same way as you can move your hosting company.
How long does a domain name registration last for?
You can register a domain name for as little as a year, but you can extend your registration to three years if you want to keep it for longer. I have seen some registrars allowing up to 5 and 10 years of registration as well.
When it's time to update the domain name, you'll get an email notification from the registrar. Most of the registrars also allow you to set up auto-renewal, which means that your domain name registration will be automatically renewed at regular intervals as long as your payment method is still valid.
What is the concept of privacy protection?
Since it masks some details about a domain name's owner that would otherwise be discoverable through a WHOIS lookup, privacy security is also known as WHOIS protection.
WHOIS is a global database that stores and shows information about domain names and their registrars, such as when they were registered, when they expire, who registered them, and where they point.
This ensures that everyone can look up details about a domain name in the WHOIS database. If you'd rather stay anonymous, privacy security is an optional extra that helps you to combat this.
Of course, privacy security isn't for everyone, but if you'd rather have your name, address, phone number, email address, and business name replaced with a collection of generic, non-identifiable data, it may be the way to go.
What is the difference between the domain extensions.com,.net,.org, and.info?
Let's start with the similarities: they're all gTLDs (generic top-level domain names) that can be registered by anyone. That means that if no one else has already registered the domain name you want, you should be able to get it with one of these extensions.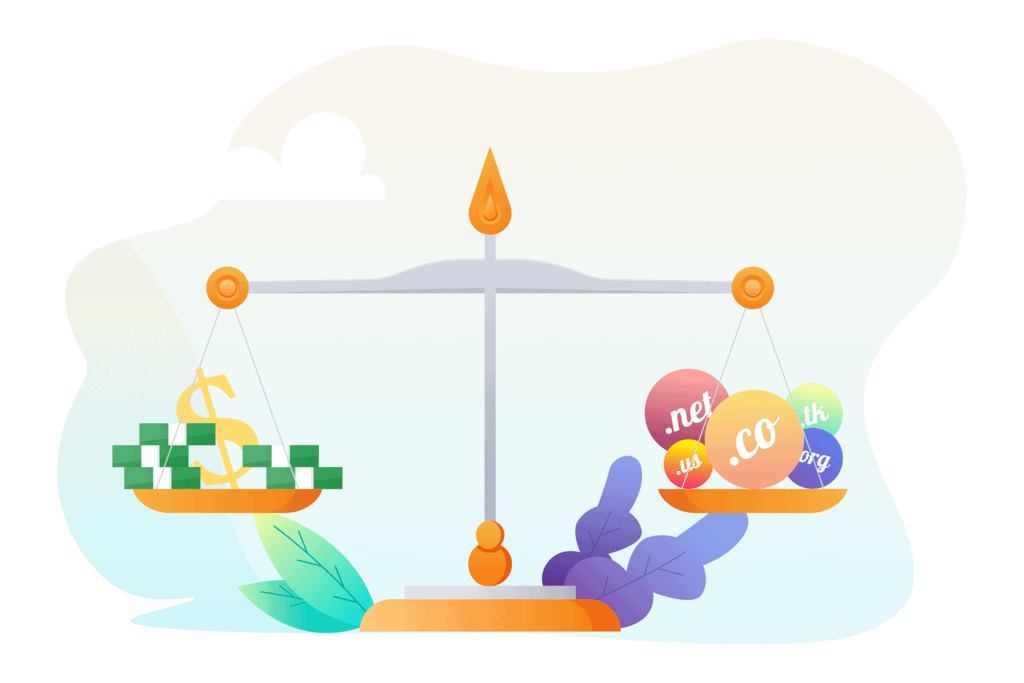 Each gTLD has a slightly different definition, so it's best to choose the one that's most important to your website. . .com domains are typically used for commercial purposes, such as an online shop or a company website, but they are increasingly being used by default because they mean a level of trust. Originally used by networking firms (such as internet service providers), net domains are often used for a variety of purposes.
.org is now widely used as a gTLD for charities, communities, and local organizations;.info, on the other hand, is targeted at information-based websites such as wikis and instructional pages.
There is a certain amount of wiggle room for all of these gTLDs. There is no law requiring you to use one form of a domain name over another, and no examination must be passed in order to register one. Consider them guidelines rather than laws, and feel free to deviate from them if it means you can get the perfect domain name.
Final Words
There are many domain registrars to register your domain name but finding the cheapest domain registration with the registrar which suits you the best is a little time-consuming task. This can be made short with the use of the TLD-LIST tool which helps summarize the important points of almost 51 registrars in one place. It will always come in handy and something to be bookmarked as I do when I am looking to buy cheap domains.
Let us know if this was helpful for you and if you know any tool better than this in the comments below.