Search Engine Optimization is the playground where you need to use lots of tools and creativity to get on top. And if you got some free SEO optimization tools in your toolset, then wouldn't that be easy to score higher in Google.
And what if I told you that there are tools that are loved by Google secretly but don't declare it in open. Yep, you heard me. Keep reading and you will see.
Today we will be seeing all kinds of tools either free or freemium. Freemium is where some of the features are hidden behind a paid membership.
Free Keyword Research Tools
The first step for any SEO strategy is to find the best suitable keywords. Finding high volume low competitive keywords can help you get in top search results easily.
This is the basic tool we recommend for every SEO beginner to use before they jump to more advanced tools. It has got all the basic information you need to get started on your keyword research.
For more advanced SEO specialists, they know that these tools used to be well known in the early 2000s. But now it has lost its value in the eyes of SEO experts because of its inaccurate estimation of search volume on keywords.
But it is still a free tool that can teach you a lot of things for free. This is the first tool we use whenever we are doing our keyword research tool. It is one of the underestimated tools by SEO experts.

When you open it and see the two options Discover New Keywords and Get Search Volume and Forecasts. Select the First option of Discover New Keywords and you will see two tabs.
Start With Keywords and Start With A Website are the two tabs to select from. If you have just started to do research, the first Start With Keywords option is a natural choice.
Now, if you have already done some homework on your keywords and made some competing websites list, then the second option Start With A Website might intrigue you.
Play around with this tool and you might find some hidden keywords. And this tool is loved by Google, of course for obvious reasons. Since it's Google's home production, they do not have any other choice but to love it.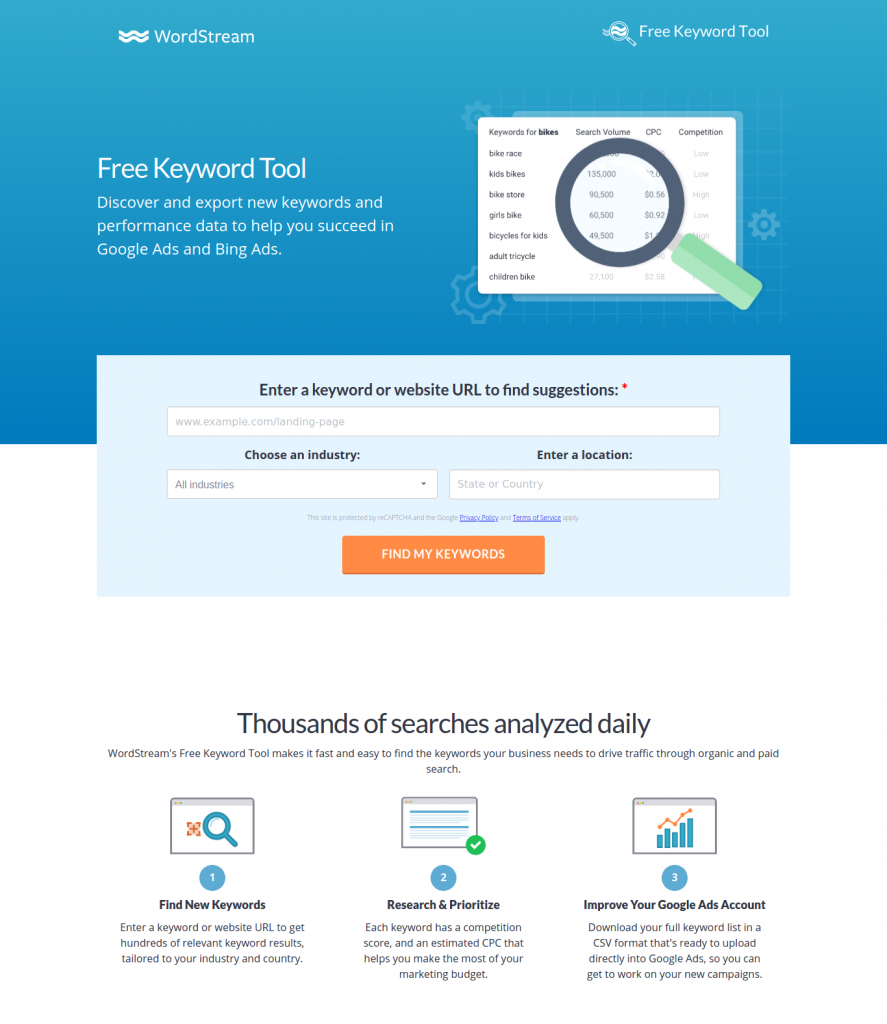 To put it in the simplest form, this tool is the same as Google Keywords Planner but with a better UI.
It pulls its data directly from Google and Bing. But it tries to be different by suggesting some low-competition keywords of your niche. Pretty interesting, eh!
This tool is popular among PPC experts. They say that its estimated CPC is much accurate than what you get in Google Keywords Planner.
WordStream gives you 30 free searches when you signup. Above that, it turns into a paid tool.
This is a handy tool that comes in the form of a Chrome extension. It is well maintained and has some new features added to it recently like Free content editor.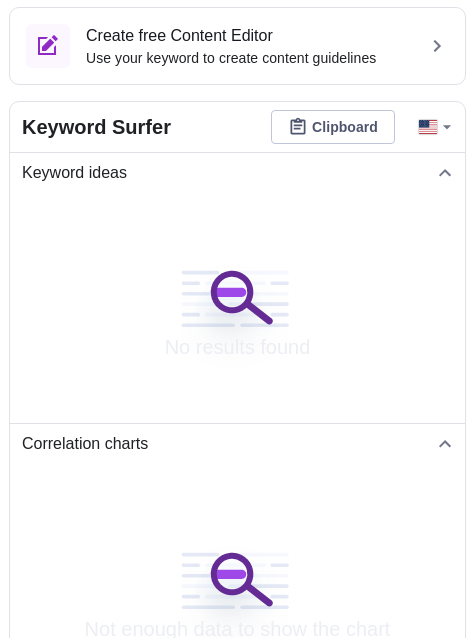 We recommend it and use it ourselves every day when we are doing our keyword research. Also comes in handy when writing a blog post to find related keywords.
All its data is directly taken from Google Keywords Planner. But since it's a browser extension, it is easy to use directly from the Google search page rather than going to Google Keywords Planner every time.
Also, I like its new feature of country selection where you can select your target country. A handy tool for keyword ideas to both SEO specialists and content writers.
Advanced SEO specialists know the importance of social signals. This tool gives you the keywords most discussed in Reddit subs.
This is a tool that requires a little homework before you can use it. You need to find related subreddits for your niche. Once you know them, you can then input their name in here and get the most discussed keywords in these subreddits.
If you have read our beginners SEO guide, then you would know that we recommend using Reddit to gain more SEO knowledge. If you have followed our suggestions, then you must have already realized the importance of this tool.
Keyworddit doesn't give you keyword search volumes from search engines. But it gives you what no other search tool counts. It gives you the social buzz around the keywords.
When combined with other tools, this tool can be very powerful as you get to learn about the social signals of a keyword.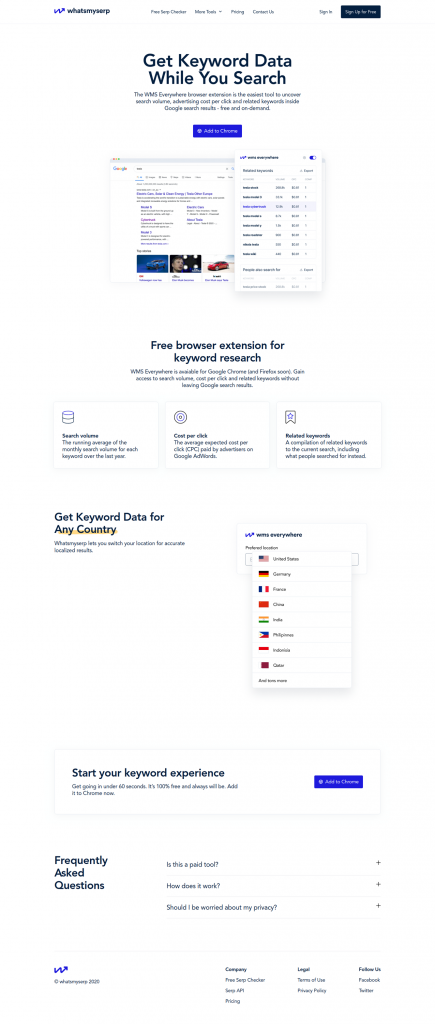 This Chrome extension is a handy tool to get related keywords inside Google search results. It is free and available on-demand.
WMS Everywhere browser extension is similar to Keyword Surfer discussed above. Its 'People also search for' feature shows related keywords to your main keyword which is not found in other similar extensions.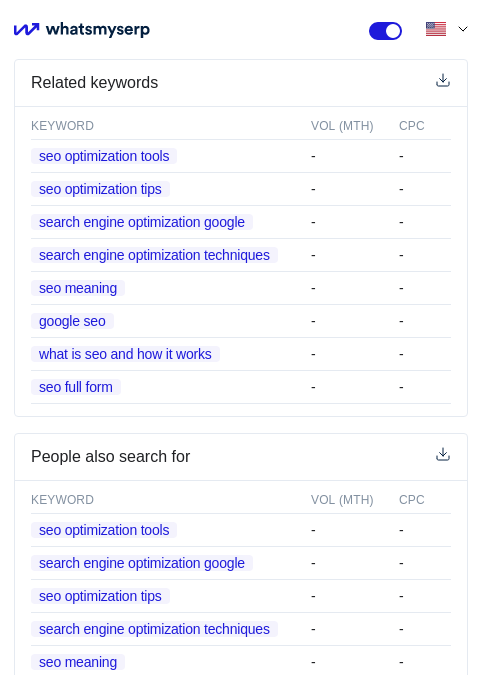 This tool does not give you a huge list of keywords. But it gives you the best high search volume keywords.
We recommend it along with the Keyword Surfer tool to get the maximum number of related keywords to your main keyword from Google search.
If you do not want to add extra add-ons to your browser for related keywords, then Infinite Suggest is your friend.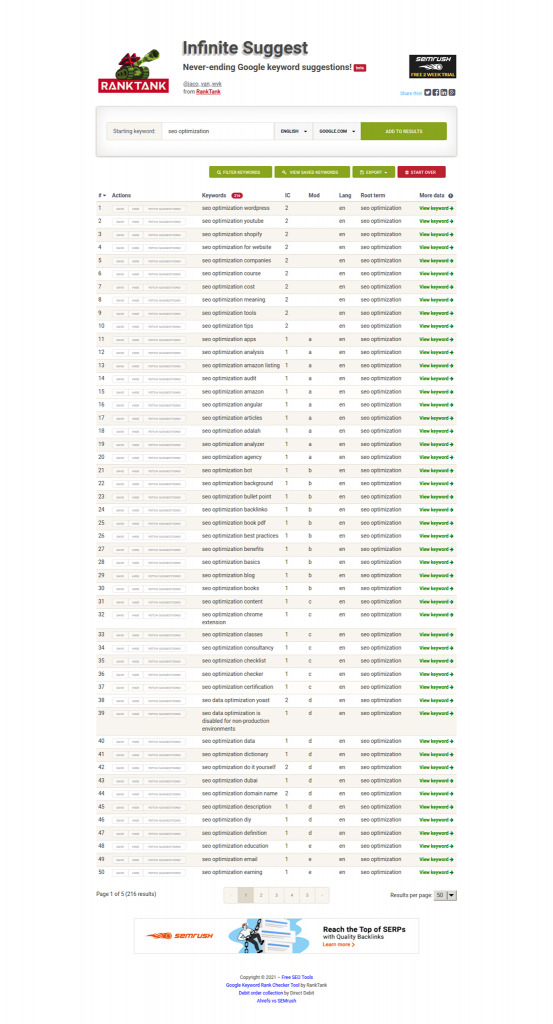 Infinite Suggest lets you add your choice of language and country to it. This is very useful when you are not just targeting English-speaking countries.
Popular keywords show up to 1000 related keywords in this tool. This is a completely free tool with no limitations.
It derives its data from search results directly. And if you have a SEMRush account, you can directly go to the keyword analysis page from this tool.
Another chrome addon for you to get more keywords. But this is a little sneaky tool that gives you the most used keywords by the first 10 pages of search results for your keyword.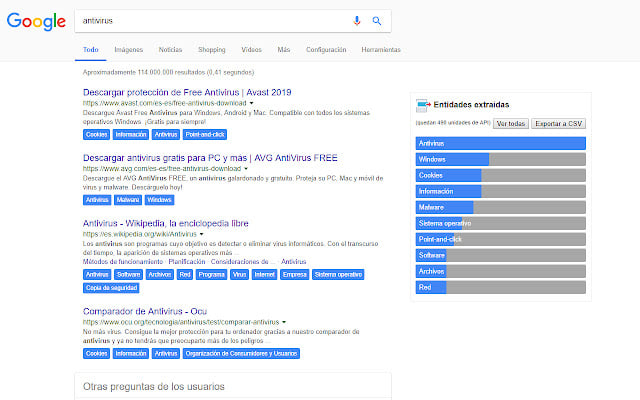 This is a Spanish tool that requires API when signing up. Use Google Translator to understand its instructions.
This tool will complete your keyword research by showing the number of times your main keyword and its related keyword are used by the top 10 pages on the search results page. Very helpful for writing SEO-optimized content.
This is a nice little tool called SEO keywords spelling checker to correct any spelling mistakes in your keywords. Build with Python and hosted on Heroku.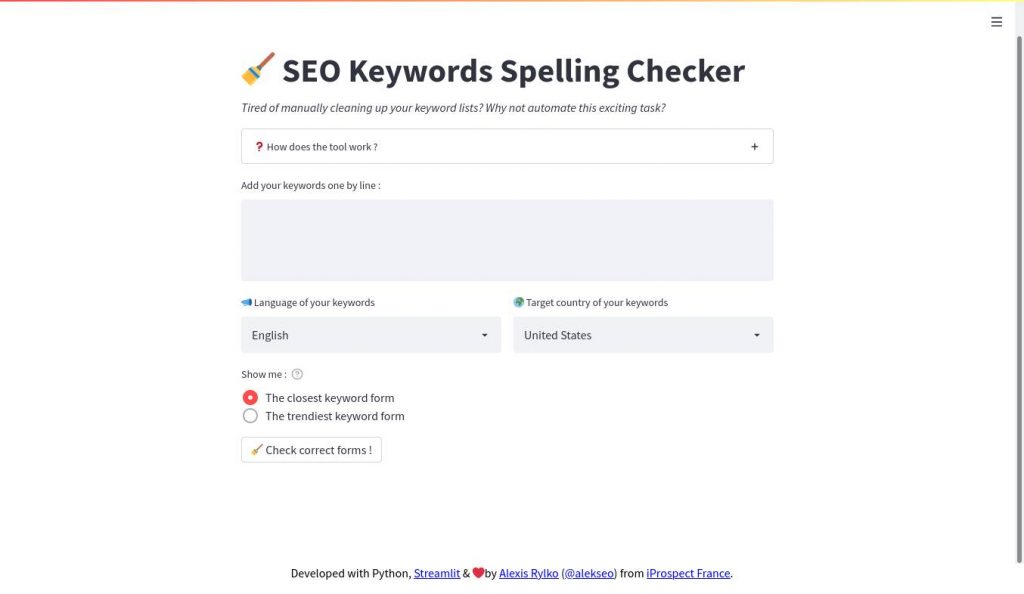 If you have a list of keywords and looking to correct the incorrect keywords, then this tool will help you do it in no time.
Not exactly a keyword research tool but I thought it is a handy SEO tool worth a mention. Not sure how long this tool will be online but if it goes down, do let us know in the comments below to remove it from this post.
SearchResponse.io has released its 2nd free tool, called "People Also Search For" to obtain the keywords shown to users who bounce back to Google's results.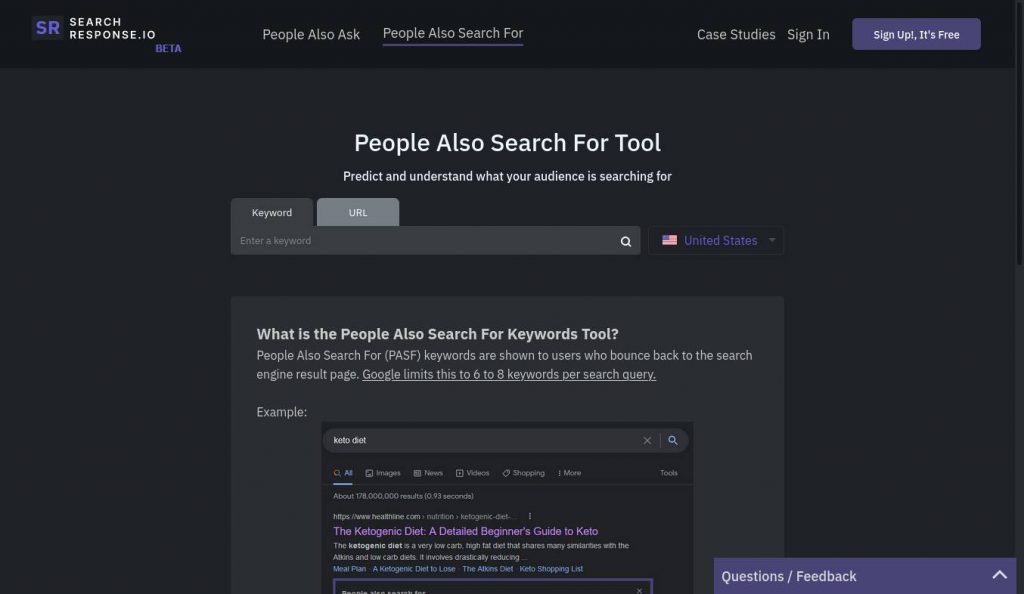 When you search on Google for any keyword, let's say "women protein powder" at the bottom of the page you see more related keywords.

These keywords were earlier titled as People Also Search For. I think Google has removed that title now.
People also search for is a very helpful set of keywords given by google itself in their search results for your search terms. Since these keywords are shown by Google itself, they carry a lot of value for SEO experts.
With this free tool by SearchResponse.io, this task not just gets automated but also shows you the monthly search volume and trends related to each of the keyword variants.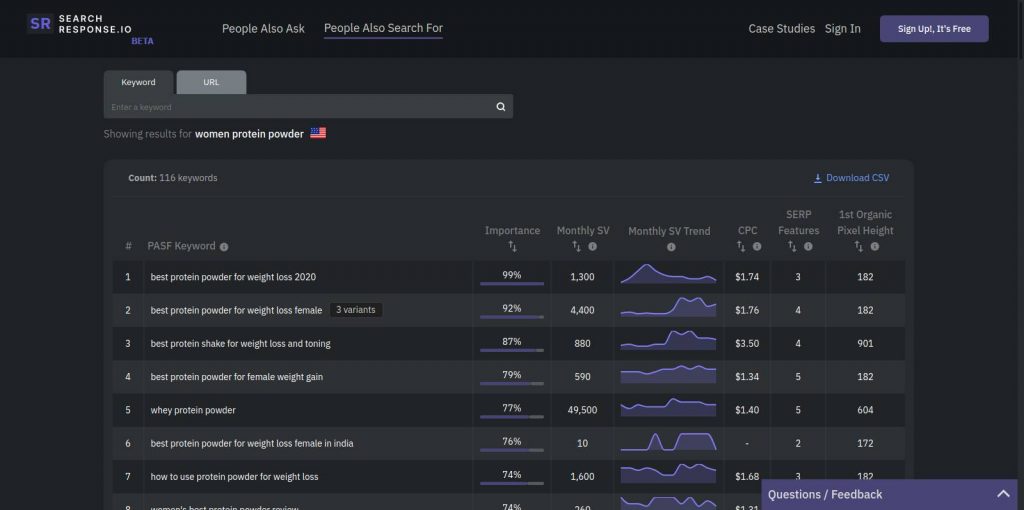 A lot of the information given by this free keywords tool is very valuable. Many other websites like Semrush, charge a good amount to show the results that are given for free in this tool.
We recommend this tool to everyone who is serious about keyword research.
Keyword Clustering is a nice little tool written in Python. Very helpful if you know the importance of Topic Clusters.
It takes your Semrush, Ahrefs or Google Search Console reports and processes them in topic clusters.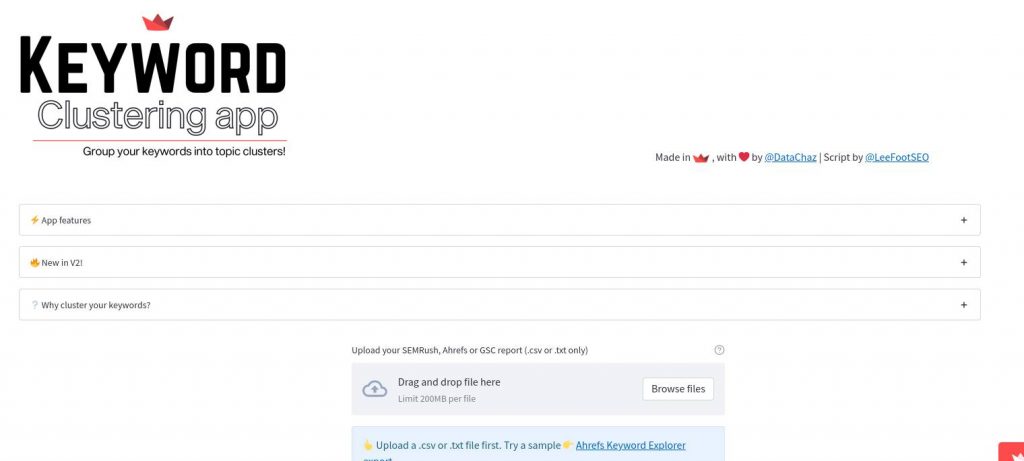 A handy tool to use once in a while to know how your website is going in terms of its content.
Very helpful for content marketers to plan a content marketing strategy.
Free SEO Optimization Tools To Explore Trending Topics
Every subject has some kind of trending topic all the time around the world. If you know your keywords then you can search more about them in these tools and get more updated content around them.
1. Google Trends – Free (Loved By Google)
One of the basic tools suggested by most SEO experts for keyword research. On the other hand, we suggest you go for it after you find a set of keywords.
Google trends help you to find interest around a term scoring from 1 to 100. Since the data is directly from Google, its reliability cannot be doubted.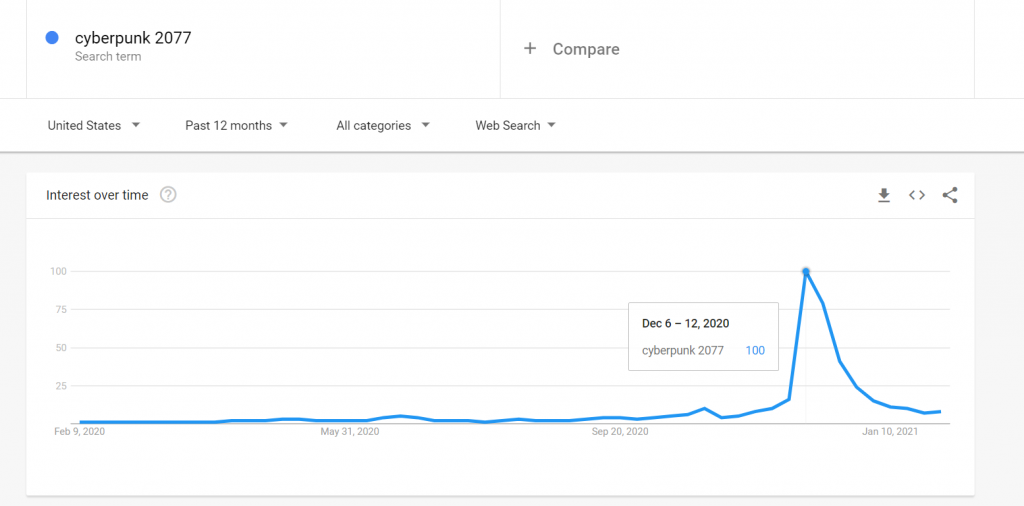 But we do not suggest to completely depending on its results. The results you see are from just Google search and not from other social signals.
So what you see in Google trends is what trending on Google search only. To get topics from other sources, you have to use this tool along with other tools.
Google Trends analyses search queries and this tool analyzes social networks for trending keywords around your main keyword. In short, it analyzes social buzz around your keyword.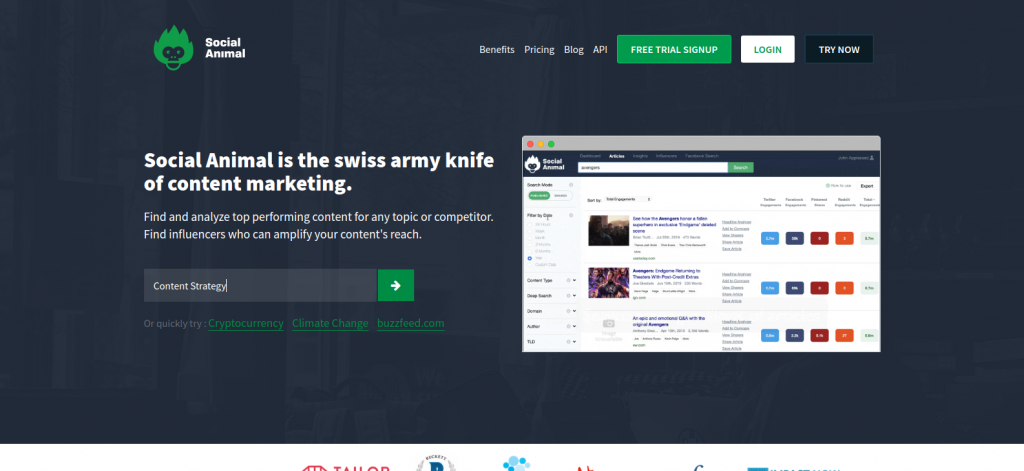 A new feature recently added to their application is also to find influencers around the topic. This is very helpful if you have an e-commerce store and want to get your brand out there.
Social Animal is a very helpful tool that can help you amplify your social reach. It helps you to find and make viral content that can get a huge amount of likes and shares.
Plus you can get an idea about your topic performance on social networks.
Muck Rack is a PR software that is mostly used by Journalists to monitor news and build reports. They have this free tool for journalists which can be used by anyone to search and compare different topics and keywords.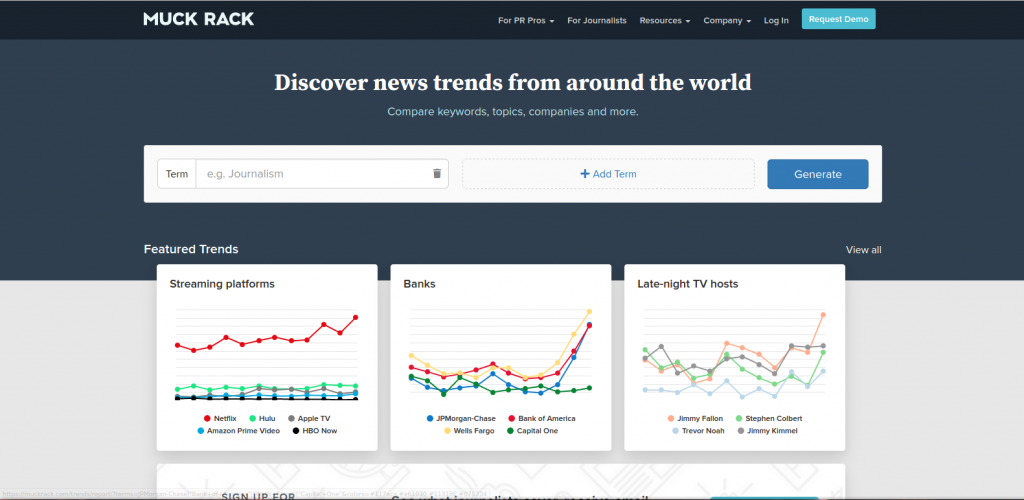 This tool also has the option to set alerts when you sign up. It doesn't show trending articles or keywords until you sign up.
Google shopping insights is another tool developed and loved by Google. It is extensively designed for retail businesses.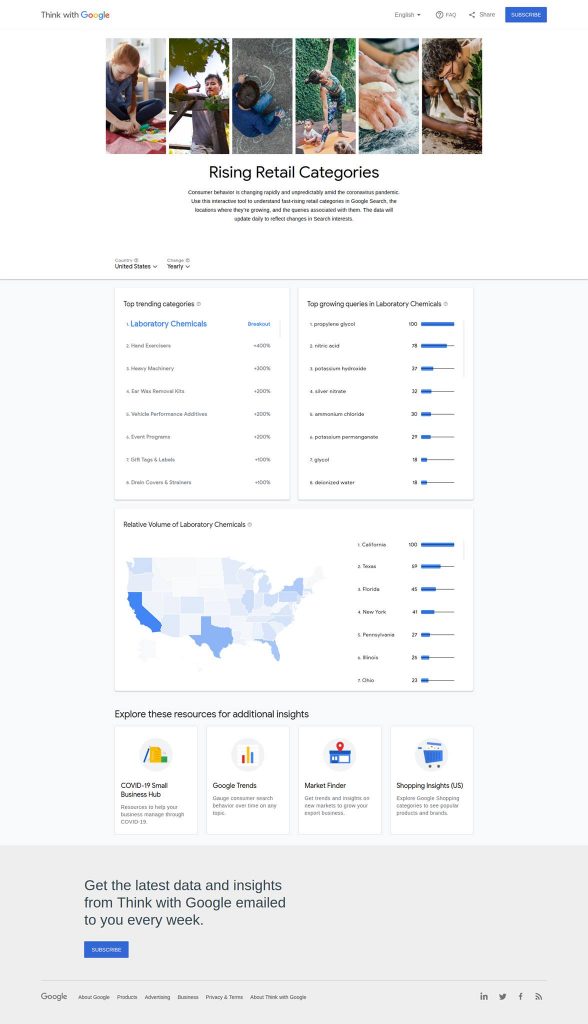 This tool shows the latest trends of retail categories in Google search. The data is updated once daily.
You can select different countries of your choice to target. You can select the categories and you will see a huge list of related queries to it.
If you have a dropshipping or e-commerce business then this tool will be of immense help to you.
This is the latest tool on the rise lately. Its UI is definitely slick and simple.

Exploding topics promise to predict the upcoming trends to its premium members. We haven't tried it extensively yet so cannot comment on that.
The free version of the tool gives you a direction for your keyword or topic.
This is an award-winning tool by InLinks Optimization LTD. It's not just a trend tracking tool but much more than that.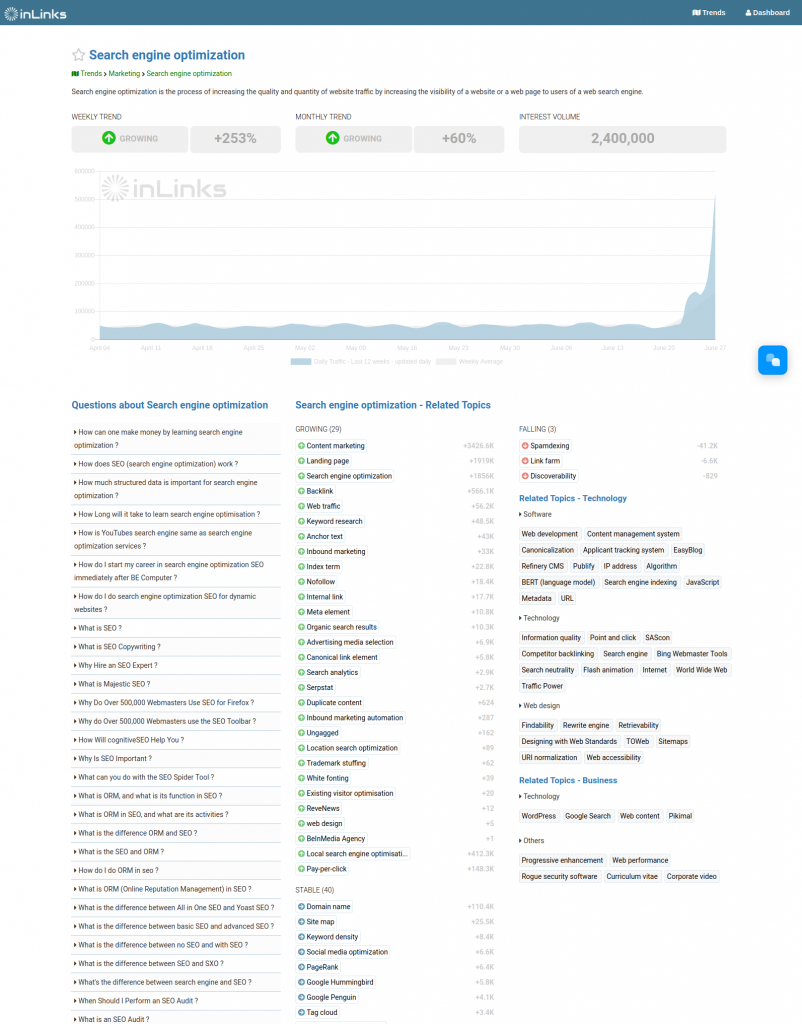 With this tool, you get not just the trending topics but also questions around the topic, Growing keywords in that topic, falling keywords, stable keywords, and related topics.
You will be getting a lot done in your keyword research if you learn to use this tool. A proper direction can be focused on your website category.
We recommend this tool to anyone who is planning to start a new business or website in any of the categories shown on the home page of Market trends. It will give you a complete picture of your topic.
One backdrop of this tool is that you can search for specific targeted keywords in it. You have to select the listed categories or topics only.
This is a simple tool to explore topics and keywords related to one main or seed keyword.
A plain page with just a search box to input your seed keyword. Then find keywords related to it in multiple ways.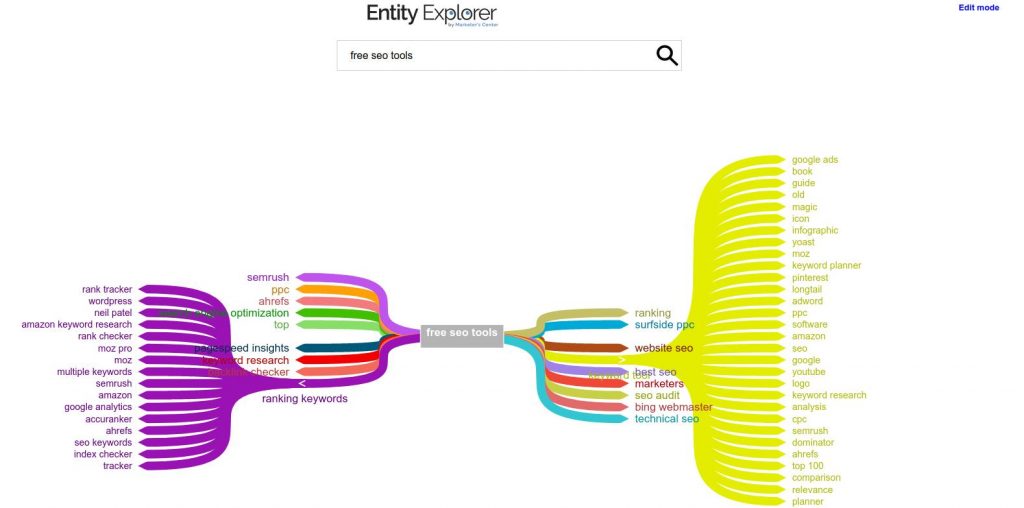 Entity explorer is very helpful in creating keyword ideas and topic clusters for content writing. Topics can be explored with multiple branches in a visual way.
Many other tools charge you a good price for what you get for free in this tool. Generate never-ending topics and keywords with this tool.
A free tool to see the keywords and topics used on a web page. Scans the URL and generates all the important keywords of an URL.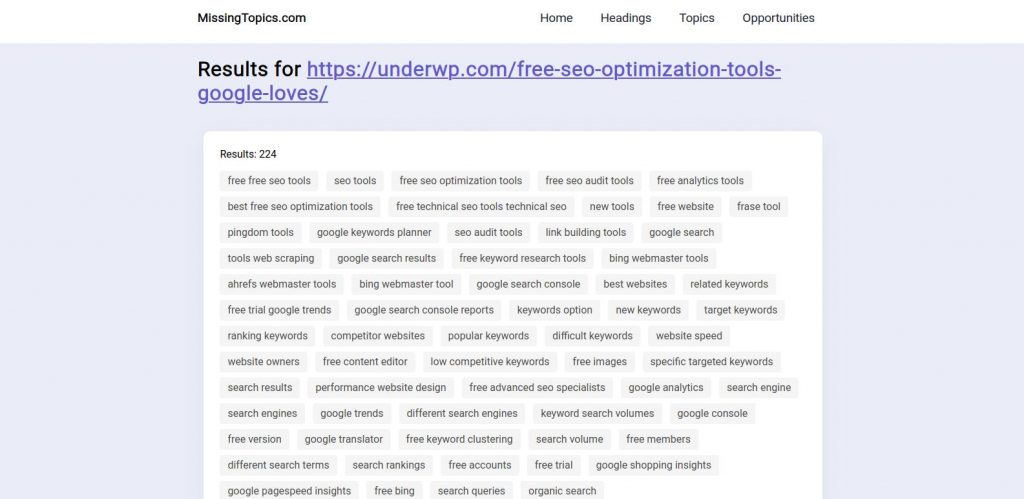 This blog post was scanned in this tool and it generated 227 keywords. Also helpful to see if our target keyword is properly placed in the articles.
Its main usage is done for checking the competitive URLs and then comparing them to our website URLs. Helps to calculate the keyword strength and usage by comparing it with the competition URLs.
Use it wisely and it is a great tool for content writing.
Keyword Sheeter can generate a huge list of keywords surrounding your seed keyword. This is a good tool to generate keywords in a short time.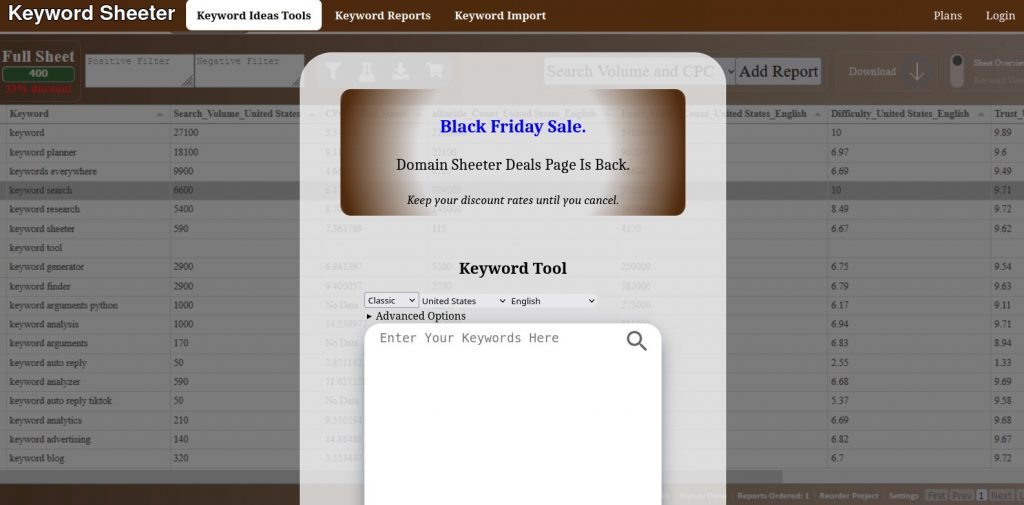 It also has a premium plan to see the search volume of the keywords generated.
Wouldn't have included it in the list but it got some good keywords for a difficult niche when we tried. So here we have added this keywords generator tool to our best free SEO tools list.
This is a completely free tool to generate keywords that are used in the Reddit subs. A simple tool but very useful to get keyword ideas.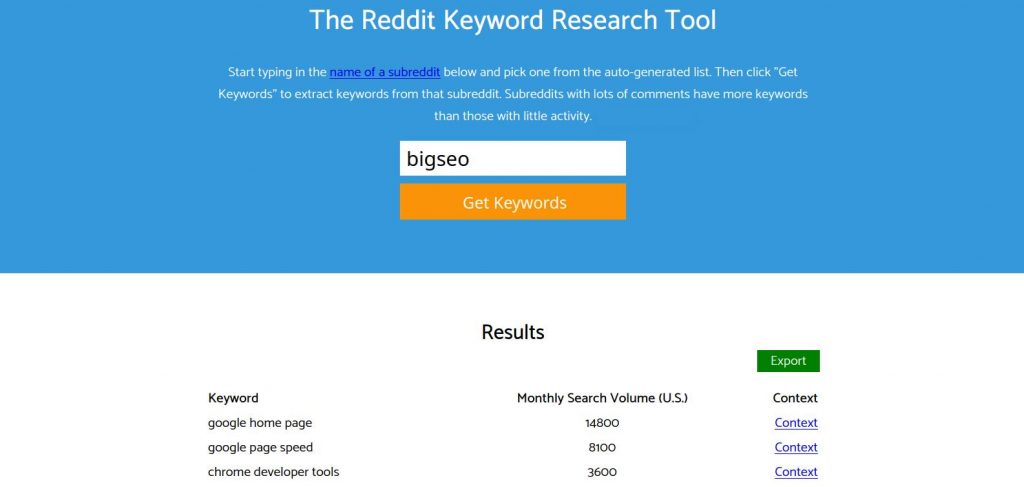 You need to know the best subreddits in your niche to use this tool.
It shows the keywords that are mostly used in the conversations of the subreddit. It creates a descending list with the most keywords used in the posts and comments of any subreddit of your choice.
Helpful in getting keyword and topic ideas in your niche.
A good and easy to use tool to generate questions related to the keyword.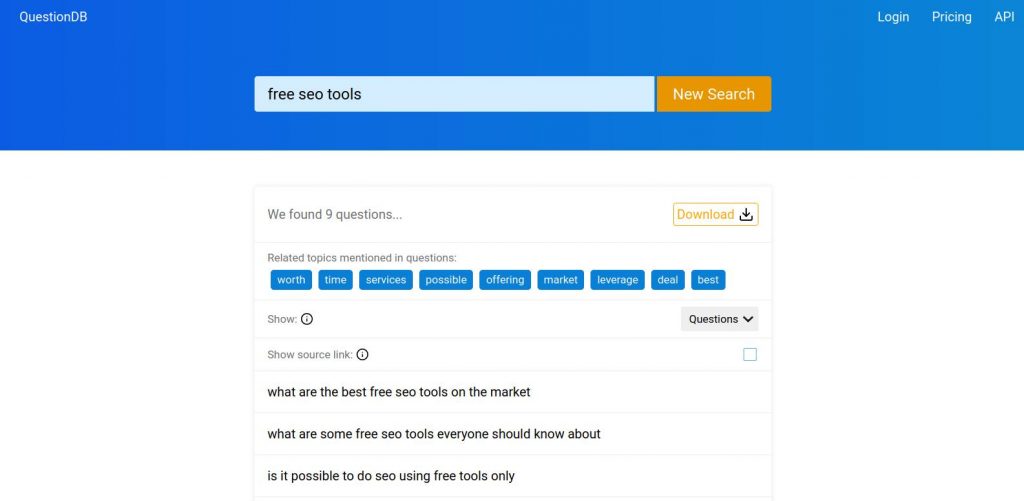 QuestionDB is a free tool that can generate a huge amount of questions for any keyword. It beats the paid tools that ask for money to show these types of questions.
Use these questions to create topics and gain expertise points in the eyes of Google bots.
This tool also gives options to search with related topics for the keyword. This way you can generate a huge amount of questions that can be answered on your website.
Free SEO Tools For Headline Ideas
Having an awesome and catchy title is super important in SEO. No arguments over this.
Your post headline is the first thing a viewer reads. It carries a huge burden of CTR with it. And it is also one of the most important factors in on-page SEO.
This is a very useful handy tool to analyze your article headings. It is a free trial product so you have to signup before you can try it.
Signup is free and offers 3 headline analyses. The details with which it analyzes are super useful to optimize your headings in the right SEO direction.
Below you can see the headline analyses of this post.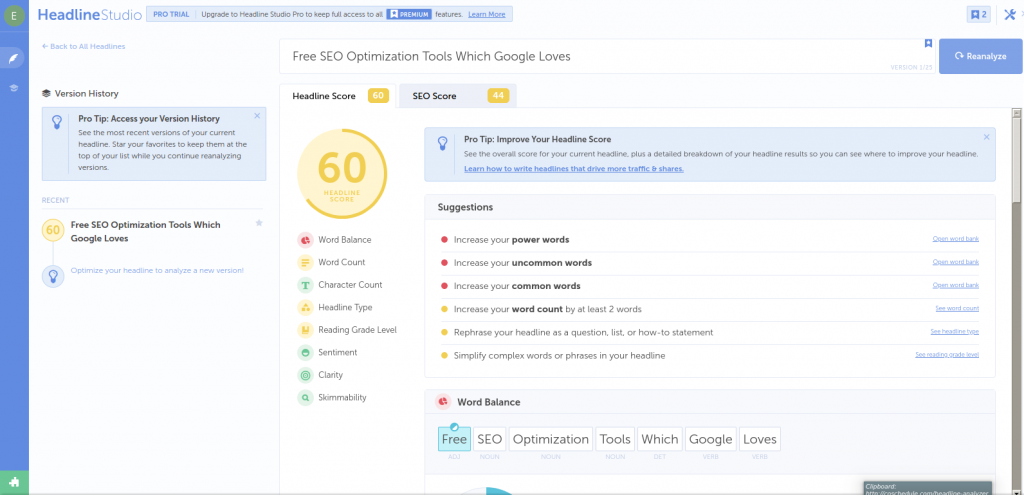 So we changed our title and added "To Do It" using the help of this tool.
This tool also has an SEO analysis tab where you can see the SEO score based on the top 10 websites in the search results for your keyword. SEO score and Headline scores are different.
While writing any headling always make sure that you keep a balance between Heading score and SEO score in this tool.
This is a good headline generator tool we use for our clients. It helps generate headlines related to the topic, product, and keyword.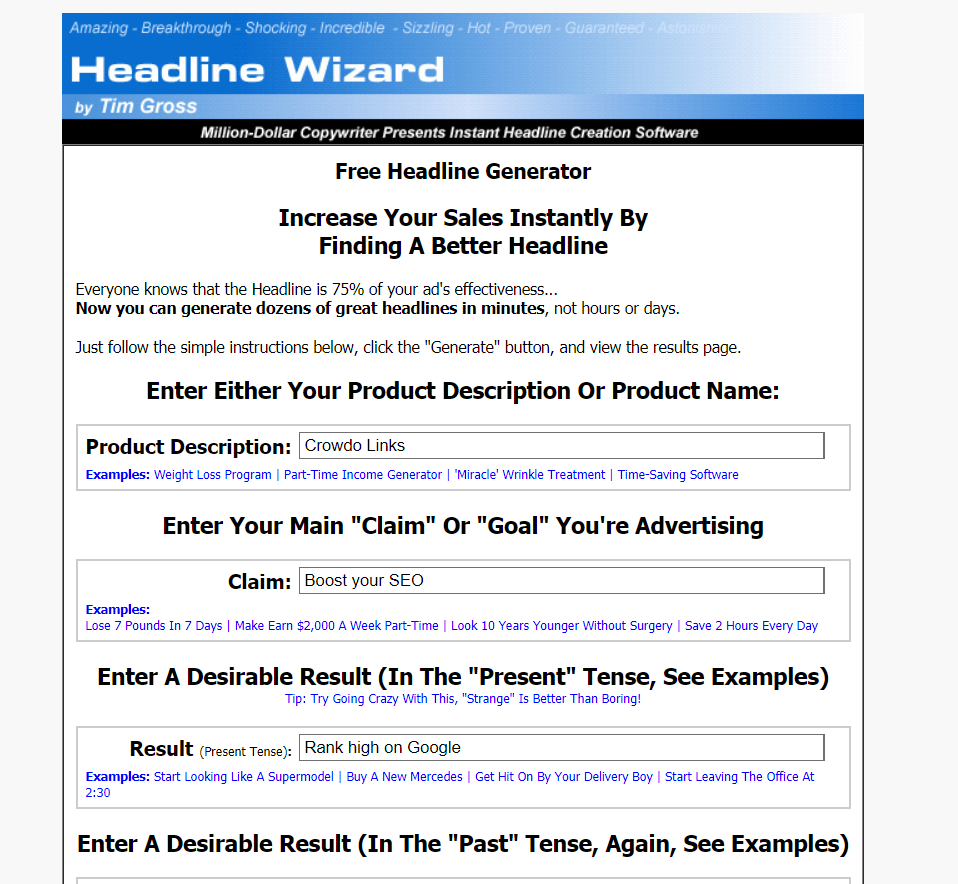 There might be some grammatical mistakes in a few headline options it generates but that can be fixed easily. Here is an example we generated.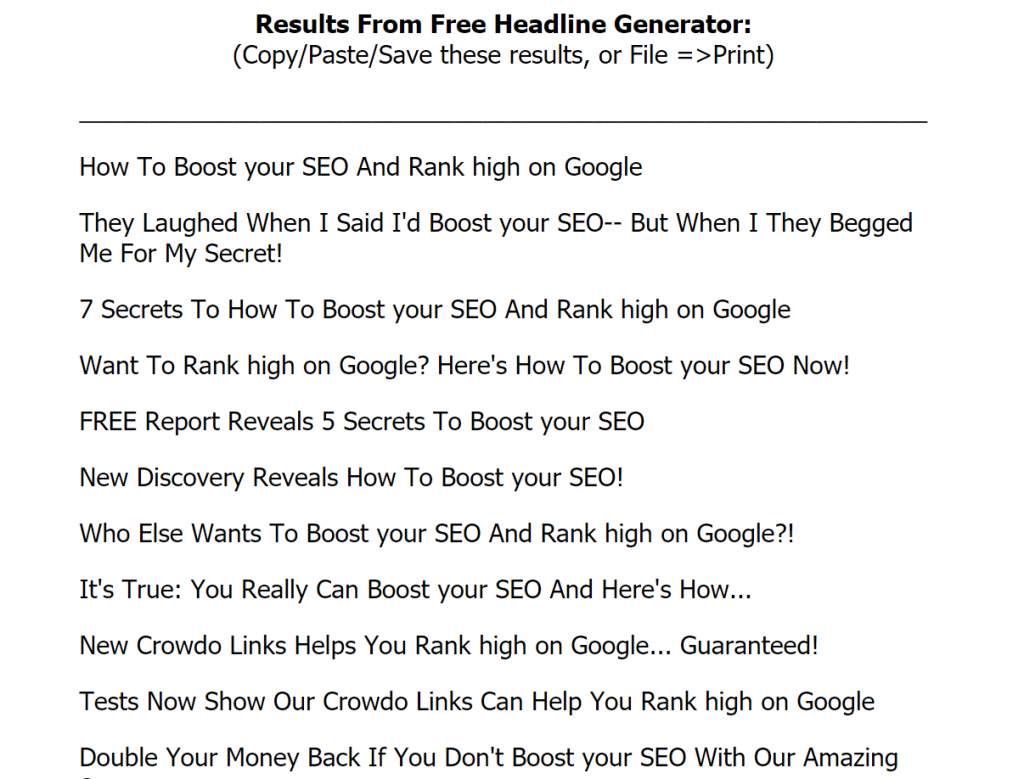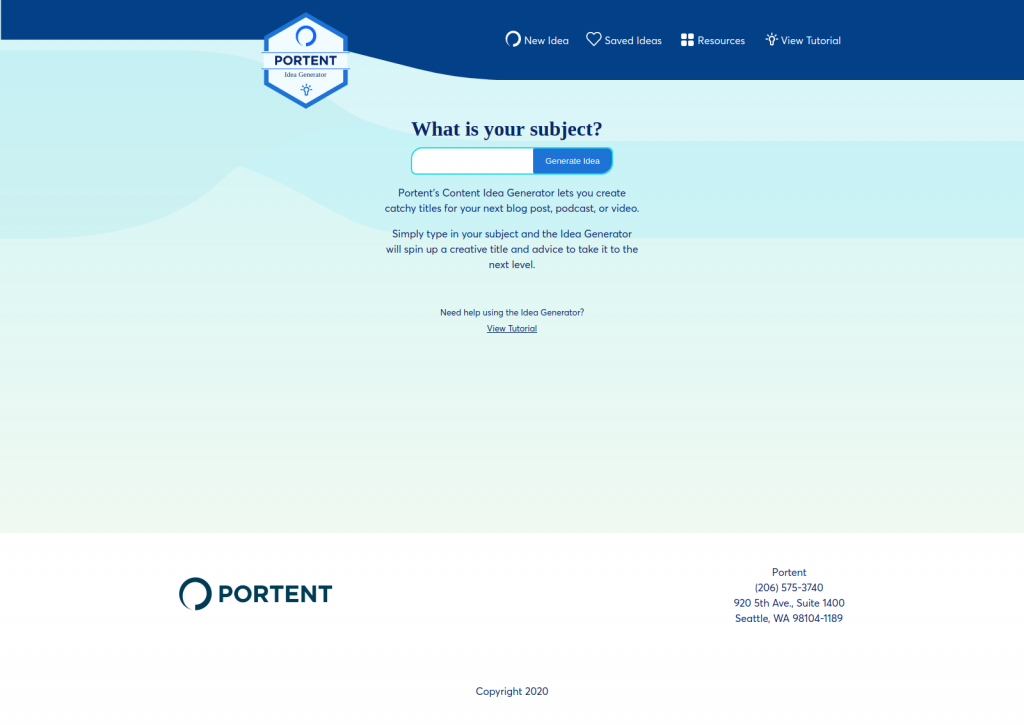 Here is another free headline generator that is very handy and easy to use. Just put your keyword or topic and it starts generating headlines one after the other.
The headlines can be sometimes bizarre but keep hitting that "See Another Title" button until you find what suits you.
This is a freemium product which means it offers a few features only for free members and for the rest of the features you have to upgrade your membership.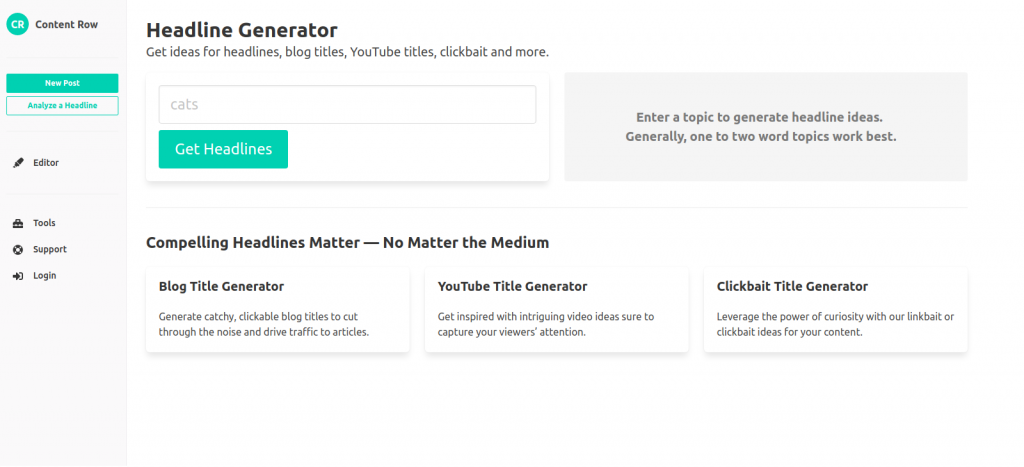 This tool can help you generate three types of headings, Blog, YouTube, and Clickbait type of titles.
It also has a heading analysis tool which is quite helpful too. Not sure what are the metrics used here for the analysis but as long as the heading is long enough with positive words, you will score well here.
Content Writing SEO Tools For Free
Now that you have got your main keyword, its trending topics and direction, and proper headline, it is time to find the best content writing tool which can be helpful for your SEO optimization.
Writing high-quality content is a must for top rankings in Google. Make sure to write unique, well-written, and SEO-optimized content for your website to gain a good score in search results.
This is a simple and straightforward tool for any writing purposes. It does not just correct any mistakes but also shows different suggestions to improve your article.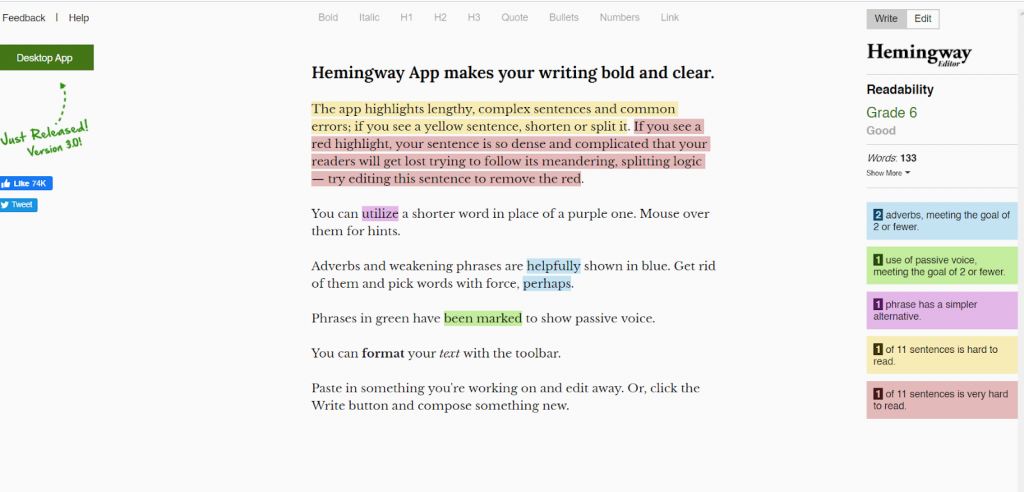 Shows you where to use proper noun and adverbs. Active and passive voice is detected by this tool. Difficult keywords are highlighted so that they can be replaced with easy words.
The very useful editor used by ourselves and most of the SEO content writers.
Almost every content writer knows about this tool. That is because of its strong advertising campaign and some good uses of it.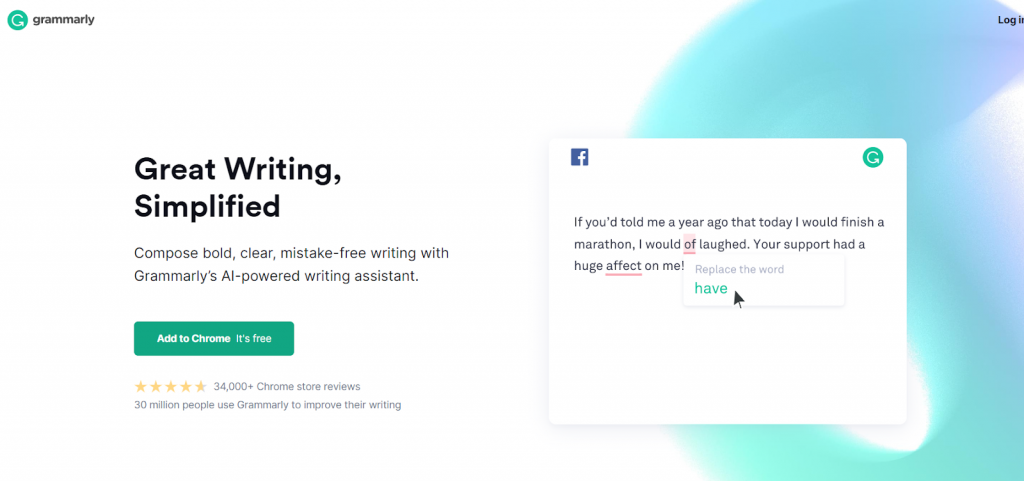 It is a solid tool to check your grammar. Hemingway also does that but this tool is more accurate. Plus it has browser and Microsoft word extensions which is quite convenient.
Unique content is very important for any website if its target is to increase SEO traffic. How do you check that? Using this tool.
Your content should be unique 90% or above. Anything less than that, try to fix your content.
There are many plagiarism tools out there but this one is the least buggy and easy-to-use tool. You have to just give the URL of your post and the rest is taken care of by it.
It does not allow you to paste or upload your article to it.
4. Frase – Freemium
This is one of the most underrated tools in the SEO world. It is a freemium product but worth the money if you go for its paid version.

The free version allows you to create up to 5 documents with target keywords for each. Once you input the keyword, it does a lot of heavy lifting itself and shows the content writing page on the left and the necessary information on the right side.
We use it every day for content writing purposes and love it. It shows the average word count of the top 10 search results, questions related to your keyword.
And if you want to analyze your content, just click the Topic Score tab and you will see how you are doing for your keyword and compared to your competitors.
A simple and handy tool to check the meta tags of your page or blog post. Useful before pushing content on social networks.
As you can see in the above image, when we put the URL of this post, we get to see how this page looks on Google search results and other social networks. Now if there is something wrong with the meta-information, we can change and update our WordPress blog post.
A handy tool to look at the URL meta-information on Google and other social networks. Also, it can generate HTML with the meta tags that can be used in WordPress or static HTML pages to show designed meta tags information to search engines and social network bots.
This is a super-fast visual sitemap tool to generate any kind of sitemaps for free. It is free to download these sitemaps.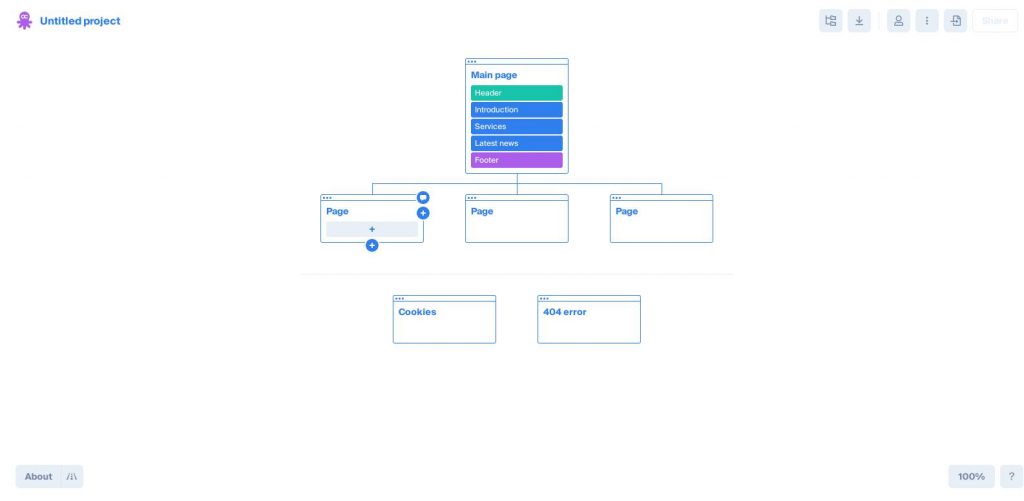 Octopus tool allows you to generate sitemaps with ease and download them in your favourite format like PDF, PNG, XML, etc.
It also gives you a public address to access the created sitemaps online. If you signup for an account with Octopus it allows saving these sitemaps in a private space.
We suggest using it to create keyword clusters and topic clusters. Helps visualize the content of your website.
Free Website Scraping Tools
Web scraping also knowns as web data scraping is a process of data extraction from websites using their HTML and XML files. This is usually performed on competitor websites.
Web scraping your competitor website helps you in competitive analysis. You can extract important information like competitive pages, titles, keywords, etc.
Later you can use this information to analyze the competitor website and get critical information like ranking keywords, user engagement on ranking pages, and more.
Extract data from any website in seconds… using a Chrome extension. Simplescraper is designed to be the most simple yet powerful web scraper you've ever used.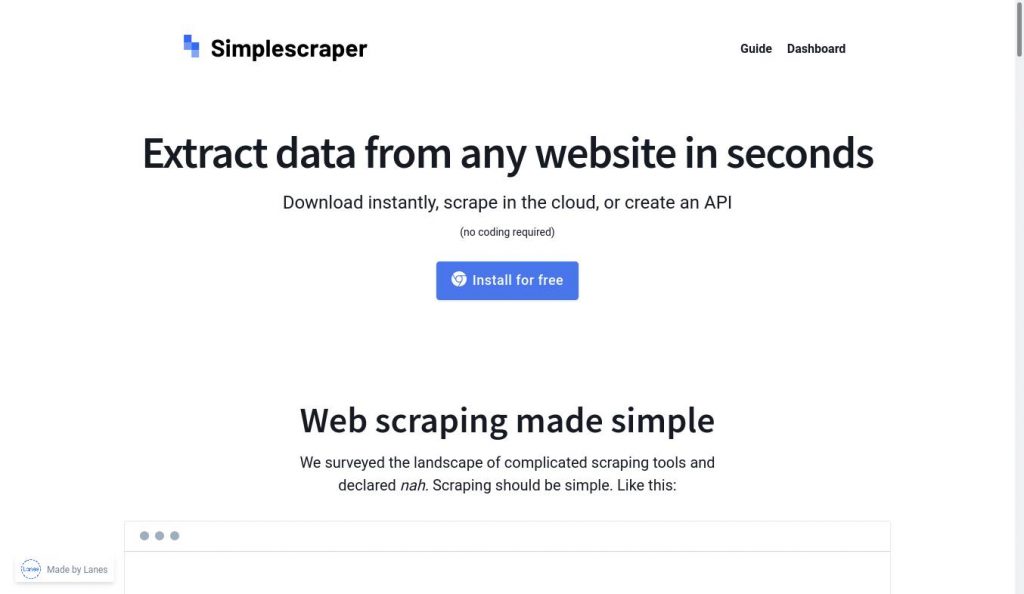 Run locally in your browser or create automated scraping recipes that can scrape thousands of pages.
You can use up to 100 cloud credits in the free account with the Simplescraper. Automated tasks can be performed with these cloud credits.
If you do it manually, then there is no limit on pages that you can scrape using this tool. It works as a browser extension to do the task.
One of the awesome tools recently developed b Samuel Schmitt. Also appreciated by John Miller from the Google search team.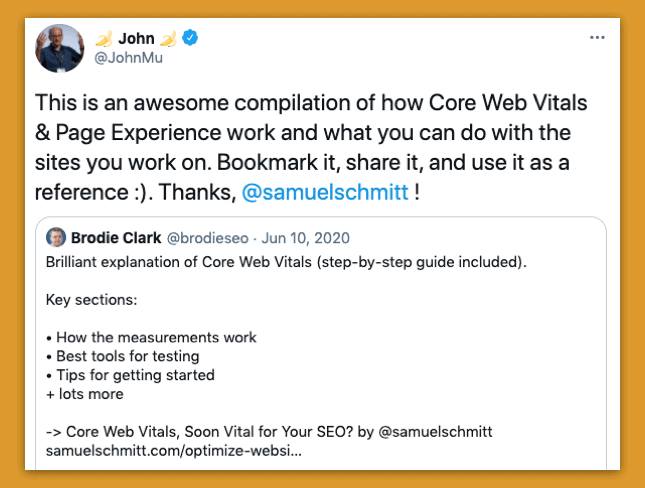 Thruuu is a web scraper and analyzing tool of top 10 search results in Google for any keyword. It scrapes the top 10 results and shows all the vital information of these pages in one dashboard.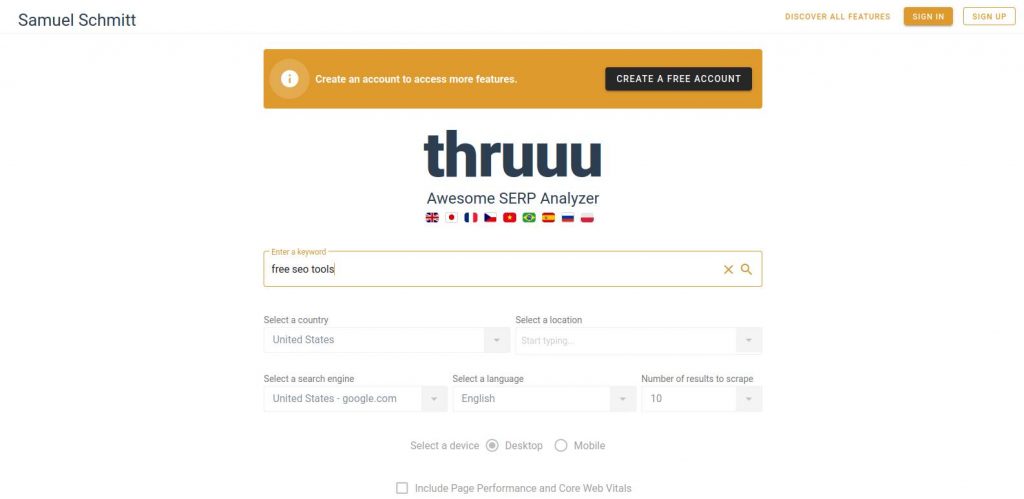 It shows the title of the page, meta description, heading structure, number of words and images, internal linking, and much other important information that will be helpful in creating good competitive content for yourself. When you signup, it will also show pagespeed and core web vitals of each ranking page of the top 10 search results.
A helpful and highly recommended tool for creating rankable content and pages on your website.
Free Images and Image Optimizations Tools
An image is worth 1000 words. This quote still stands true for SEO too.
You can write and write about a topic but an image will always have a special value for the visitor. If the image is related to content then it helps elevate the topic of the content.
This is the most exhaustive list we can recommend you for your image, video, audio, vectors, patterns, and fonts search.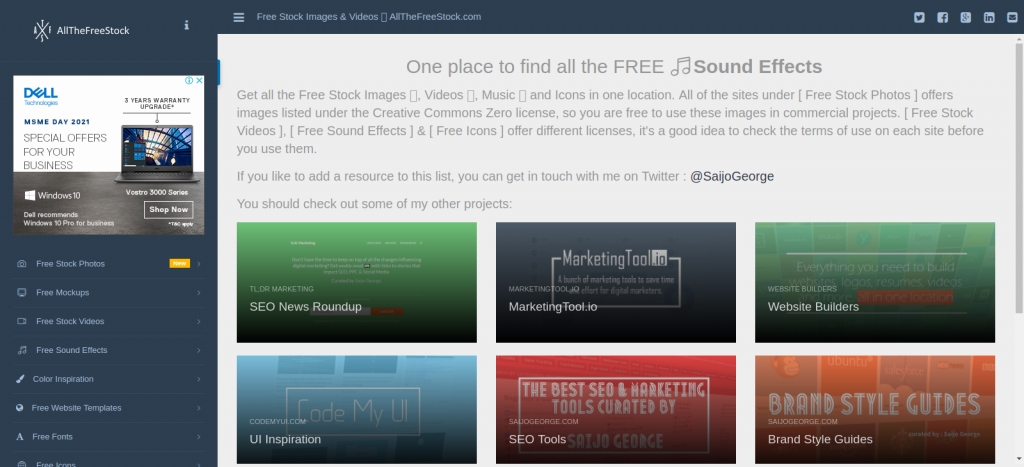 The website might not have an attractive UI but it sure is very resourceful. It even has free email templates to download.
All the free content on the web is curated here and updated from time to time. You can find links to other stock images and video sites from this site.
We have put only this site for stock image and videos search because it already has a huge list of sites database which offer images, videos, audios, and much more.
Images can take up a lot of server space if not optimized good. And its not good for page speed of your website.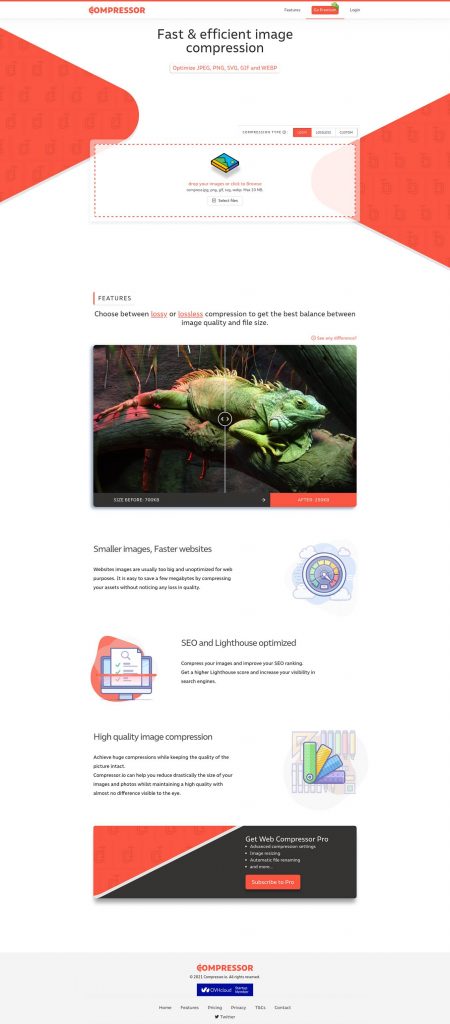 Compressor.io is a simple tool which compresses your images to the smallest size possible. You can upload upto 10 MB size image and get it compressed easily here.
A maximum of 50 images daily can be compressed with this tool. For a small to medium size website this limit is good enough.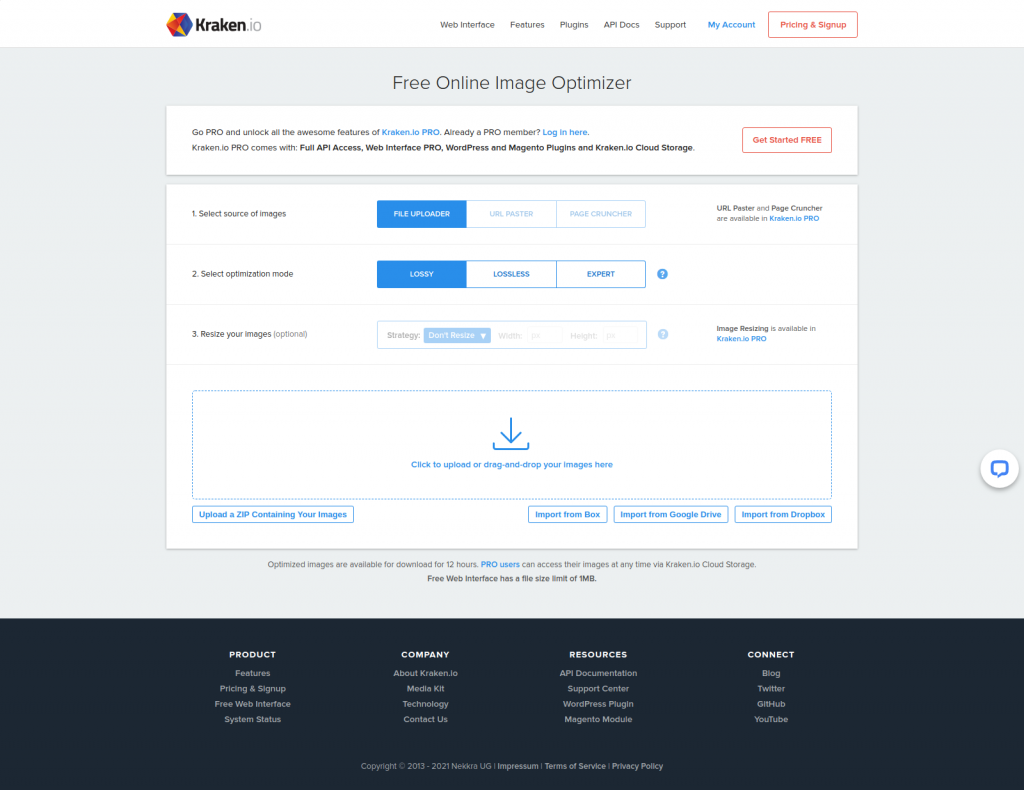 Kraken is another popular image compression tool which is widely used. It also has WordPress plugin which makes it convenient to use from your WordPress media gallery.
With WordPress plugin, there is a limit of 100 MB on the total amount of images compressed. While the web interface does not have any limits on the number of images but each image maximum size should be 1 MB.
It's WordPress Plugin can be found here:
4. Canva – Free (Recommended)
There will always come a time in a website journey where you will need to edit some image. It can be background editing, size change, text insertion etc., and this is where Canva comes in handy.

Canva has lots of options and variety of image, video, slides and graphic material for both free and paid membership. We use it ourselves a lot to create all kinds of graphic material.
You can also use this to create logo for your business. Business flyers can also be made easily.
The huge amount of graphic content in Canva is something which makes it unique than its competitors. Plus it has a mobile app for both Android and IOS which makes it even more handy.

If you did not like Canva, that is ok. We have got the next best alternative for you. A completely free alternative. It is called Fotor.
Fotor is more of an online photo editor. Some of its features are not present in Canva either.
You can enhance a photo, remove background, edit or crop photos with this. Wrinkle remover and blemish remover is something unique of its toolsets.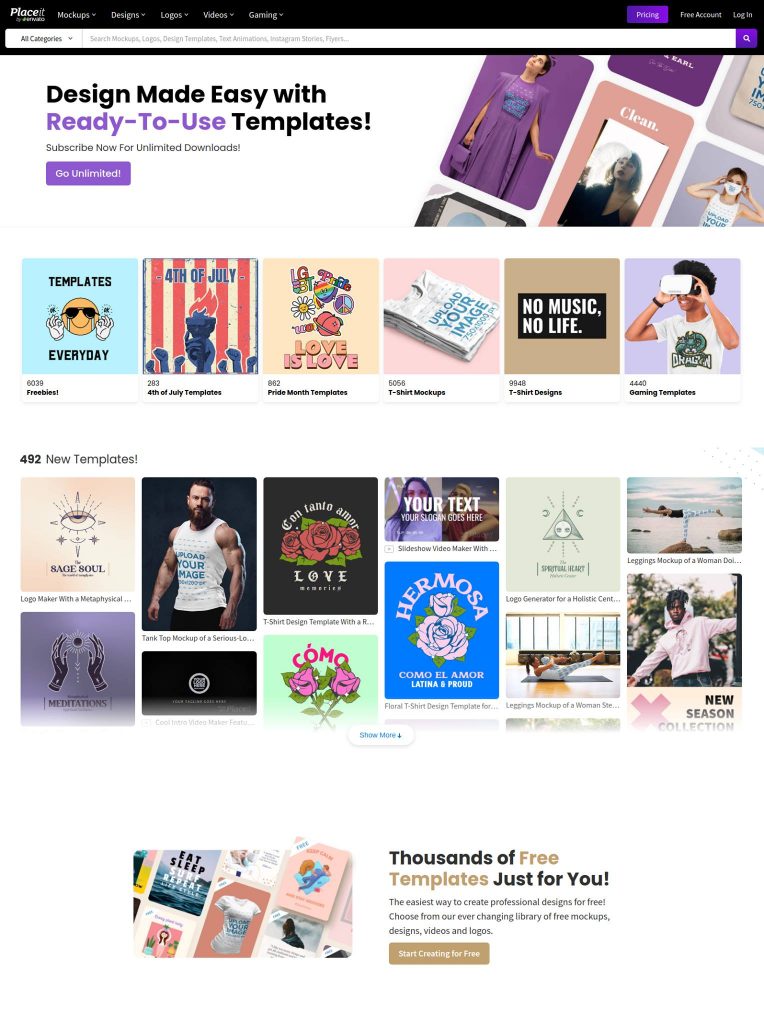 This is another alternative of Canva from the Envato team. It has got almost the same features as Canva.
If you have an Envato account for images or other graphic content, you can import the premium images, videos directly in the PlaceIt editor.
A lot of premium-looking templates from well-known designers can be found in this tool.
Free SEO Optimization Tools For Website Speed and Performance
Website design, speed, and performance is a direct ranking factor. Even more with the new Google algorithm updates coming up every few months.
There are many tools that can help you improve your website's speed and performance. To check if you are doing it right or wrong, you can use these web tools.
1. GTMetrix – Freemium (Recommended)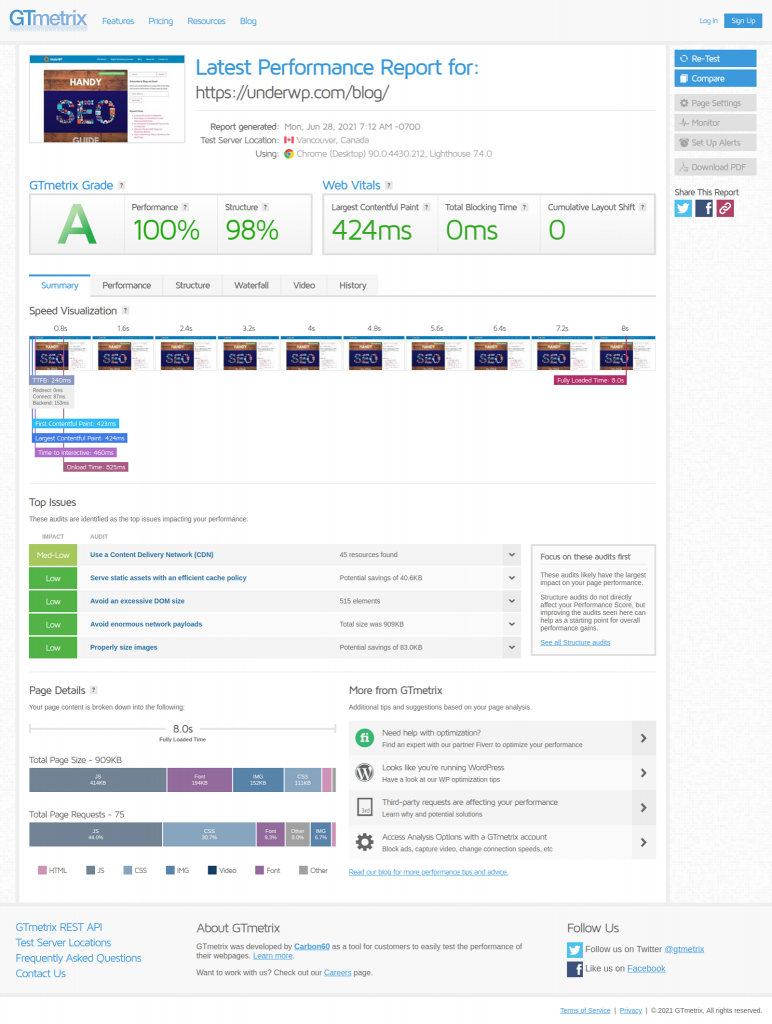 GTMetrix is one of the most popular tools to check your website issues and speed blocking scripts.
With a very simple and intuitive interface, GTMetrix comes with a lot of features for both paid and free members. You can also signup for a free account and get your website tested from different locations.
If you like to test your website on different devices then you have to go for its paid version.
One of the cool features of free signup account is that you can set it to analyze your website daily and get email alerts whenever there is a potential issue.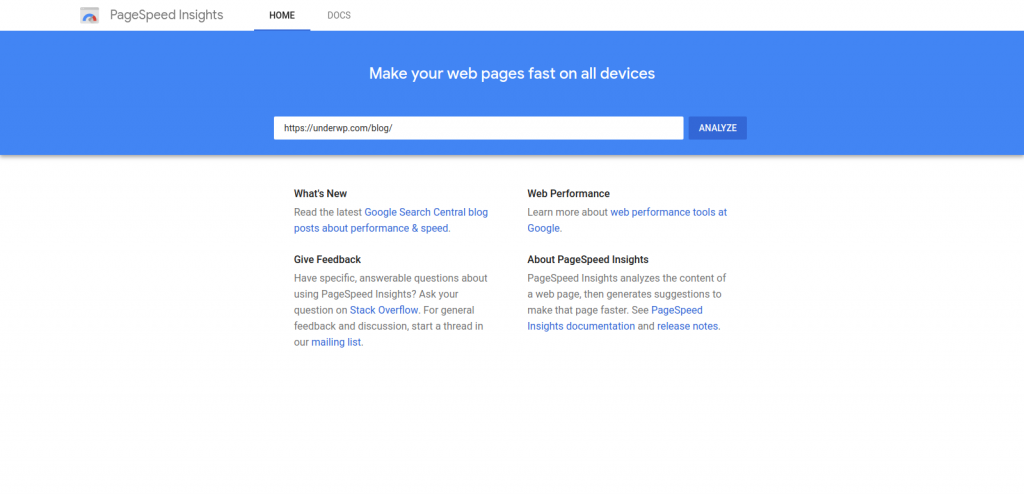 PageSpeed Insights is a tool developed and maintained by Google itself. It is a very helpful tool and easy to understand suggestions.
Some of its suggestions might not help a lot. Even if you change according to its suggestions the score might stay the same.
Sometimes it also shows buggy responses. A few of the times its suggestions related to your website may not make much of a difference.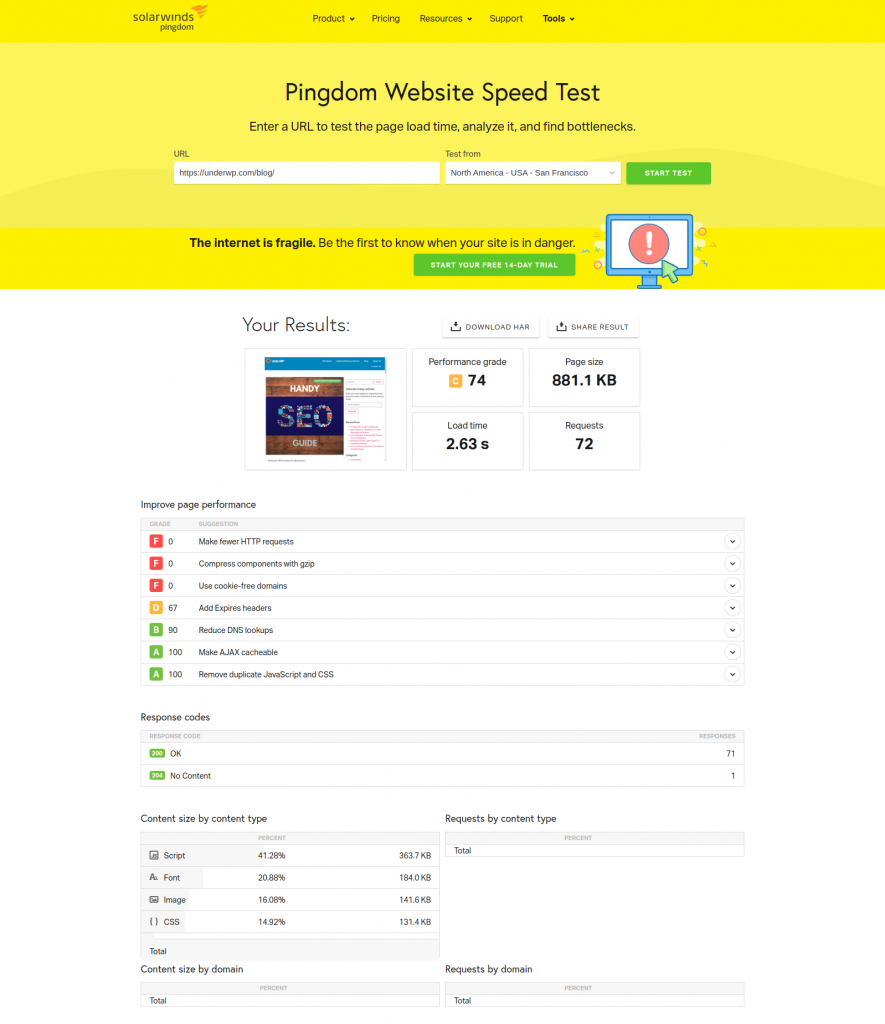 Another popular tool, Pingdom is very similar to GTMetrix.
The suggestions in this tool are less than the other two tools above. Paid features offer many options for monitoring your website.
You can also monitor your website's uptime and downtime with this tool. And also set alerts if anything goes wrong on your website.
4. WATERFALLER – Free (Recommended)
Waterfaller is a new tool that is picking up its popularity among developers in 2021. It is a completely free tool to check the core web vitals of your website or page.
Waterfaller can be used to check the URL in both desktop and mobile versions. And all this for free.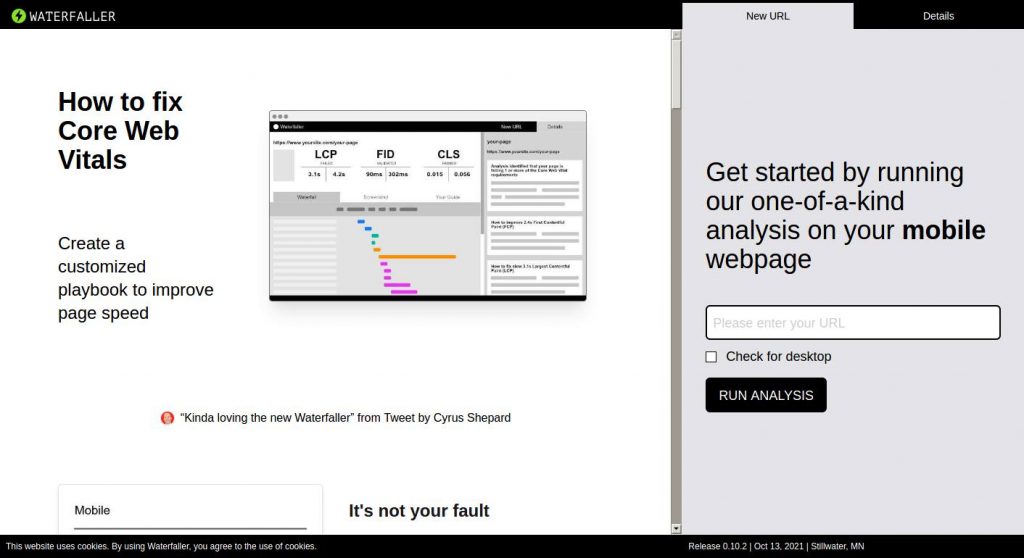 Some of the features offered by this tool are very descriptive and helpful. Other tools of the same category charge users for the same information.
Free Technical SEO Tools
Technical SEO is more important than ever now. With Google expanding its reach and trying to get best websites on its search results, websites with strong technical SEO can beat your competitors.
We have collected a few basic tools of Technical SEO.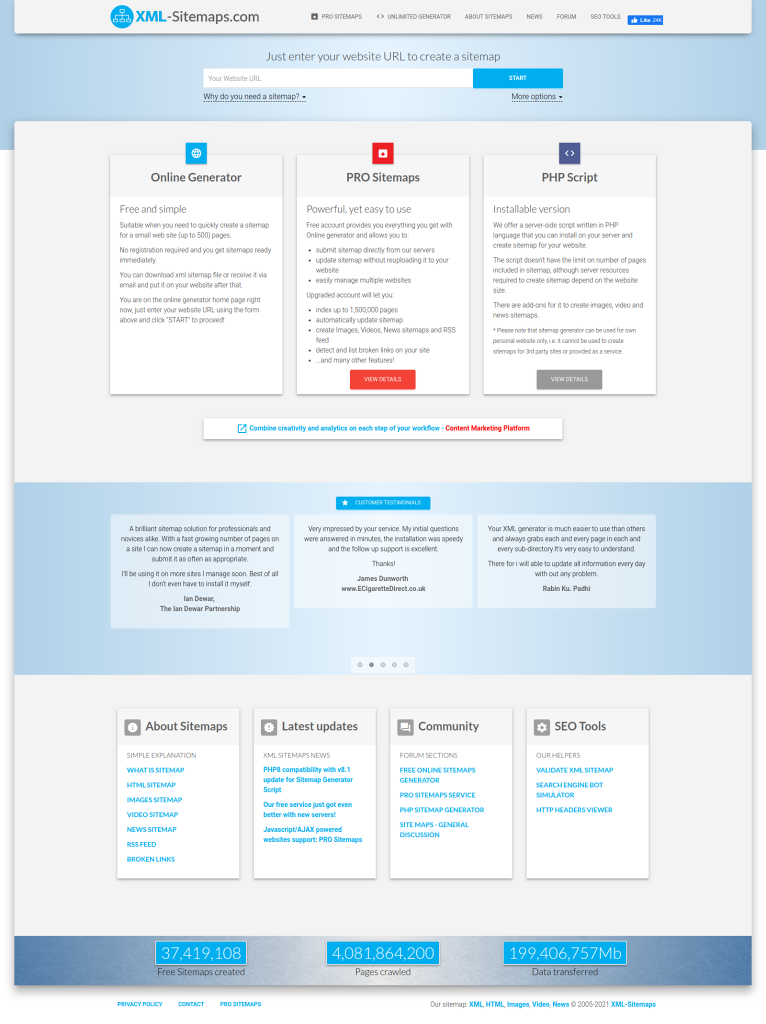 XML sitemaps are very useful to make search engines understand the structure of your website. If you are using Google Console for your website, it also has an option to upload your XML sitemap to it.
These sitemaps also help in indexing your website in search engines.
There are many plugins in WordPress that can help you in generating sitemaps. If you are constantly updating your website with new content, then we would suggest you go with these plugins.
If your website is not constantly updated, then you can use this XML Sitemap Generator tool to create sitemaps and submit to different search engines.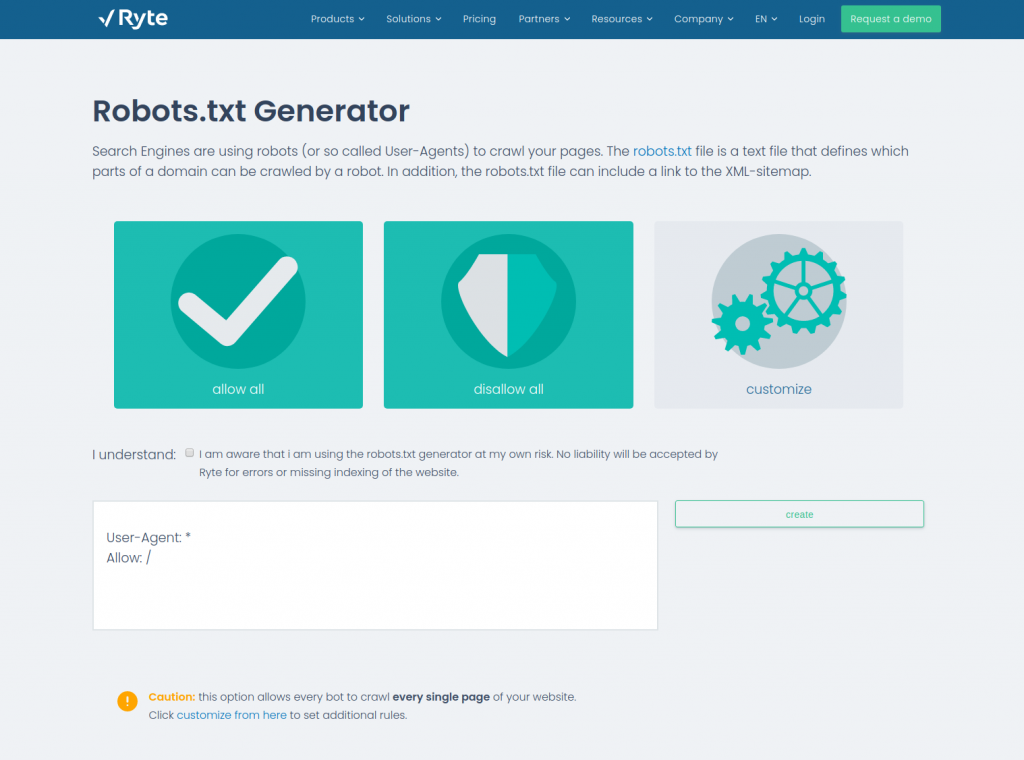 Robots.txt file is a file respected by most of the search engines to learn which pages to allow in the search engines or not.
There might be some parts of your website which you do not want to show up in search engines. Membership areas, private or personal information area of your website.

Google can index and rank your website page or parts of it. It can show it in different types of snippets like Product Description, rating, FAQ, list, and maybe more in future.
If you want to increase your chances of ranking in any of these snippets, you need to work on schema markup of your content.
This is easy to do if you are using a plugin in WordPress. But there is also a free tool by Google which can help you do this.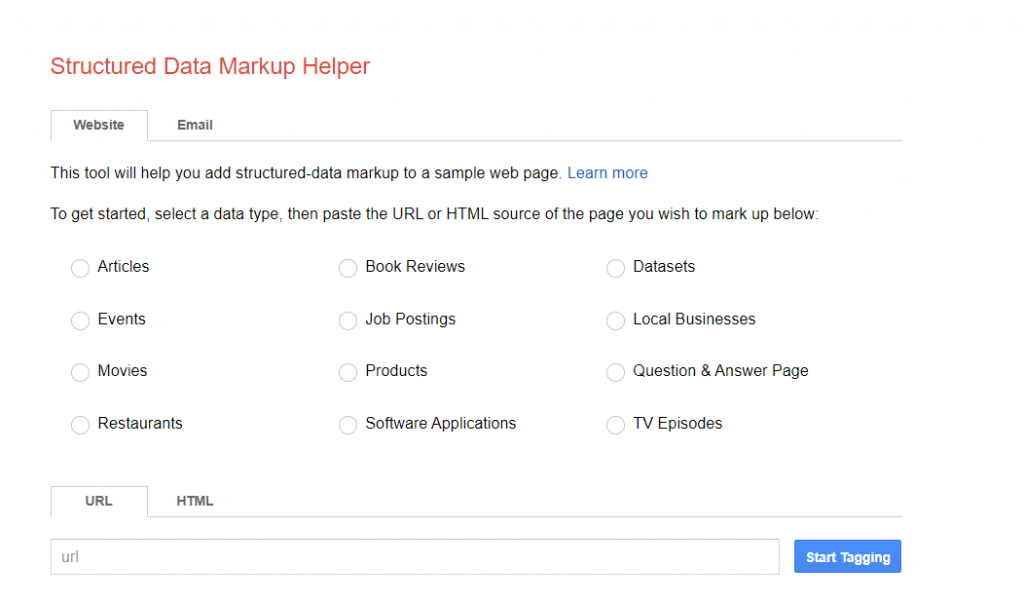 There are also many paid options for doing this but we found not much difference from this free tool by Google.
This is a new WordPress plugin which is quite in trend these days. On its plugin page, it says a lot of good things about itself with references.
It even compares itself with SEMRush and Ahrefs, which are the top tools used by SEO experts. All of the rank tracking and tools is also offered by this plugin in the WordPress itself. Interesting!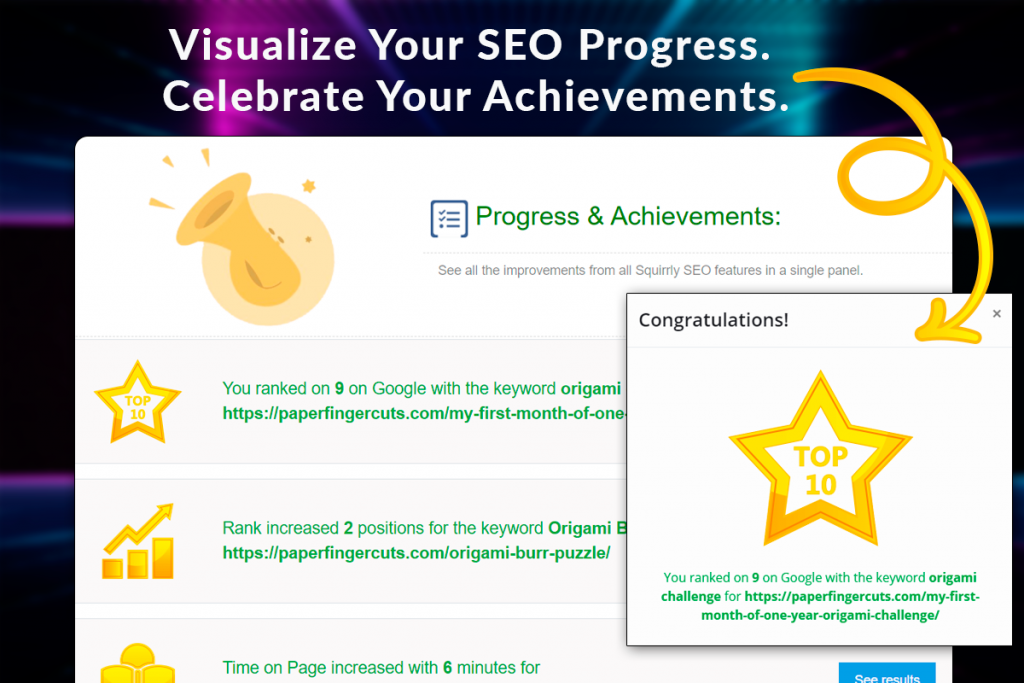 Squirrly SEO plugin is an A.I. based SaaS plugin which uses its own algorithms to show you the best suggestions to rank top in search engine rankings.
Analytics for any website is very important to learn about its visitors and technical issues. These metrics are very important for every website to improve their technical and search traffic.
One of the most popular tools used by majority of websites on internet. Google analytics help websites find every detail of their visitors.
Visitor pageviews, session time, repeatine users, etc., are some of its unique features. A lot of detailed information is analyzed by Google Analytics.
Using Google analytics on website has shown that some websites are easy to be indexed in Google. Though, Google doesn't say this in open but in some cases Google Analytics has improved Google tracking for your website.
The more google tracks your website, the better the chances of indexing.
Bing is the second largest search engine in the world. Bing is owned by Microsoft.
Bing Webmaster Tools is a free website analytics tool powered by Microsoft. It is the next alternative of Google Analytics.
It also helps webmasters to add their website to Bing search engine. Bing crawlers prefer websites which are added in this tool before going for other websites.
Bing webmaster tool is a combination of Google analytics and Google search console in one platform.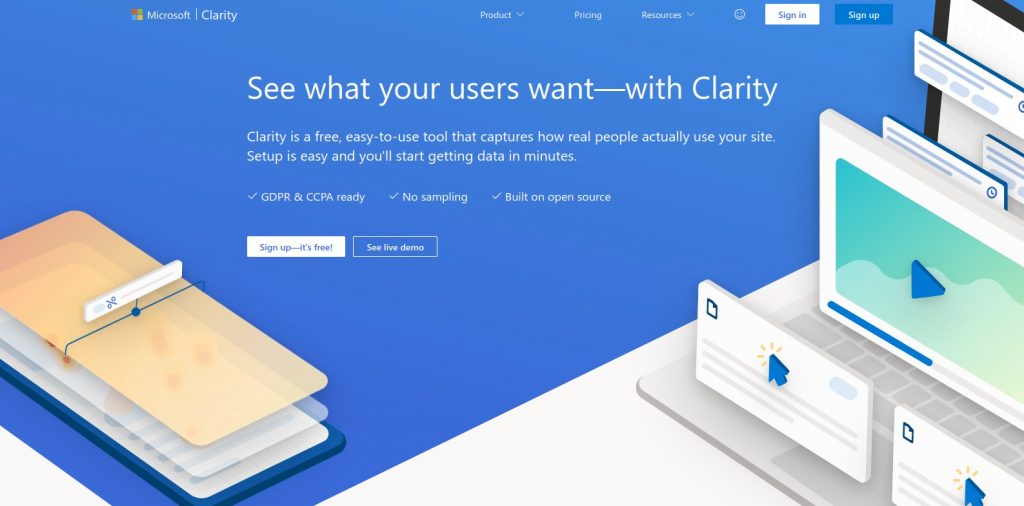 A free tool from Microsoft that will work with your Google Analytics to get you detailed user heat-maps information of your website. It says that it will show how people are using your site as session recordings.
Instant heatmaps can be generated for any website pages automatically. This gives an opportunity to discover problems in exit pages of your website.
A helpful, free and open-source tool to analyze more details about the website.
Free SEO Audit Tools
Once your website is ready for traffic, you have to always keep checking it for broken links, check websites linking it, competitive analysis, and many other factors.
The more you optimize your website, the better the chances of its ranking. This is where a majority of SEO audit tools come in handy. There are literally hundreds of SEO tools out there and here we have collected best of them.
1. SEOBility – Freemium (recommended)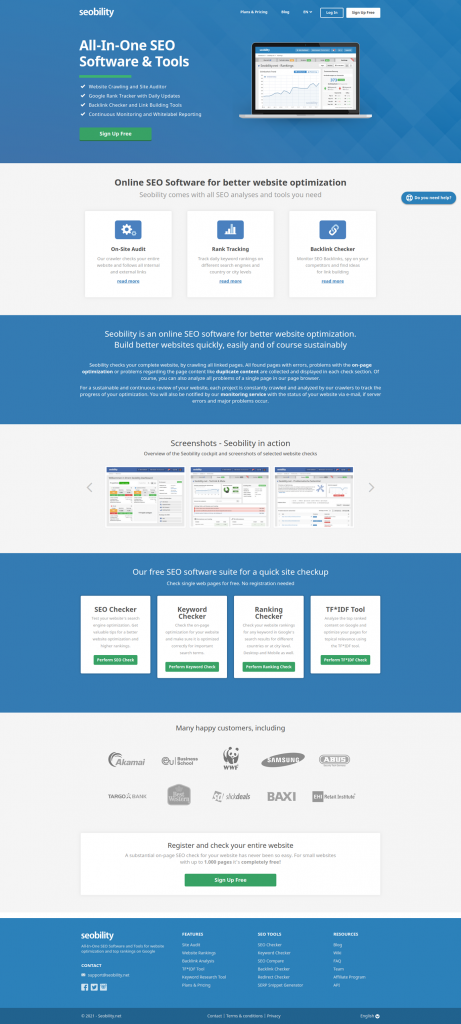 Starting with our favorite and recommended tool. SEObility is an all-in-one SEO audit tool which does a lot of heavy lifting for on-page and off-page SEO.
Website crawling and auditing upto 250 pages is free. Google rank tracker and updates is also included in free version.
It's backlink checker and link building tools are not of much help in free version. But its paid version is quite detailed.
The TF*IDF tool is my favorite part of it. It is very helpful in creating SEO friendly content. It is similar to the Topic Score of Frase tool but the analysis is more evolved in this nifty tool.

If you like to put your desktop to work for SEO audit then this tool is for you. It is similar to the above tool SEObility but a desktop version for Windows, MacOS, and Ubuntu.
You can analyses upto 500 pages in its free version. It is very accurate and reliable too.
The UI is a little old looking which might put off some users. Apart from that most of its features are free and helpful for SEO auditors.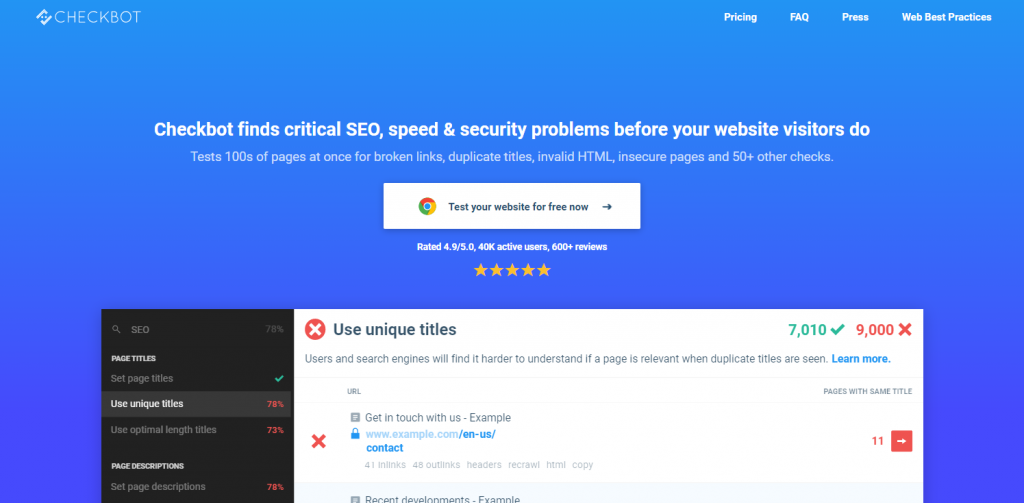 This is a handy tool for quick SEO audits. It comes as a Chrome addon which can be used on any kind of operating system.
No signup is required to use it, just download the addon and you are ready to go. The free version allows upto 100 pages crawl.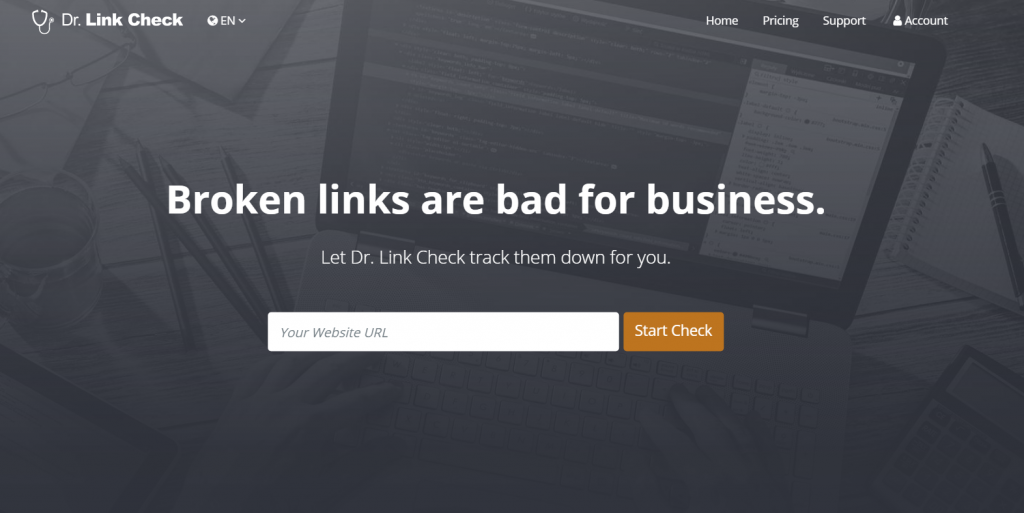 Broken links are bad for SEO. It also effects user experience for the website.
There are many free tools which can help you fix broken links on your website. Dr. Link Check is one of those tools which does it good and a good user interface to understand your website link problems.
It's free version allows upto 1500 URL's on your website to be checked. No signup required to try it.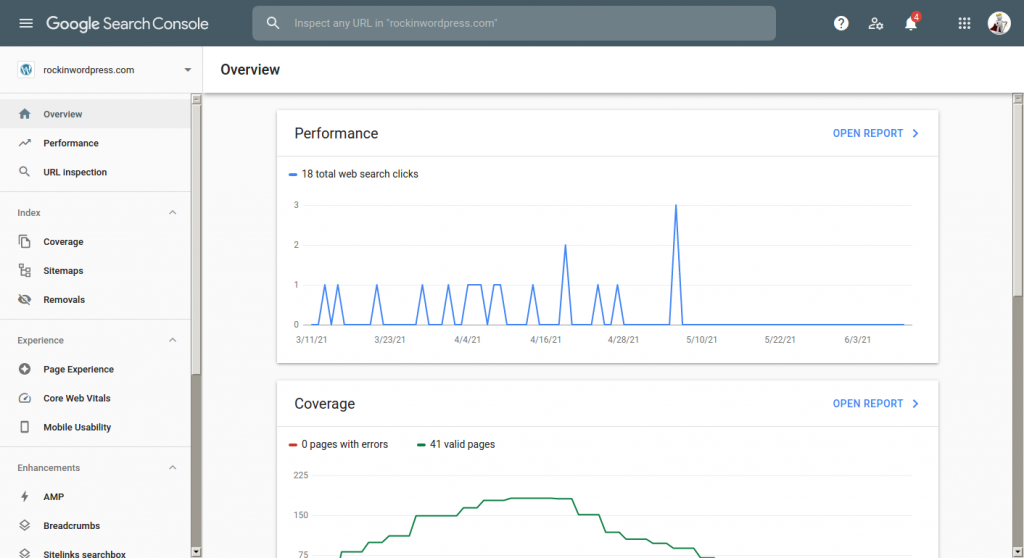 One of the most popular and useful SEO tool for SEO professionals. This is the only reliable tool which used in the right direction can increase your search traffic and search engine rankings in Google.
Organic search and organic traffic is the greatest asset of any website. Google search console helps you analyze and optimize it.
You can also see monthly search volume in this tool. Check how your seed keyword is performing and optimize your pages for search rankings and different search terms for your website.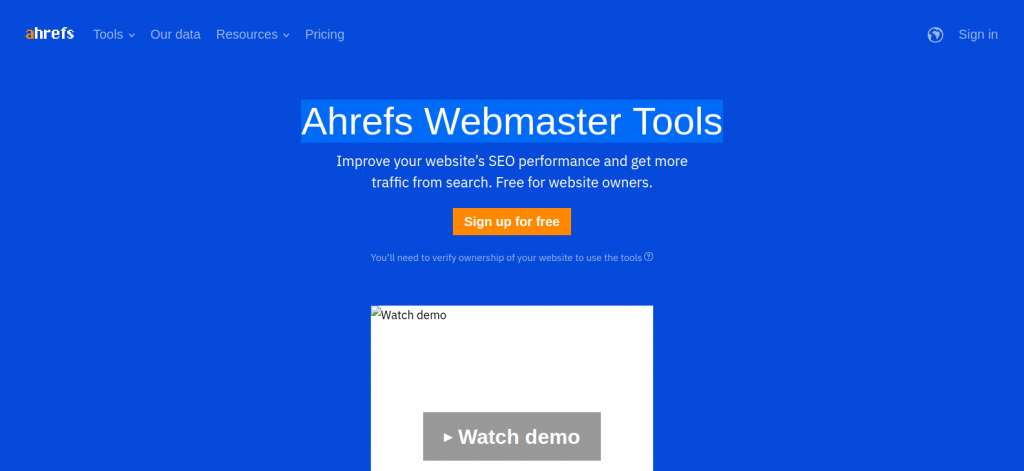 This is another free useful website analytics tool. It also helps fixing Technical SEO issues.
Ahrefs has got some very good free tools for website owners. Checking backlink profile is also free with them. Based on your backlinks, you can design your link building strategy.
Ahrefs webmaster tools helps you fix broken links, list of URLs working good on your website and generating proper SEO report is easy with this tool.
7. SEMRush – Freemium (Recommended)
This is another important asset you should always keep in your SEO audit toolset. SEMRush helps you also make competitive analysis.
Free accounts are allowed upto 1 URL project and its detailed report. Every off-page SEO metric is shown in this tool. It's On-page SEO checker is also a useful feature.
You can also analyse the off-page statistics of your competitors with SEMRush. A domain authority check is very useful to check your website status with this tool.
Final Words
The amount of tools that can be listed for any part of digital marketing is in hundreds. Every time we meet new people from SEO world we discover new tools. There is literally no end to it.
In this post we did our best to include all the best tools which we have tried ourselves and found useful. I am sure you might find a lot of them useful too.
If you think we have missed out on an important tool, do let us know in the comments.