Keywords are a cornerstone of your WordPress website's search engine optimization approach. For search engines, keywords, and the websites that employ them as an optimization component, it's been a long and winding ride.
The regulations for keywords in search engines haven't always been clear. The websites' keyword practices haven't always been transparent. People who were conducting the searches were frequently caught in the middle, receiving low-quality, over-optimized content.
However, things are as obvious as they've ever been in recent years. We understand why keywords are important and how to apply them effectively. Even if we use the best keyword strategies for our WordPress blog articles, we need still to check to see whether they're ranking for the correct keywords on a regular basis.
We'll teach you how to make sure your WordPress posts are ranking for the correct keywords in this article and blog ranking checker tools for Google.
Selecting the Right Keywords
Keywords come in a variety of shapes and sizes. Short tail keywords are ones that include only a few words and are too general or imprecise to indicate a searcher's intent. Long tail keywords, on the other hand, have more words in them and are much better at describing what the user is looking for.
These are just two examples of the many different sorts of keywords you may use in your WordPress posts. We won't go into depth regarding keyword research here because we already have an excellent SEO post that has all of the information you'll ever need on the subject.
We will, however, discuss the kind of keywords you should be looking for, as well as what makes up a "good" keyword. The proper keyword is one that matches your content in a way that does not appear to be deceptive to anyone who comes to your website using that keyword as a search term. It's a term that fits with the sort of material in the article you're using it in. You'll probably notice a high bounce rate if you don't get this right and there's a mismatch between the keyword and the content.
We recommend you check this list of our favorite SEO tools. It has a Keywords Research section which shows up a lot of free tools for your keyword research.
Make Optimized Posts With The Right Keywords
If you know how search engines operate and have a rudimentary understanding of SEO, you've already ensured that your WordPress website is crawlable and that your articles can be seen in search engine results.
To get them to rank for the keyword of your choice, you'll have to optimize your content for it. Techniques for content optimization have evolved over time, but some of the tips still remain the same:
Even though it will not affect the content's ranking, the meta description is a nice location to insert the keyword. The search crawlers will notice it.
It's fine to use the main keyword in a subheading when it's acceptable, as long as you don't use it in every subsection.
Include the keyword in the headline and title tag. It's important to remember that, while the two can be similar, they don't have to be.
Using the exact match keyword in the URL has little significance. It may not yield amazing effects, but it certainly won't hurt.
Of course, it should go without saying that the keyword should appear naturally and organically inside the post. You shouldn't have to put much work into making sure your content is sprinkled with the target keyword if you've chosen a solid keyword for the content you're writing. It should come up on its own.
Even if it all appears to be quite simple, you may still require the assistance of a trusted program to assist you with this aspect of search engine optimization. You might want to try the following tools:
Our new Free AI Content Generator Tool Based on ChatGPT is the best content generator tool at the moment. We have kept it free for a limited amount of time. Finish its requisites and get the FREE access to it before the offer is gone!
Yoast SEO is a popular SEO tool, especially for WordPress users. The free version is useful, but the paid version adds the ability to optimize for related keywords.
Squirrly's SEO 2021 is a tool designed to assist non-experts in optimizing their content for search engines, with the added benefit of merging optimization with creation.
We have covered many other tools in our other post-https://underwp.com/free-seo-optimization-tools-google-loves/
Check Blog Ranking To See If You're Using the Correct Keywords
You'll have to wait a while after you've published your well-optimized content for the proper and relevant keyword to see the results. It takes time to get things done online, no matter how badly we want it to be different. How much time do you have? Sometimes it takes hours. At other occasions, it could be weeks to learn ranking blog content.
Your posts will eventually appear in search results and will be assigned a certain position. The simplest and least accurate way to discover how highly you're ranking for a certain keyword is to run a search on your computer and see if your content appears on the first few of pages of results.
This isn't the most precise solution, but if you don't have anything better to do, at the very least make sure you're searching in a separate browser or using your browser's private or incognito mode. You don't want your results to be tainted by data from that website.
If you utilize certain tools to examine which keywords you are ranking for, you'll do much better.
Google Search Console is a service designed to help you track and improve the performance of your website in Google search results. Google Analytics only shows a small portion of the data from the Search Console. Acquisition > Search Console > Queries will reveal certain search queries – so you'll want to use the whole thing to discover which terms your posts are ranking for.
Finding the keywords that your entire website is ranking for is simple in the Google Search Console website: go to the Performance tab and sort by clicks, impressions, click-through rates, and position to see the queries that your website is ranking for.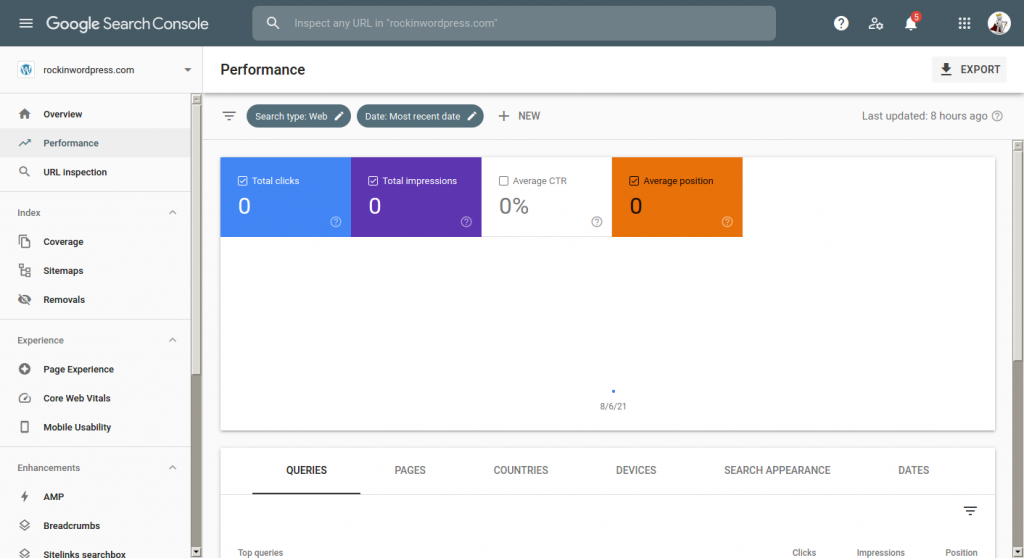 To focus on a specific page, scroll to the top of the page, tap the "+ New" button, and then select "Page." You'll need the page's link, or at the very least its slug, to check it. When you're finished, you should be able to view all the terms your page ranks for, as well as whether the keywords you optimized for are among the top ones.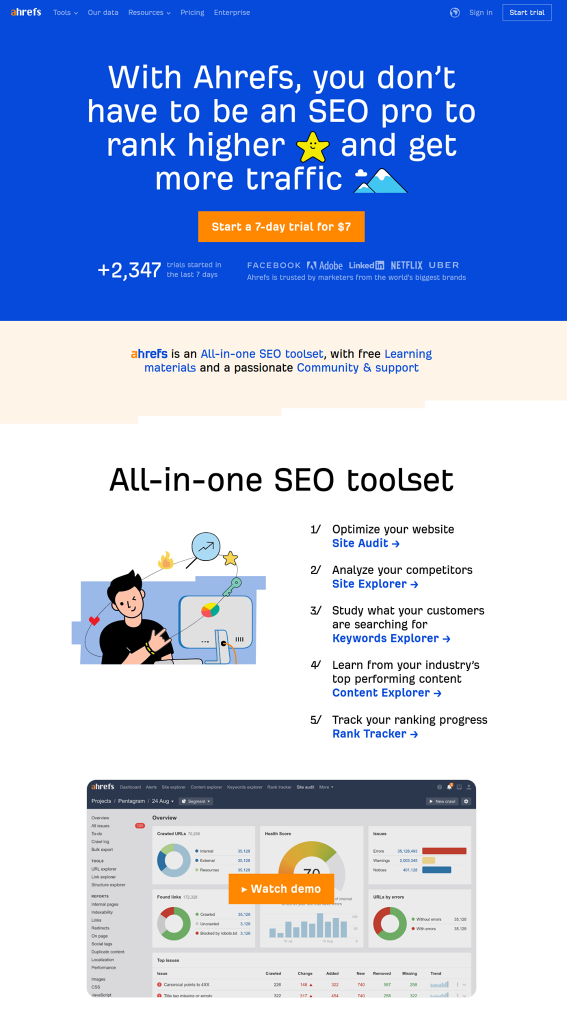 Ahrefs is a professional-grade SEO tool that is mostly used by professionals or those whose website performance is critical enough to merit investing in a professional-grade tool. While Ahrefs can help you research keywords and optimize your content, it can also help you figure out which keyword is the most important.
Rank Tracker is one of the Ahrefs suite's five basic tools. You can see the keywords your blog is ranking for by scrolling down in the tool's Overview section. You'll be able to see amazing things like keyword ranking history and the top one hundred Google search results for that term.
However, if you switch to the Pages tab, you'll notice that the keywords you rank for are now organized by your website's URLs. Simply selecting the "Organic keywords" option for a certain URL will display a list of all the organic keywords for which that website is currently ranking.
SEMrush, like Ahrefs, is a tool that shines brightest when used by someone who knows what they're doing. SEMrush's usability goes from search engine optimization and content marketing to market research, advertising, and even social media management, thanks to a mix of over forty tools.
When it comes to keyword research, SEMrush includes at least six different tools. It offers features for on-page SEO, local SEO, and content marketing — it's a fantastic tool that can assist you at every stage of ensuring your posts rank for the relevant keywords.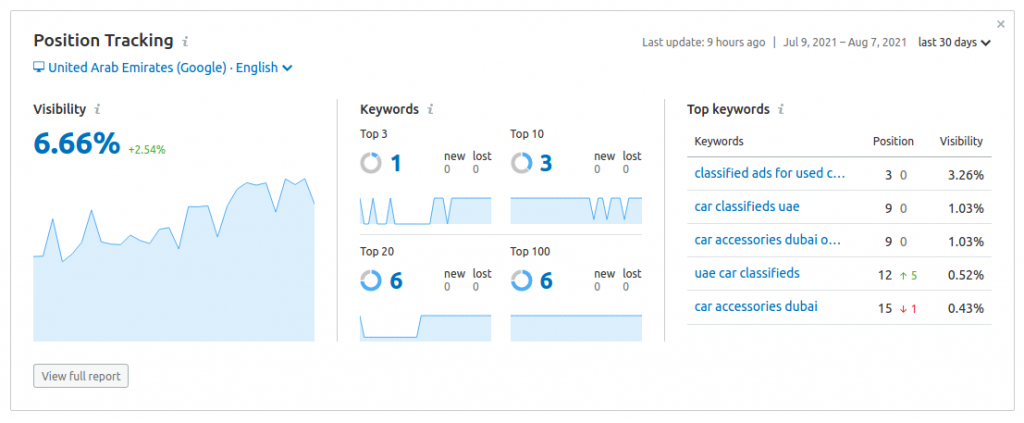 The Position Tracking function in SEMrush may be used to check blog ranking for keywords which individual pages are ranking. While the tool displays the distribution and overview of your and your competitors' ranks, it also allows you to separate results by landing pages, which are pages that generate visits from search engines.
You may retrieve a list of keywords, as well as the associated traffic, position, and volume metrics, by opening the "Keyword count" drop-down next to a certain URL.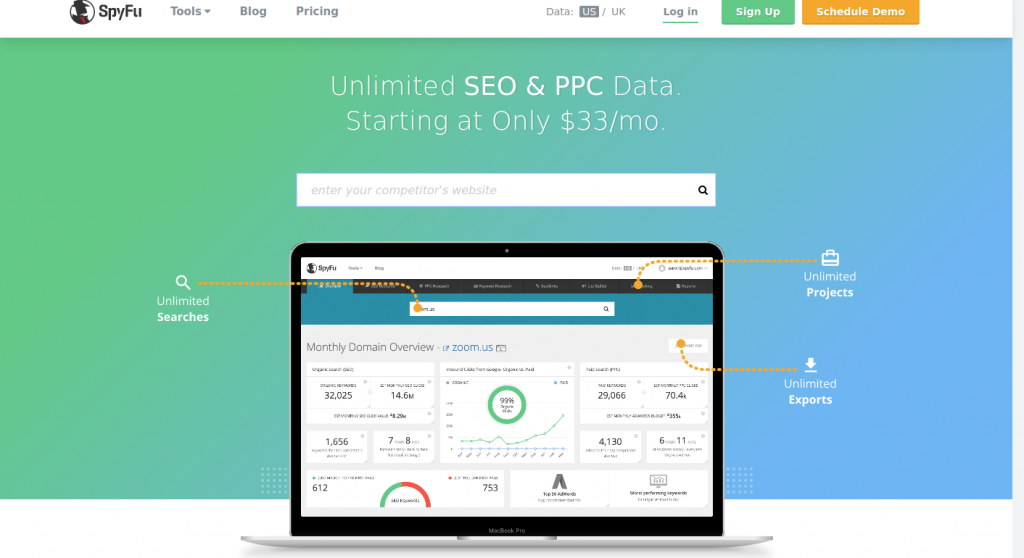 SpyFu is an excellent tool for keeping tabs on your competitors. It does, however, come with the ability to track your own keyword ranks across multiple search engines.
For free, it offers extremely limited functionality, but it at least provides you an idea of what to expect from the system. In any case, it's worth taking a look at your own domain to see for yourself.
SpyFu will present a list of the most valuable keywords on the site in the SEO Overview section. You can also observe how keyword rankings have changed over time, which can help you plan content updates.
SpyFu will use numerous reports to break down your keywords and give you an overview of how the site is performing. For example, you can look up the site's ranking history by starting with the top ten keywords.
You can also type in certain terms or phrases, and SpyFu will scan the entire website for matches and comparable search results.
Final Words
Getting your WordPress posts to rank for the relevant keywords is a multi-step process that may require the usage of multiple tools. Like using Google Search Central and SEMRush together.
Or using all the four tools said above together to check the ranking of your WordPress blog. It all comes down to practice.
First and foremost, you must ensure that you have a firm grip on the keywords for which you want your pages to rank — determining which keywords to use is agony in and of itself.
After that, double-check that all of your pages are correctly optimized for those keywords. Finally, once your pages have been generated, optimized, and published, you will need to wait for them to appear in search results. Then you'll be able to see if blog post ranking for the keywords you wanted them to.