Learn about the basics of SEO in digital marketing, its importance, and how it's done in this post with detailed information. If you got any questions, our comments section is open.
SEO Full Form and Meaning
The term "search engine optimization" refers to the process of optimizing a website for search engines. It's the practice of using non-paid (also known as "organic") search engine results to increase the frequency and quantity of website traffic as well as brand visibility.
Spider bots crawl the internet, which is how search engines function. These web crawlers effectively track links from one page to the next in order to find new material to include in the search index. Related results are extracted from the database and ranked using an algorithm when you use a search engine.
Despite the acronym, SEO in digital marketing is about people just as much as it is about search engines. It's all about figuring out what people are looking for on the internet, what responses they're looking for, what words they're using, and what kind of content they want to consume. Knowing the answers to these questions will help you interact with people who are looking for the solutions you have on the internet.
What Is SEO and How it Works?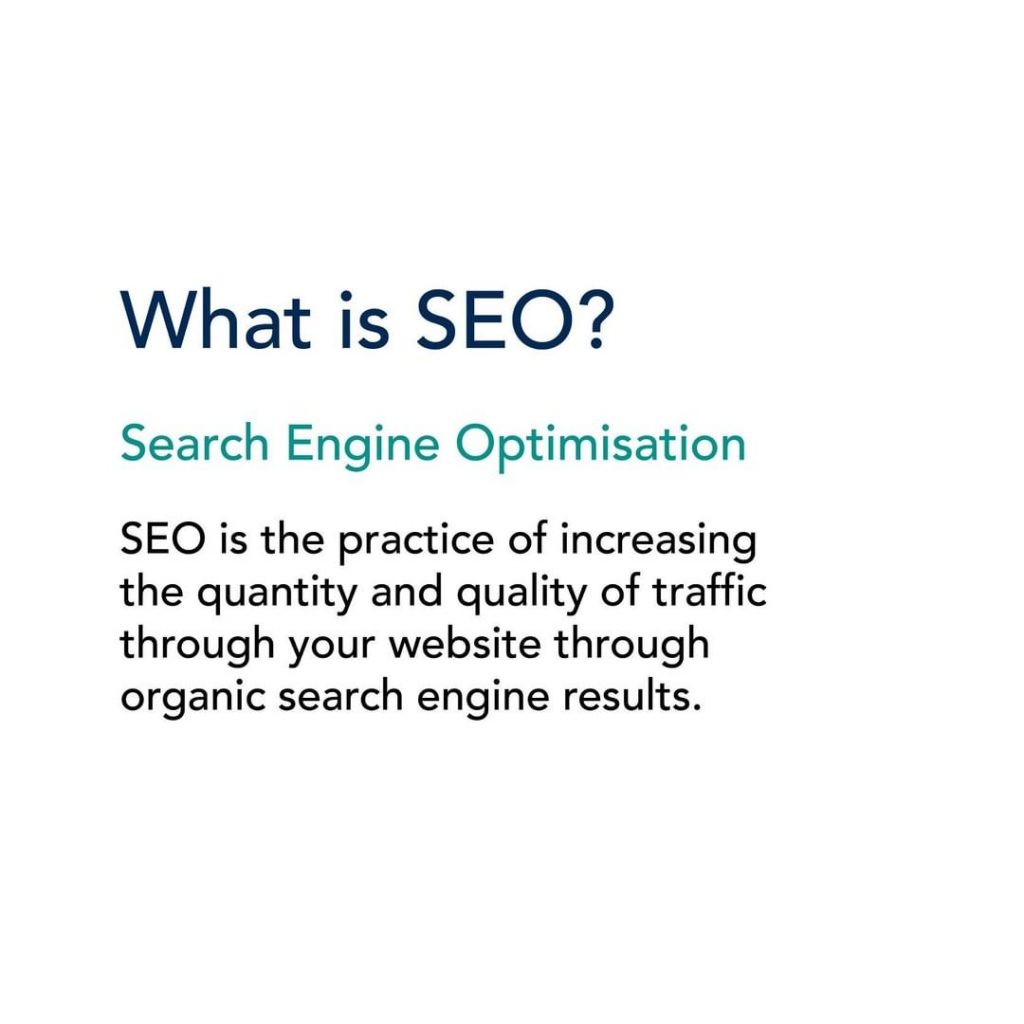 The fields of search engine optimization and website promotion are always changing. New analytics and tracking services are being developed, as are the ranking algorithms. For example, a few years ago, the most important move was to build up an external linking in mass. Now, Internal optimization is important, as is carefully selecting external linking websites based on the principle of "better less, but good links."
The aim of search engines is to provide the best possible service to their users. This entails providing search engine results that are not only of high quality but also important to the searcher's needs. To do this, search engines can check, or crawl, various websites in order to better understand what they are about. This allows them to provide more relevant results to people looking for specific topics or keywords.
Similarly, search engines will check the web to see how easy it is to access and learn, with user-friendly sites receiving higher SERP rankings. SEO in digital marketing is the mechanism by which businesses ensure that their websites rank highly in search engines for related keywords and phrases.
Let's pretend you've written an article on how to create an Ebook. You will most likely do this in order to get the material in front of the right people. You'll try to customize this blog post so that it appears as the first result when anyone searches for "create an Ebook".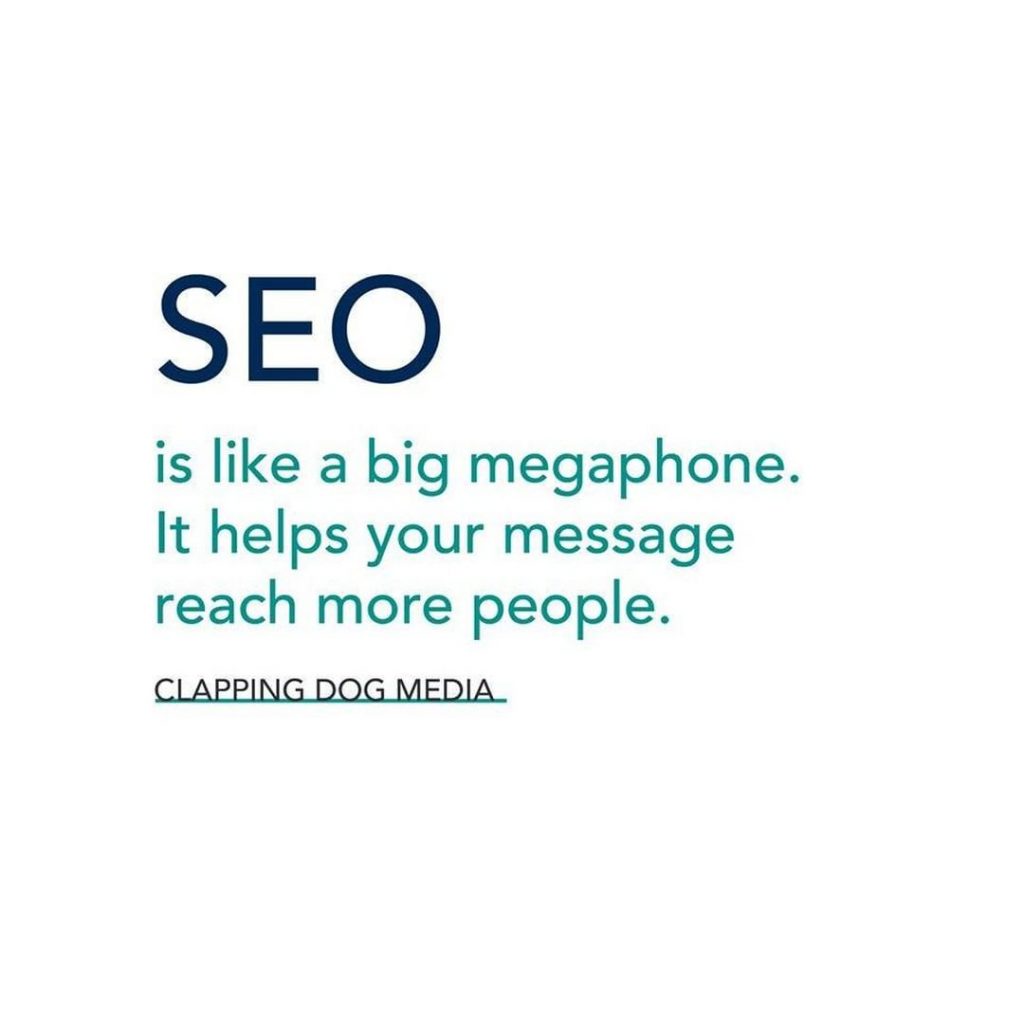 You can work to increase your popularity on search engines by enhancing your SEO in digital marketing. This allows you to reach out to and communicate with a larger number of potential customers. You will improve your chances of getting in more targeted organic traffic by producing more engaging and effective SEO-focused content.
Your website's user experience will improve as a result of SEO.
It's important to know what prospective users/customers are searching for. Users' behavior and expectations can evolve over time, so this isn't a one-time exercise. If they can't find what they're looking for on your site or are having difficulty finding it, they may abandon it sooner than expected and never return. Even Google is constantly reinventing how it identifies and populates search information on its SERPs, and has evolved into an answers platform since gaining a better understanding of what its users want (the need to actually visit a site is fast-waning as you can find all the information you need on a SERP itself).
Google is actively tracking user behavior, such as the amount of time spent on a website or site, the bounce rate, and other factors, in order to determine whether or not they had a positive experience when visiting a site. This is one of the most crucial Google ranking considerations in SEO and should not be overlooked. Even if you rank in the top search results for a short time but struggle to impress the users who visit your site, your search rankings will suffer over time.
Brand Visibility Is Boosted By SEO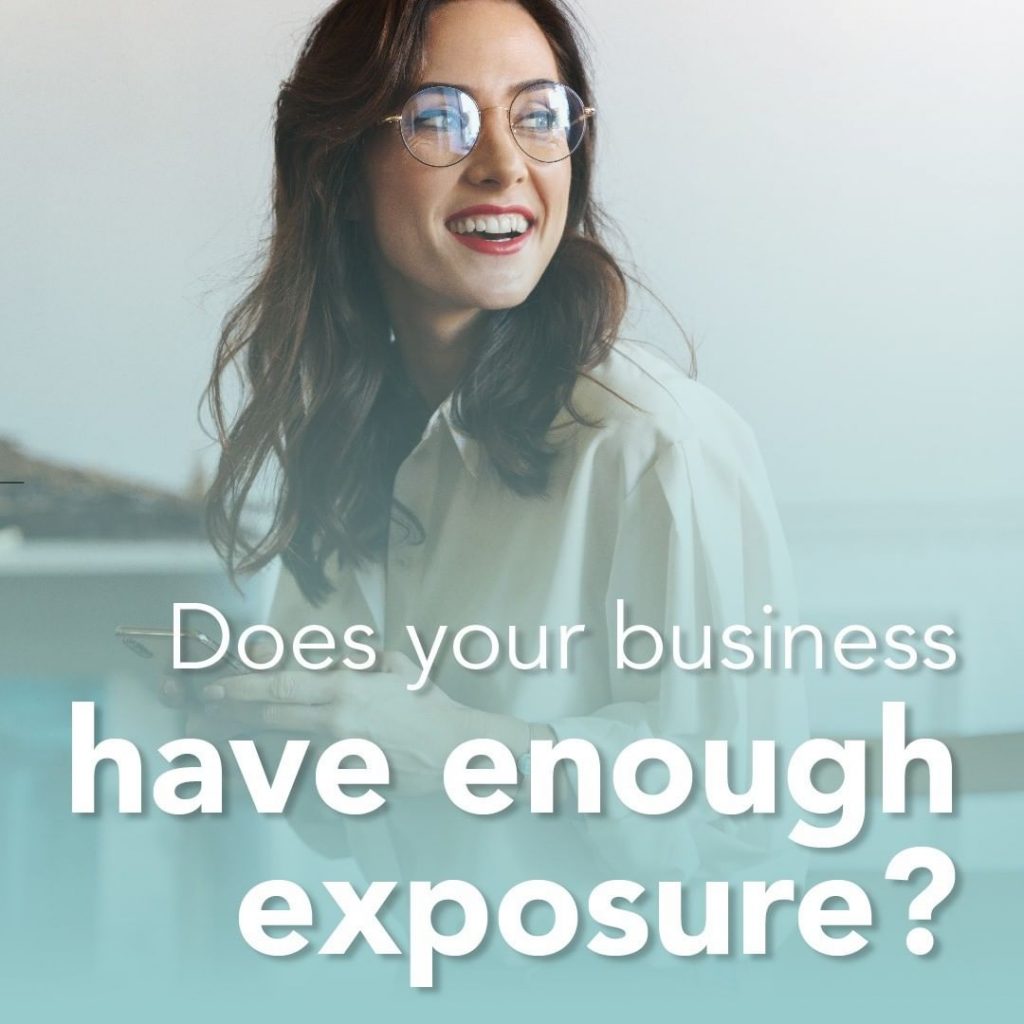 The more important SERPs you appear at the top of, the more eyeballs you'll attract, resulting in increased knowledge of your brand and product or service offering. SEO in digital marketing aids in the creation of a consistent online buzz around your brand, which in turn aids in brand recall. You can use SEO to create a distinct brand voice that will help you connect with the user demographic you're targeting.
SEO Establishes A Brand's Credibility and Trustworthiness
Being listed among Google's top search results indicates that the search engine views you as an important, useful, and genuine source of information/content and that you are preferred over other sites in the running. SEO improves your site's authority by obtaining backlinks from other reputable sites in your industry, optimizing on-page material, detecting crawl errors and broken links, and enhancing your site's user experience, among other things.
Getting a Google user to visit your site is one thing; keeping them there or having them return is quite another. SEO aids in the achievement of both of these objectives while also enhancing the brand's reputation and dependability.
The Most Important Source Of Site Traffic Is SEO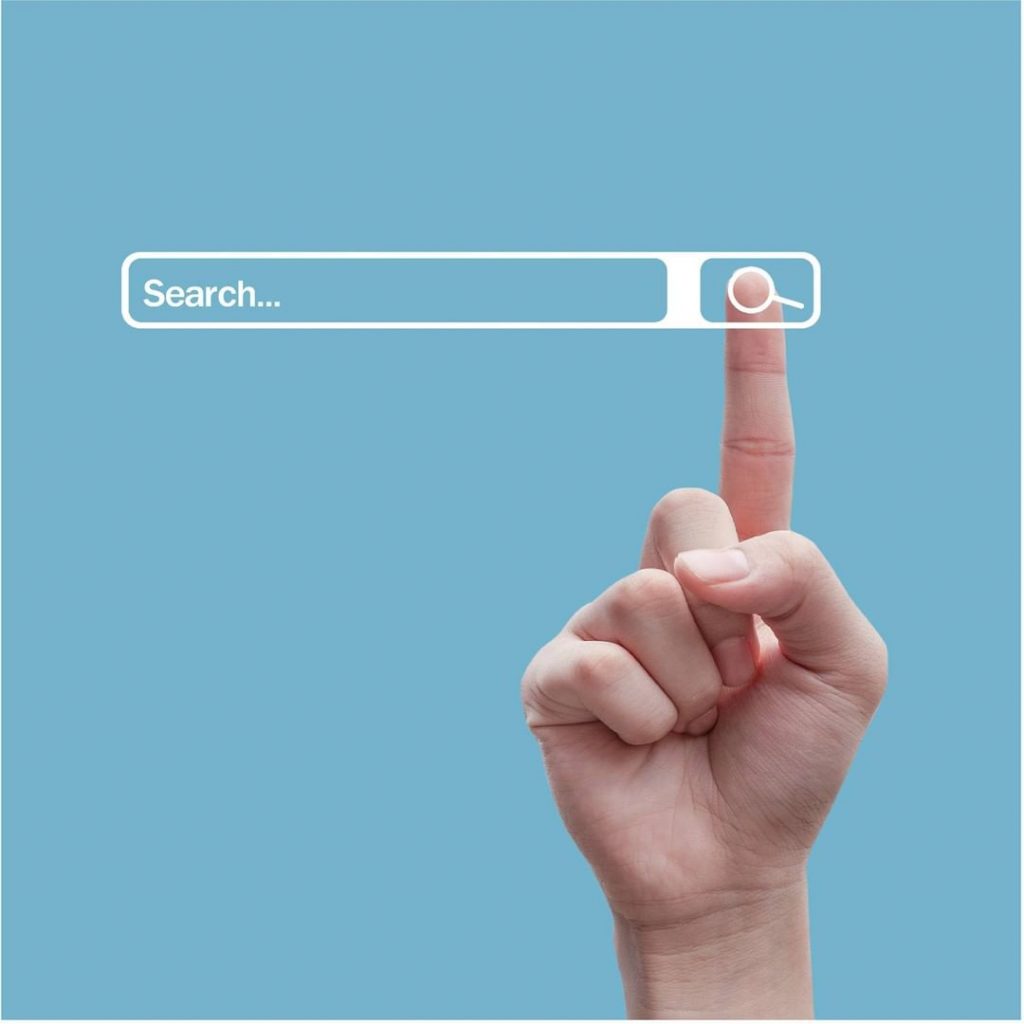 One of the most effective ways to engage in inbound marketing is through SEO. Users who search for something specific to your niche, domain, or industry know exactly what they're looking for and are actively looking for information/leads. SEO in digital marketing allows you to reach a particular audience and drive high-quality traffic to your website without being disruptive or irritating, such as with TV advertisements or telemarketing. SEO is very customer-focused, and it can help you reach a particular demographic online.
Google is the most popular search engine on the planet, processing approximately 63,000 searches per second on a daily basis! This ensures that someone with a computer or smartphone and an internet connection visits the web at least once a day to find answers to their search queries.
On a Google SERP, the top organic search result receives 32% of all clicks, while the top three organic search results receive 75% of all traffic. With SEO, you can efficiently reach out to those who are looking for what you have to say. It is responsible for 53 percent of site traffic, according to various credible reports, making it one of the top SEO benefits.
Paid Ads Aren't Necessary for SEO
One of the most significant advantages of SEO in digital marketing is the low total cost. Although most digital marketing experts rely on or strongly advocate one type of online marketing over another, we agree that a well-balanced mix of paid and non-paid marketing strategies is the key to success. Although paid marketing accounts for roughly 15% of a website's traffic, it might not always be the best course of action for small businesses that are just getting started and have budget limitations that make taking on the high per-ad costs challenging. SEO, on the other hand, needs only a one-time human capital commitment and can yield long-term results.
Local Customers Can Be Attracted Using SEO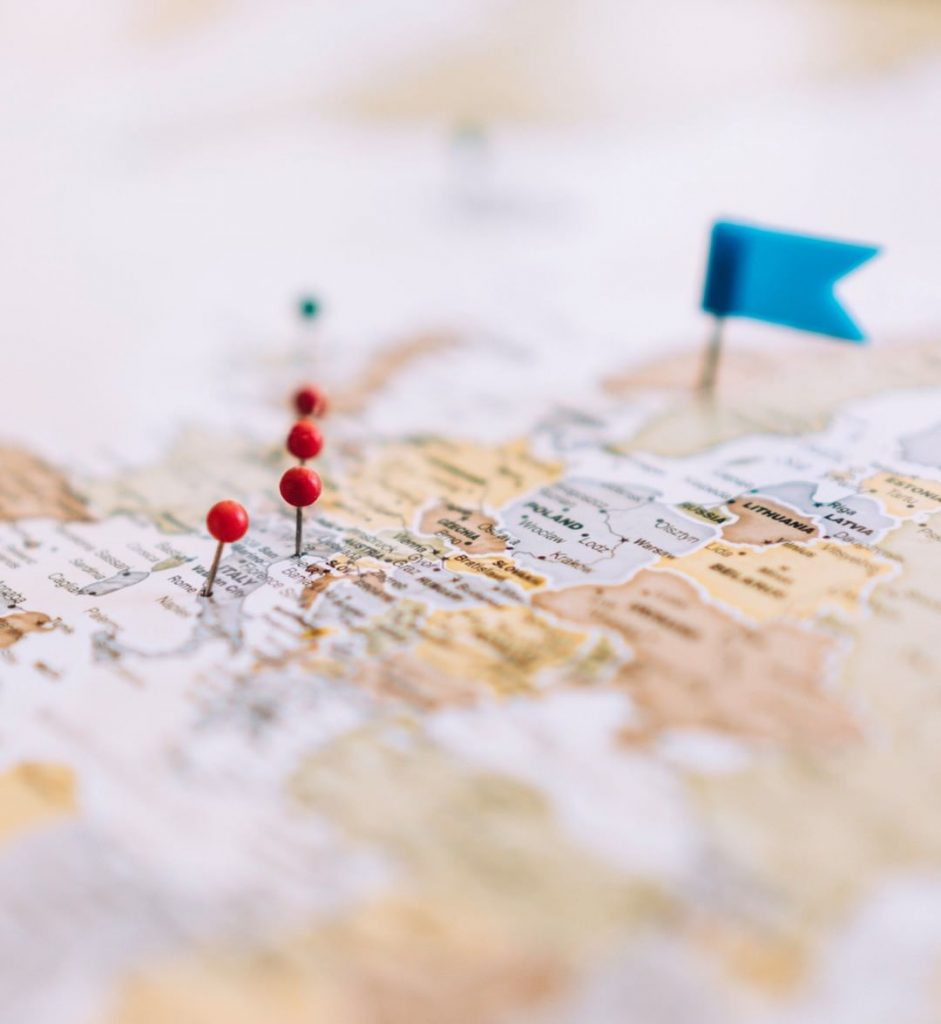 Geo-specific searches and local business listings are the subjects of the local quests. Small and medium-sized companies must ensure that their websites are optimized for the regions in which they work. Local consumers can be attracted by having a properly tailored Google My Business profile and information graph panel, tailoring your site content to answer local search queries, having more favorable local user feedback on Google, and so on. You can even target people in a specific pin code, area, or even state if you play your local SEO cards correctly.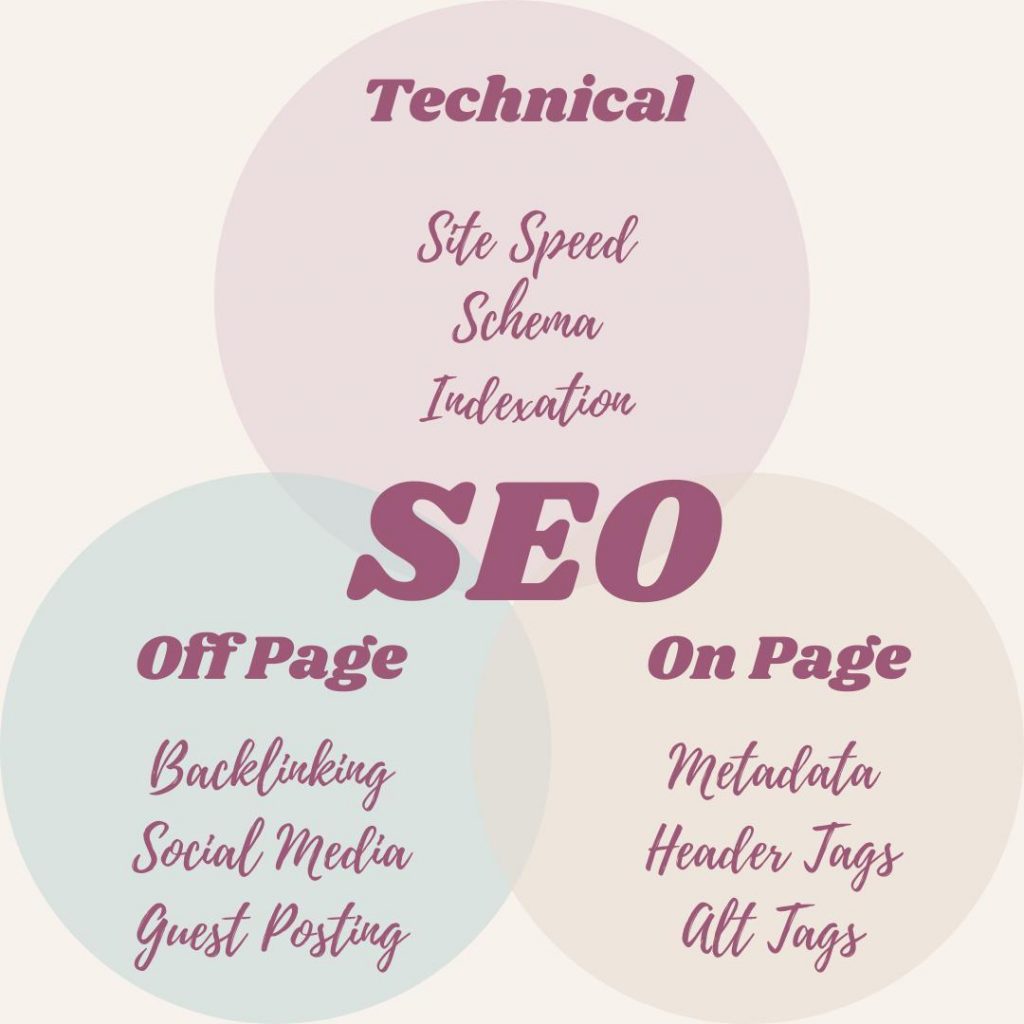 When it comes to optimizing a website for search engines, there are hundreds of guidelines to follow in order to satisfy the different search engine ranking factors while still keeping the users satisfied. The SEO in digital marketing has developed various forms of SEO to make it easier to manage. Each type is in charge of a different set of SEO rules.
What's important to remember is that these SEO subsets aren't separate processes; they're just a way of breaking down a complex process into simpler, easier-to-manage processes.
So, here are the different SEO types:
On-Page SEO
Off-Page SEO
Content SEO
Local SEO
Mobile SEO
On-Page SEO
On-Page SEO is concerned with the page itself and how to make it more search engine and user friendly. It's worth noting that, while search engines consider a website as a whole, ranking is done on a page-by-page basis. As a result, it's important to focus on the optimization of each and every page on your website.
The following are the most critical on-page SEO guidelines:
Make sure your page titles are optimized. This is a crucial SEO element to consider. Page titles appear in search results and should entice users to click on them. A page's title should also give search engine bots enough information about the page's content.
Make sure your H1 tag is optimized. While the page title is displayed in the SERPS, the H1 tag is displayed as the page's top heading. Just one H1 tag appears on an optimized website, and it normally has the same values as the page title.
Make your headings as effective as possible. A page must have subheadings (H2, H3) for each section in addition to the H1 tag. Subheadings make it easier for users to read long-form material and for crawlers to search it.
Images should be optimized for search engines. Any photos used on a website should be properly optimized, or else search engines won't be able to figure out what they're for. Image SEO needs things like filename optimization, file size optimization, and ALT text optimization.
Make sure the page is properly formatted. It is not a good SEO practice to publish a page with text and photos without taking time to improve the content. While Google cannot see a page as a person can, they can understand how it looks and if it is full of advertisements and popups, and this is factored into the ranking process.
Off-page SEO
Promotion is the focus of off-page SEO in digital marketing. Off-page SEO is concerned with strategies that can be used to promote the website on the Internet, while the previous SEO styles focused mainly on the website infrastructure and content. Established websites are more likely to rank higher on Google than lesser-known websites.
The following are the most effective off-page SEO techniques:
Link building is a term that refers to the process of The method of obtaining SEO backlinks from other websites is known as link building. These backlinks function as 'votes of confidence' boosting the authority of the target website (assuming the connection doesn't have the nofollow attribute).
Promotion of a brand. Since people trust well-known brands, Google prefers to place them high in the search results. You should focus on promoting your brand and encouraging discussions about it in different social media networks and forums in addition to promoting your website for backlinks.
Google can detect these signals and reward websites that receive a lot of attention.
Content SEO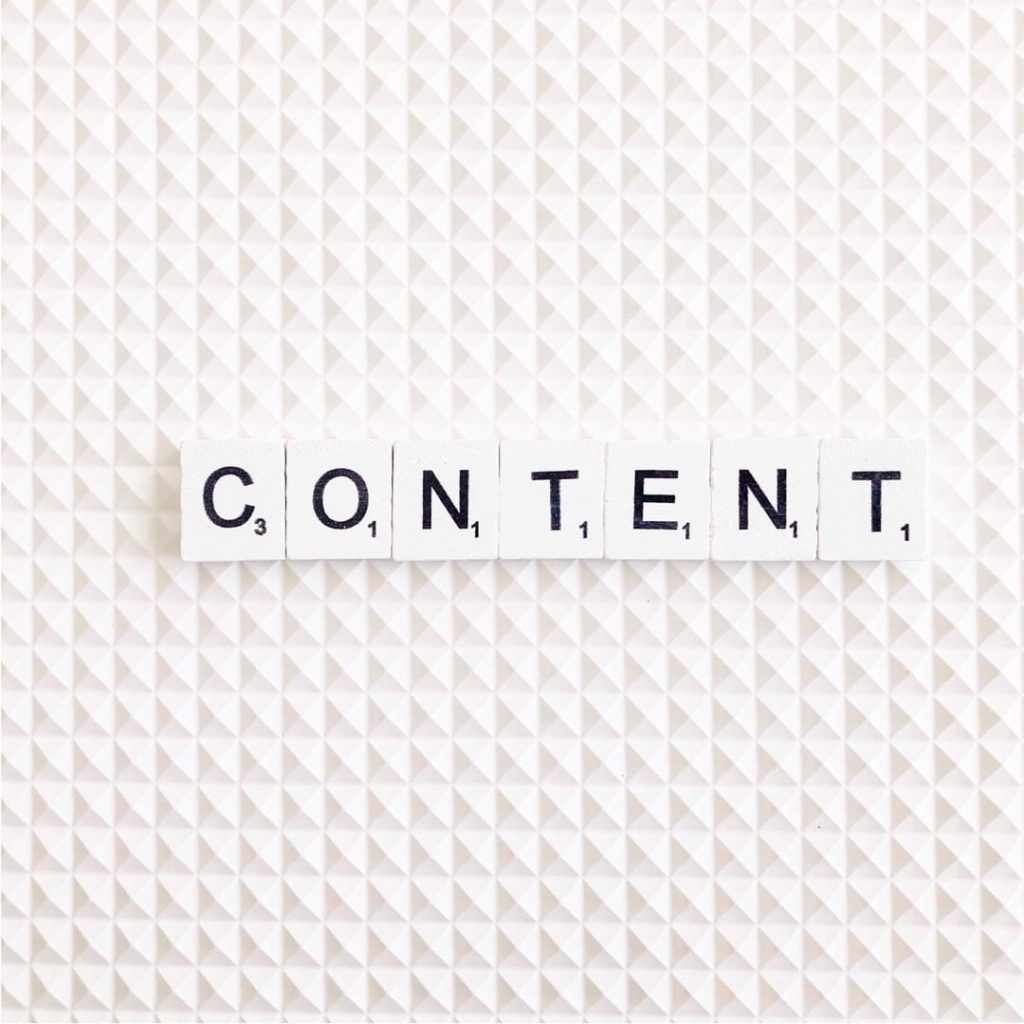 On-page SEO is a subset of content SEO in digital marketing. The consistency of the content and how to improve it are at the heart of content SEO. Many people consider this to be one of the forms of SEO because it is such a significant SEO success factor. However, in many cases, content guidelines can be found under on-page SEO, which is also a valid approach. The winning mix is great content that consumers enjoy and search engines can understand.
You may do so by following these guidelines:
Keyword research should be the first step in the content development process. Find the important SEO keywords for your website and include them in your content.
Look for long-tail keywords and semantically linked (or LSI) keywords and incorporate them into your names, headings, and main material.
Publish content that is comprehensive and long enough for users to get what they want and for search engines to grasp the meaning of your content.
To help users learn more about a subject, link to other high-quality websites (if it makes sense) and other pages on your website.
Use schemas and structured data to indicate to search engines which sections of your content are relevant.
Local SEO
Local SEO is a form of SEO in digital marketing that is only for local businesses. To put it another way, if you have a website and want to attract customers to your local store, you can customize it for local SEO.
All mentioned above applies to Local SEO, with the exception of the following recommendations:
Make sure your company name, address, and contact information are visible on every page of your website.
On your homepage, provide the Local Business schema.
Create a Google My Business account if you don't already have one.
Register the company with well-known directories like Yelp, Yahoo Small Business, Foursquare, and others.
Promote your domain on local directories and blogs.
Mobile SEO
Mobile SEO is not a distinct form of SEO, but rather a subset of SEO in digital marketing tailored to mobile devices. It's a reality that mobile devices now account for more than 60% of Google searches. This is a big amount, and it shows that the Internet is shifting away from conventional desktop computers and toward mobile devices.
When working on mobile SEO, make sure to keep the following in mind:
Your website is user-friendly on mobile devices. The mobile-friendly test is a good place to start.
On a mobile device, the website loads quickly.
On a mobile device, the website is simple to navigate.
Interstitial banners, other forms of offensive ads, and popups have little impact on the user experience on mobile.
eCommerce SEO
SEO for eCommerce is a massive industry. When it comes to SEO in digital marketing, optimizing an eCommerce website is more difficult than optimizing a blog or a corporate website. You have a lot of pages to optimize, and promoting an eCommerce site is even more difficult.
The following are the most significant eCommerce SEO factors:
The homepage and category pages are where an online store's optimization begins. Before you begin working on your product pages, you must first optimize these two types of pages.
Optimize your product pages based on your keyword analysis findings.
Optimize the store's entire visual appearance (images, videos)
Add the schemas that are needed (product, offers, etc.)
Use social media to promote your shop.
Consider unique ways to encourage people to contribute to your product sites.
Create a blog and post content about the goods and how they can assist people in solving problems.
Technical SEO
Technical SEO is just what it sounds like: technical criteria that influence a website's visibility in search engines. The primary aim of technical SEO is to ensure that search engine crawlers can successfully crawl and index a website.
The following are the most relevant technical SEO guidelines:
To ensure that search engines can access your website correctly, check and optimize your robots.txt file.
Google Search Console allows you to add and check your website, as well as specify your preferred domain.
To find and correct crawl errors, use the coverage report.
Make an XML Sitemap and send it to all of the big search engines.
Optimize the structure of your website and its URLs.
Use a web design that is SEO-friendly.
Creating faster websites for desktop and mobile screens.
How To Do SEO?
You're in the race if your website is indexed by search engines, but you're not likely to win. That's where search engine optimization (SEO) in digital marketing comes in. SEO is a continuous process that, if performed correctly, will improve the odds of winning over time.
When your website is properly set up for SEO success, it is much easier to do SEO well.
SEO Setup
Let's look at how to properly prepare ourselves for SEO.
Choose a decent domain name.
Use a good website platform.
Make use of a reputable web host.
Make sure the visitor has a good time.
Make a site structure that makes sense.
Organize your URLs in a logical way.
Install a nice SEO plugin on your website.
Choose a decent domain name.
If you've already registered a domain, don't worry. It's probably good and won't interfere with your SEO efforts. However, if you haven't selected one yet, keep these two characteristics of a strong domain in mind:
1. Domain Name
To begin, don't be concerned about including your keywords. For search engines to understand what your website is about, it doesn't have to be longnamedomaintogo.com.
Here are some characteristics of a strong domain:
Is the company's name spelled correctly?
There are no hyphens in this phrase.
Is concise and unforgettable.
2. TLD
TLD stands for top-level domain. It's the section that comes after the domain name, such as.com,.org, or.co.uk. According to Google's John Mueller, your TLD has no bearing on SEO. However, if you can get.com, it's typically better for most companies because it's the most recognizable and trusted.
If you're a charity,.org or the equivalent in your country (e.g.,.org.uk) would suffice.
Your ccTLD (e.g., co.uk) would suffice if you only do business in one country outside of the United States.
It's probably better to avoid TLDs like.info and.biz, which are mostly associated with low-quality websites, but having one isn't the end of the world. It is still possible to create a legitimate website that ranks.
Use a good website platform.
The majority of people do not code their website in HTML and CSS from the ground up. They operate on the basis of a website platform. These are programs that enable people with little to no coding experience to create websites, manage content, and handle tedious technical details.
A website platform can be one of two styles.
Platforms that are hosted
All is done under one roof with hosted platforms. They host your website, provide ready-made designs that are simple to install and edit, and allow you to build and manage content without touching code.
Platforms that are hosted by themselves
Self-hosted platforms also allow you to manage and build content without having to write any code. The distinction is that you must host and configure them on your own.
The majority of SEO experts advise using a self-hosted, open-source website like WordPress because:
It's adaptable because open-source code can be edited however you like, and there's a large group of developers who know all there is to know about the platform.
It's extensible because there are millions of ready-made plugins, including thousands of SEO plugins, that can expand its functionality.
A self-hosted solution, such as WordPress, is our suggestion. You can check out my blog post here about Install and Manage WordPress with Nginx and PHP-FPM on AWS EC2 Micro Instance
A hosted solution like Wix or Squarespace, on the other hand, maybe a better match if you value ease of use and support. Most well-known hosted platforms, in reality, provide more than enough SEO capabilities for most people.
Make use of a reputable web host.
Web hosts save your site on a hard drive that is accessible to everyone with an internet connection. You have very little control over your hosting if you use a hosted platform for your website. If you're using a self-hosted site like WordPress, however, you'll have to find a host yourself.
Dedicated hosting, according to most SEO guides, is preferable to shared hosting. True, but it won't make much of a difference until your site receives a lot of traffic. Most people can get by with cheap hosting from any reputable company; there isn't much of a difference in output between hosts when you're only paying a few dollars a month.
So, how do you choose a decent SEO web host?
Safety is paramount. Ensure that the host provides you with a free SSL/TLS certificate or that it supports LetsEncrypt, a nonprofit that provides free TLS certificates.
The position of the server. Since data travels from the server to the visitor, it's best to select a host that has servers in the same county as the majority of your traffic.
Customer Support. It's ideal to have resources available at all times. Before you sign up, ask the questions above to see how good their customer service is.
Make sure the visitor has a good time.
Google prefers to rank pages that have a good user experience. Your website should be built to support your customers, and any enhancement should be focused on improving the user experience.
Here are a few easy ways to go about it:
Use HTTPS instead of HTTP
Nothing is more frustrating for visitors than having their sensitive information exposed to hackers. Often use SSL/TLS to encrypt your website.
Select a visually pleasing website template.
Nobody wants to visit a website that looks like it was created in the 1990s. While it isn't necessary to update your website every six months, it should at the very least be pleasing to the eye and represent your brand.
Check to see if it's mobile-friendly.
According to Google, mobile searches are now outnumbering desktop searches, so it's important that your website is as user-friendly on mobile as it is on desktop.
Use a font size that is easy to read.
People nowadays use a variety of devices to access the internet. Ensure that the content is readable on all platforms.
Advertising and pop-ups should be avoided.
Everyone despises advertisements, but they are often essential. If that's the case, the trick is to stay away from the ones that are too intrusive. Google has some suggestions about what is and isn't appropriate in this situation.
Make certain it loads quickly.
On both desktop and mobile, page speed is a proven ranking factor. However, this does not imply that your website must load instantly. Sure, faster is better, but this aspect only affects sites that "deliver the slowest experience to consumers," according to Google.
Make a site structure that makes sense.
Visitors and search engines alike must be able to access your site easily and intuitively, which is why a logical hierarchy for your content is essential.
Internal links are important for user experience and SEO for several reasons:
They assist search engines in discovering new websites. Internal links are seldom found and indexed on pages.
They aid in the distribution of page relevance on your blog. Page relevance is the basis of Google's ranking algorithm, which attempts to evaluate a page's "value."
They assist search engines in determining the topic of your website. This is determined by Google's examination of link anchors and surrounding text.
Organize your URLs in a logical way.
URLs are critical because they assist searchers in understanding a page's subject. Many website platforms give you the option of structuring your URLs in any way you like. These are the five most popular URL choices in WordPress:
Plain: yoursite.com/?p=65
Day and name: yoursite.com/2021/05/04/seo/
Month and name: yoursite.com/03/04/seo/
Numeric: yoursite.com/8665/
Post name: yoursite.com/seo/
If you're starting from scratch, it's best to go for the most straightforward and descriptive structure possible. That's most likely Post's name. It's also bad practise to use dates in URLs because you may want to change the posts in the future.
Even if the URL layout isn't perfect, it's probably better not to alter it if you're optimizing an existing website. This will cause other more critical items to break, which would have a negative effect on SEO.
Install a nice SEO plugin on your website.
Most hosted platforms have simple SEO features out of the box, but WordPress does not. Without an SEO plugin, even the most basic SEO best practises are nearly impossible to enforce.
There are a plethora of these plugins to choose from. Yoast is what we use, but Rath Math is also fine. Both of these plugins add additional input fields to your posts and pages that are very useful. (We'll return to these later.)
There's no need to install a plugin if you're using a hosted platform like Wix or Squarespace because these platforms allow you to make simple SEO changes right out of the box.
Performing SEO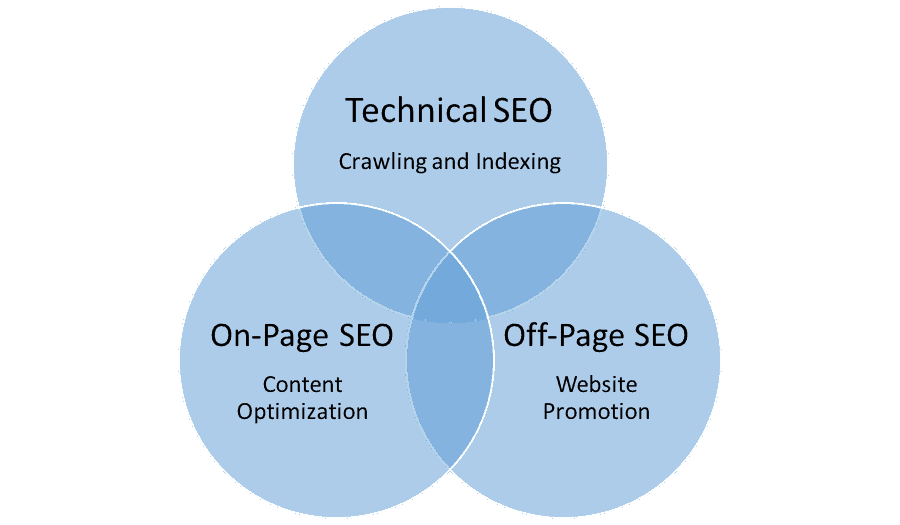 You should have a good foundation for SEO success by this stage. But this is just the start. SEO is a continuous phase that can be divided into four categories:
Keywords Research
On-page SEO
Link Building
Technical SEO
Keywords Research
A keyword analysis is a method of determining what your consumers are looking for, how much traffic those words will generate, and how difficult it would be to rank for those terms. Let's look at the fundamentals of each of those moves.
Finding Keywords
The first step in the keyword analysis process is to figure out what your future customers are looking for. You can't even begin to build pages that will rank in search engines and draw valuable traffic unless you know this.
The best way to begin this process is to brainstorm terms and phrases that characterize your industry. This may include the following for an online computer store:
This can then be used as "seed" keywords to generate more ideas. Simply enter them into a keyword analysis tool, such as Ahrefs' Keywords Explorer, and look at one of the keyword ideas reports.
Look for keyword suggestions that would be beneficial to your business.
Check Traffic Volume
Almost every keyword analysis tool, including Ahrefs' Keywords Explorer, will display average monthly search volumes for the keywords it finds.
Search volume is normally a good indicator of a keyword's relative traffic capacity. Pages that target high-volume keywords would typically push more traffic to your website than pages that target low-volume keywords.
Examine the difficulty of the rankings.
Even if a keyword seems to be important to your company and has a lot of traffic potential, ranking for it isn't always easy. The number of related, popular websites linking to the top-ranking pages is arguably the most important factor in determining the ranking complexity of a keyword. In their guide to how search works, Google mentions this: https://www.google.com/intl/en_es/search/howsearchworks/
On-page SEO
On-page SEO entails designing the type of content that search engines want and then 'optimizing' it to help search engines understand what it's about. The majority of people believe it's just about keyword positioning. While it is significant, it is not the most important element.
Let's look at the fundamentals of optimizing a website for search engines.
Search intent must be matched
If you don't write the type of content that searchers want, your chances of ranking are slim to none. This is referred to as aligning the content with search intent in the industry.
Select a URL slug that is descriptive.
We discussed using a logical and descriptive URL structure earlier while setting up a website for SEO performance. You must also create a descriptive slug—the portion at the end of the URL—for each page or post you write.
The easiest way to do this is to look at the subfolders that come before the URL slug.
Let's pretend your keyword is "digital marketing"
Set the slug as your goal keyword if your URL has no subfolders or generic subfolders like /blog/.
http://www.yoursite.com/digital-marketing/
It's normally safer to remove recurring keywords if there are 'contextual' subfolders like /digital/ or /marketing/.
http://www.yoursite.com/digital/marketing/
Make a catchy title tag
The blue clickable links that appear in the search results are known as title tags. It's one of the few tools you have to persuade searchers to click on your website, so make it as appealing as possible. Aligning it with search purpose is the simplest way to do this.
Well Optimized Images
Images will help your website rank in Google Images and drive traffic to it. In the last three months, Google Images has brought us thousands of visitors to our blog posts.
What methods do you use to optimise your images?
Follow these three steps to get started:
Make a good name for them. The filename basket.png is better than IMG 45322.png because it helps Google understand the picture.
Use alt text that is descriptive. The code that defines an image in words is known as alt text. If the visitor uses a screen reader or the image fails to load, it is not available on the website. When you upload a picture to a website, most sites have an input field for alt text.
Compress them. Install a plugin like Imagify to automatically compress your photos and boost page speed.
Link Building
Links from other websites serve as 'votes,' indicating to Google that others are endorsing your material. They're arguably the most significant ranking factor, but obtaining successful ones isn't always straightforward.
The majority of link-building strategies include producing link-worthy content and then approaching site owners and editors with a persuasive argument to include your link on one of their sites. However, there are other options for obtaining links.
Let's take a look at a few different link-building strategies.
Guest Blogs
Writing a blog post for another website is known as guest blogging. I contributed a guest post to Adlibweb's Blog recently in May 2021.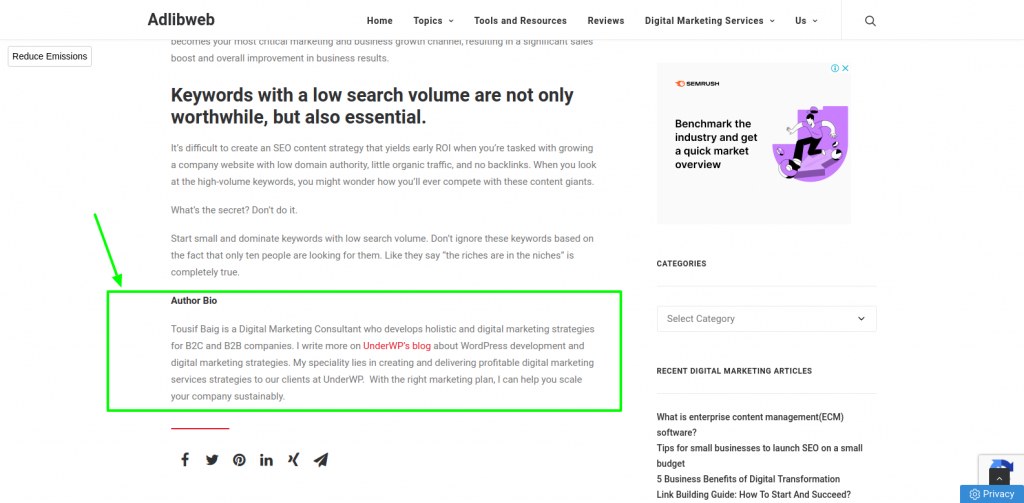 You'll find links to my social media accounts and website in the author bio. Guest writers will usually add their links here on most websites.
Skyscraper Technique
The Skyscraper Technique is a link-building strategy in which you create material that is much better than what people are already linking to.
The basic procedure is as follows:
Find a piece of content that is interesting and has a lot of backlinks.
Make something more effective.
Request that people who are referring to the original content instead connect to yours.
Getting Competitor's Backlinks
The best way to develop a link-building strategy is to learn how your rivals get backlinks. If you can spot trends in their connection profile, you'll be able to figure out which link-building strategies are most likely to work for your site.
Technical SEO
Technical SEO is the process of helping search engines to find your website content easily. I have already written a lot about it in the above for your reference.
SEO Company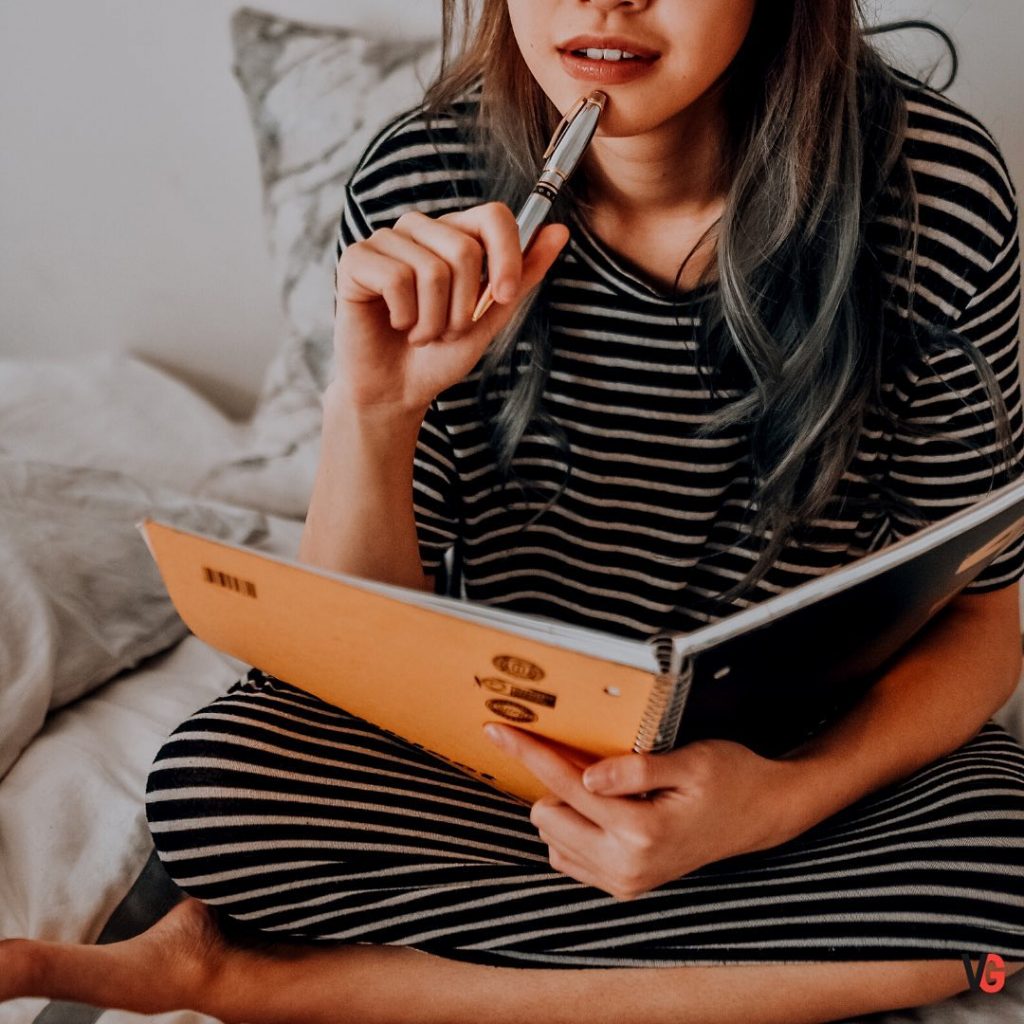 Is it better to employ an SEO expert, consultant, or agency?
You may do some simple SEO yourself, depending on your bandwidth, ability to learn, and the difficulty of your website(s). Alternatively, you can also get the assistance of a professional. It's fine either way!
If you do decide to seek professional assistance, keep in mind that while many companies and consultants claim to provide SEO services and other digital marketing services, the quality of these services will vary greatly. Knowing how to pick a good SEO company will save you a lot of time and money, as using the wrong SEO methods will do more damage than good to your website.
You can check out our digital marketing services page to get an overview of our services which involves SEO too. If you find it suits your needs, you can drop us a question or get in touch with us to learn more.
SEO Tools
Many specialized SEO tools have a monthly fee of more than $100. Given that this is a beginner's guide to SEO, you may not be able to spend that much money on advanced SEO resources yet. But don't be concerned. With free SEO software, you can accomplish a lot.
Here are a few of the most common ones for each aspect of SEO.
Keyword research tools
Find unique keyword ideas and their search volumes.
Generate hundreds of keyword ideas from different search engines.
Check the estimated search traffic potential for the topic based on the top three results. 
Get the suggestions shown by the Google in search pages with this free tool.
On-page SEO tools
Add title tags and meta descriptions to WordPress posts and pages and optimize for SEO.
Find missing title tags, meta descriptions, and alt text anywhere on your site.
Link building tools
See the top 100 backlinks to any website or web page.
Get link opportunities daily. (It's technically more of a service than a tool)
Technical SEO tools
Find index coverage errors, page speed issues, and more information directly from Google.
Final Words
To learn more about free SEO tools, check out our another blog post that is regularly updated with the best free SEO tools Best Free SEO Optimization Tools For Digital Marketing
We have tried to answer the basic SEO question for many people when they think of What is SEO?
Let us know in the comments below what you think of our answer to this most popular question.