Web stories are open source, free and visual storytelling format for WordPress websites. They enable the website developers to quickly create all visual narratives with the use of engaging and free animations. The web stories offer free interactions and motivate your readers to have fast screening experiences.
Web Stories are a mobile-friendly medium for presenting news and information in the form of visually rich, tap-through stories. Web Stories provides marketers and publishers with a diverse range of advertisement options for reaching a niche audience on the web through immersive experiences.
Web Stories immerse your readers in full-screen experiences that load quickly. With immersive animations and tappable interactions, you can easily construct visual narratives. The Web Story format (formerly known as AMP Stories) is free and open source, and anybody can use it on their own website. They are not restricted to a closed ecosystem or forum and can be shared and embedded around the web.
Where Do You Find Web Stories?
One feature that distinguishes Google Web Stories from the plethora of story-telling features available in apps is their ability to be viewed around the web.
On Your Internet Website
Unlike Instagram Stories, which must be viewed on the platform itself, Google's Web Stories can be hosted on a creator's own website. Unlike several apps, this allows advertisers greater control of what is used in the story since there are no limits on content. It also ensures that the story can be used to help drive traffic to the website rather than being locked away inside the confines of social media apps.
Search Results
One of the key advantages of using Google's stories over other social media story formats is that they are easily accessible from the SERPs. Google Web Stories can be indexed and served as a Google search result just like a web page.
Google Discover
Google revealed in October 2020 that Web Stories will be added to Google Discover feeds in India, Brazil, and the United States. The top of Discover has a list of stories, which Google refers to as a "shelf." When the user taps on the story, it expands to full screen and allows them to swipe through the list. More detailed information about it is answered by Google itself here: https://developers.google.com/search/docs/advanced/mobile/google-discover
In Your Online Articles
Since Web Stories are hosted on your own servers, the material can also be used in other digital assets such as emails and brochures.
On a Variety of Devices
Web stories can be viewed on a smartphone, tablet, and desktop browsers, despite the fact that the AMP technology on which they are based is optimized for use on mobile devices. As a result, there is no need to build desktop-friendly alternatives for responsive assets like websites, which enhances their usefulness.
Google Web Stories: 10 Uses and Benefits
Google Web Stories are a useful tool for marketers to explore because of their format, versatility, and ease of development.
Here are the top ten advantages and applications of the format.
Controlled by You
Since the stories can be hosted on a publisher's own website, the content's copyright is theirs alone. This ensures that the subjects they discuss are completely at their disposal and are not constrained in the way that social media sometimes is. The use of the material is therefore at the discretion of the publisher; Google does not claim any rights to the content.
Google does have certain limitations on the type of content that can be released, the most important of which is the prohibition against "overly commercial" content. Before you start writing your first story, read through the guidelines, particularly if you want to use them for promotion.
Ads Monetization
The content owner has complete control over any advertisements that appear in a Google Web Story.
That means, unlike the story functionality on social media apps, the publisher has complete control over how the content is monetized. As a result, if you host advertisements on your website, you will receive 100% of the ad revenue.
Via Ad Manager and AdSense, Google recently launched a programmatic ads solution for Web Stories.
External hyperlinks
Content creators are discouraged from reaching out to other websites on certain social media platforms with identical story formats. This normally necessitates some ingenuity when it comes to linking from the comments or bio. There are no limitations on linking out with Google Web Stories.
Tracking with Google Analytics is supported
Web Stories can be related to analytics systems such as Google Analytics because they behave like web pages. This means there's a lot more monitoring and user analysis than there is for traditional social media story formats. This is a crucial step in determining the value of Web Stories in your marketing campaign.
The web stories are responsive & mobile-friendly
Unlike AMP, which is optimized for mobile devices only, Web Stories can be viewed on any device. This eliminates the need to produce different content for desktop devices or risk losing features on mobile devices.
Interactive
Interactive features such as quizzes and surveys can be hosted in Web Stories. This is limited by your technical abilities, as not all Web Story development platforms support this feature. Given the immersive nature of Web Stories, this additional degree of interactivity might make for a fun experience.
There is no time limit
Web Stories, unlike certain other Google material, such as Google My Business blogs, do not have an expiration date. They won't be immediately removed after 7 days, and they won't get lost in a timeline like on social media. You can highlight your Web Story for as long as you want and as prominently as you want.
It's simple to index and link to
Web Stories are created with the intention of being conveniently indexed by search engines. This means that bringing your content to the first page of Google would not necessitate any extra effort on your part beyond the basic SEO required to rank a web page well. If you're publishing content for India, Brazil, or the United States, there's also a chance it'll appear in the coveted Web Stories carousel.
You Can Use Any Branding Style You Want
Apart from ensuring that Web Stories fulfill the general technological specifications, there are no design constraints. This means you can use whatever fonts, colors, animations, and imagery you want to match your brand's aesthetic.
Live stories
When you use the "live-story" attribute on your Web Story, the user will be notified in real-time that a new page has been added. This is especially helpful if you're using the format to report on breaking news or events.
Google Web Stories Examples
On September 24, 2020 Google showcased 10 best web stories and the reason behind it in this blog post: https://blog.google/web-creators/10-web-stories-and-whats-great-about-them/
Another good example is from Storify stories here for shopping products: https://storifyme.com/stories/templates/shopplanetblue-copy-23073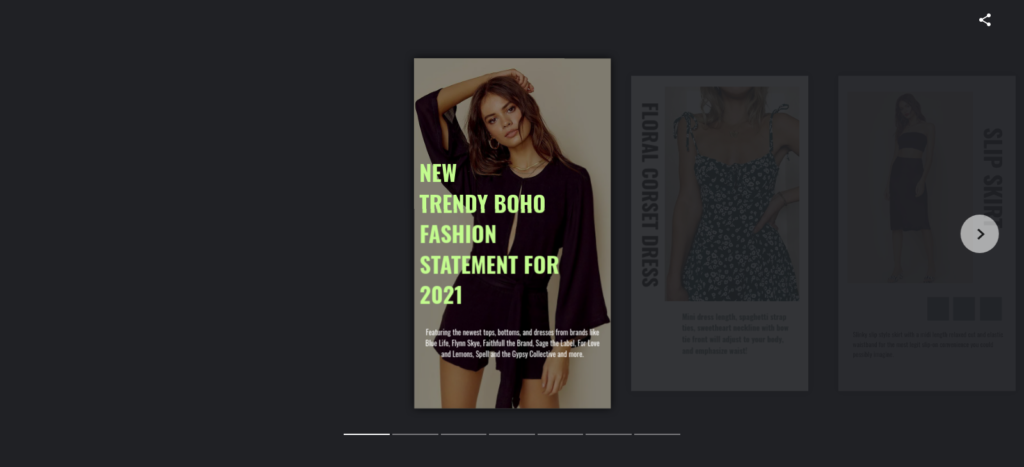 This story shows the example of making use of web stories in shopping stores where the users can easily access the information for the products in a story format rather than going through different web pages.
The next is from the very popular Netflix series Money Heist. Live example: https://storifyme.com/stories/templates/money-heist-quotes-105100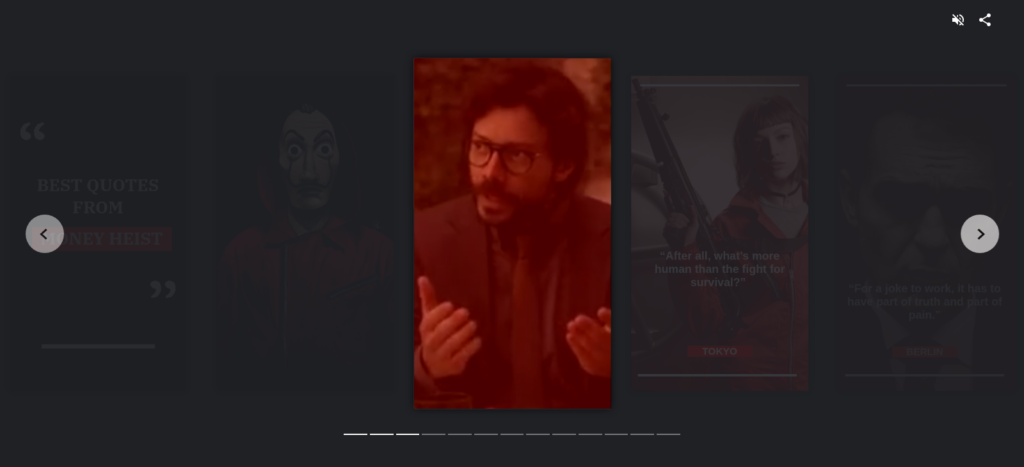 In this example a video is also shown in the web story. It's a great way to showcase small clips.
And the last example is of beautiful travel pictures with related information about them: https://storifyme.com/stories/templates/travel-1-copy-74117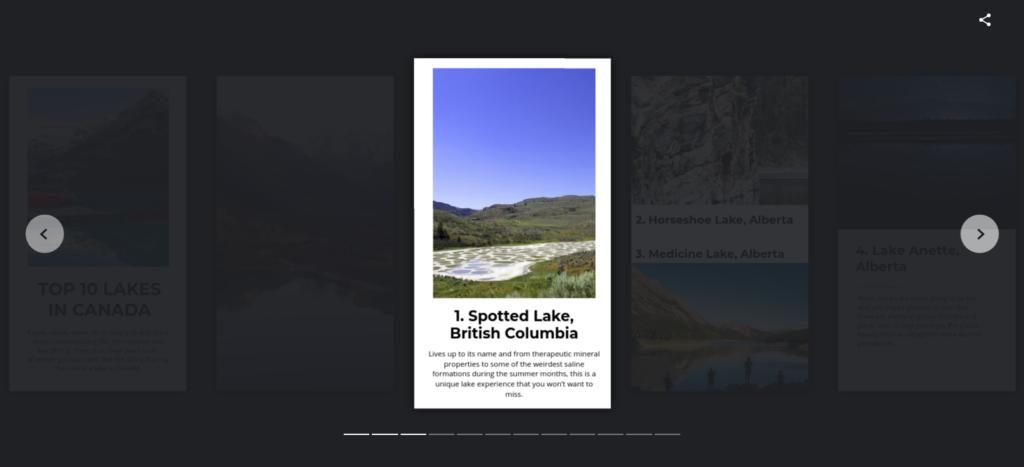 Web Stories in WordPress
Google itself introduced a plugin with the name Web Stories in the WordPress repository. Its main landing page is located here: https://wp.stories.google/ You can see some great examples on their landing page with examples of web stories.
The WYSIWYG editor in this plugin makes it easy to create web stories by just dragging and dropping in the visual editor. For advanced users, it also has many options like comprehensive visual editing capabilities, a re-envisioned visual media gallery, image masking, gradient editing, saved colors & styles, and more.
Final Words
This is a new feature of Google trying to get the attention of users similar to Instagram and Facebook. It sure is attractive and helps in getting CTA's if used correctly. Personally, if I am on a mobile phone, I would much rather look for a story than reading long paragraphs. If the story interests me, I am excited to learn more about it by clicking on it.
It also helps in getting more viewers for your advertisers. More interactions with your advertisers can bring in some extra cash for your blog or website.
In terms of SEO, it is very helpful to get special attention in Google Search results and Google Image search results. This might help in getting effective results for your digital marketing strategies. Creating unique images for your blogs will become easy too with the various templates style in the new Web Story plugin by Google.