We get a lot of inquiries in our email and social media accounts about a basic understanding of SEO who are interested to start a career in the Digital Marketing field. We have already written a basic SEO guide and SEO terms list post on our blog. These posts should have got your foot wet with SEO and its terms.
In this post, we have tried to collect the best and free SEO course for learning google digital marketing course from the experts and well-known resources in the SEO world. Please note that the information in this post is not owned by us and we have here just created a curated list of information to help the people who are looking for SEO course online for free. This information is already available online and we have just collected them here in one place.
What is Digital Marketing?
Marketing done by and to digital devices can be called digital marketing. It usually means marketing to users of electronic devices like computers, mobile, tablets, or any other devices in the respective formats. It has many forms like audio marketing, video marketing, image marketing, and other ways. These forms of marketing are also called display ads marketing in the lingo of digital marketers.
Did you know that almost 80% of Americans go online to find information and buy online? More than 40% of those go online more than once a day.
When you place an advertisement in a magazine, TV, or any other form of traditional media, you cannot see its results and analyze it to improve over it. You might have some idea about the demographics, region response, or neighborhood sales but this won't be enough to optimize your campaigns.
Enter digital marketing and you can control where to show your ad, whom to show, and when to show them. Plus you can customize these ads on the fly based on the region and visitors. These kinds of advertisements tend to convert well for businesses.
You have probably heard this term SEO closely related to digital marketing. This is because it is a major part of digital marketing and helps businesses get their websites the exposure they need from the online audience.
Search Engine Optimization (SEO) is an important digital marketing tool in the process to increase a website's ranking in search engines for relevant searches. The better the position of your website in the search results, the better the visibility of your business to the online audience.
Do You Need To Care About SEO?
Definitely, if you want to improve your business and adapt to the growing trend of businesses moving online to improve their businesses hugely. Because the traffic you get from a search engine is not just any traffic but highly targetted traffic for your business keywords which can result in a sizable growth of your company.
SEO brings high intent and targeted traffic to any business. This makes the sales process of any business go boom in just a few clicks. And who doesn't love more sales!
How Can I Learn About SEO? Is There A SEO Training Course For Google?
Surely you can learn about SEO in digital marketing. There are huge resources all over the internet to introduce you to SEO. There are many online platforms various types of SEO training courses. Some of them offer free SEO courses too.
Resource 1: Grow With Google Programme
In fact, Google itself teaches you SEO. Google has set up a Digital Garage to teach everyone about digital marketing. It has a course of up to 40 hours for learning and enhancing all kinds of digital skills. It also hosts live webinars and events online related to digital marketing strategies, digital advertising, social media, and more. You can check it out here: https://learndigital.withgoogle.com/digitalgarage
Resource 2: Official Google Search Central Docs
Google search central is a platform that shows information about how the Google bots crawl, index, and serve your website in their search results. It is an important tool for every webmaster.
If 40 hours of learning program from Google's Digital Garage seems too much for you and you want to get started as soon as possible, then studying a brief overview from Google's official support documents will help you. This information can help you get started in a few hours by giving you a brief overview of How Google Search Works and the SEO Starter Guide.
Check it out here: https://developers.google.com/search/docs/beginner/how-search-works
Google just recently added new content in their SEO Official Guide. This guide is aimed at E-commerce platforms.
If you are planning to launch or have an E-commerce website, this guide will be very helpful. It comes directly from the mouth of Google and gives you all the required info to do proper SEO for your E-commerce stores.
E-commerce stores need a lot of Technical SEO to be done. In this new guide from Google, they share it directly how they like to see your online store and its structured data.
URL structure, sharing data with Google and much other important info are shared here in detail.
Check out this new guide from Google for E-commerce SEO here: https://developers.google.com/search/docs/advanced/ecommerce/overview?hl=en
Resource 3: One-hour Guide To SEO by Moz
Moz has established itself as a well-known brand in the digital marketing world. They have got some very good and useful tools for both beginners and SEO experts. We use their keyword research tool extensively while making our SEO strategies. It is one of the SEO techniques which helps rank better in search engine results.
Moz is kind enough to share their one-hour-long 6 part video series for free. This video series covers all the important SEO concepts to get you started in just one hour. They cover the SEO topics like:
SEO Strategy
Searcher Satisfaction
Keyword Research
Technical SEO
On-page Optimization
Link Building Techniques
These are the core concepts of any SEO course and they have covered them well. It doesn't require any email signup or credit card trials. Just check out this link and get started immediately with the push of a button.
Check it out here: https://moz.com/learn/seo/one-hour-guide-to-seo
Resource 4: Ahrefs Complete SEO Course for Beginners
Another popular brand in the SEO world is Ahrefs. This company has been on a rise for a while now with solid tools and a great content writing team. Their backlink-checker tool is used regularly by our team while searching about the competitor backlinks of our client websites.
Here I have embedded their youtube channel directly below for you to watch it and learn from Sam Oh. He has covered all the basics of SEO required for beginners.
I have also posted the main highlights of this video as a transcript at the end of this post so that you can give it a read if an hour-long video of YouTube with ads is annoying for you.
Resource 5: Ahrefs SEO Training Course for Beginners
All the basics of SEO like Keyword Research, On-page SEO, and link building lessons in this academy course. This course is well designed and suitable for SEO beginners to Marketing Team Leaders.
Do not miss the Technical SEO best practices in this course which is covered in the end. The rest of the course can be found here: https://ahrefs.com/academy/seo-training-course
Resource 6: Learningseo.io (Recommended)
A new resource we found lately which captured our attention at https://learningseo.io/ This website has a roadmap to become pro SEO.
It starts with SEO basics and goes up to specializing in an SEO course. Also included are the SEO implementations in CMS. WordPress is used here as CMS for demonstrations.
Do not miss the Deepen your SEO knowledge step where it goes beyond the basics and explains some of the advanced SEO topics.
After going through this course, we say that this will be our recommended course for SEO beginners. Do not miss it.
Resource 7: Majestic SEO Webinars
Majestic is a well-known name in the SEO world. They have a good SEO team and decent tools on their side.
People get confused with the Majestic SEO tool as any other SEO tool like Semrush. It actually gives you more detailed info about a website's backlinks.
Majestic SEO tool is an advanced backlink analysis tool. It is used by SEO researchers and advanced experts.
But we are not talking about these tools here. What we would like to bring in your notice is their YouTube channel where they often upload their webina videos.
These Majestic webinar videos have very good information about different SEO techniques. You should visit their channel and check their Uploads section for recently uploaded webinar videos.
https://www.youtube.com/c/majesticseo/videos?view=0&sort=dd&shelf_id=0
They interview the industry experts and talk about the trending SEO strategies that work towards improving the website rankings on Google and other search engines.
This resource will come in handy when you have learned and practiced SEO techniques.
Resource 8: Free Digital Marketing Webinars
One of the best ways to learn SEO and digital marketing subject is to start listening to experts. The best way to do that in SEO is to attend different kinds of webinars related to SEO and link building.
In the above resource we showed you the recorded webinars from Majestic on their YouTube channel. Similarly there are many other companies that bring in experts from various fields to talk about SEO on their webinars.
Most of these webinars are free and some are paid too. We have dedicated a page to listing free webinars for our readers here: Free Webinars On Digital Marketing, Content Marketing, and Social Media Marketing In 2021
And the best part about these webinars is that you get to ask questions directly to the experts. And the chances of getting the best reply to your questions are higher.
Go check out the page we linked above and see if there is a webinar that will help you get good SEO education. Attend it and let us know in the comments below if it helped you and how it did.
Resource 9: LinkedIn Learning Centre
LinkedIn is a social network with professionals around the world. Their network has been growing constantly for a while now.
LinkedIn has now launched a new section for learning new technologies. Many professionals use it to enhance their technical skills.
https://www.linkedin.com/learning/topics/search-engine-optimization-seo
In LinkedIn Learning, they have a section under the Business and Marketing category for Search Engine Optimization (SEO).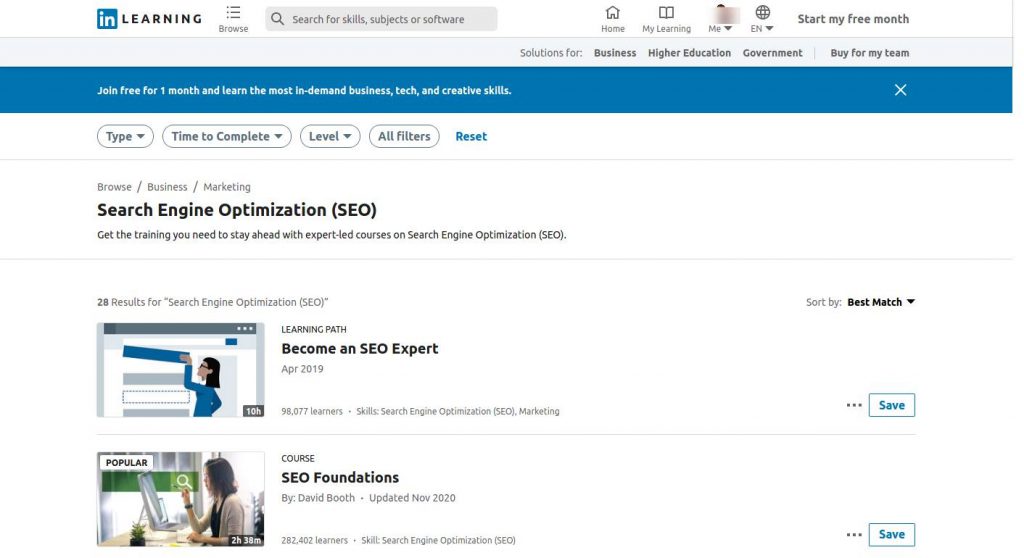 At the time of writing this post, this section has 28 videos that include courses, videos, and learning paths. They are targeting all beginners, intermediate and advanced learners.
We haven't checked out all the videos here but the few we checked, were good. These videos are contributions from people around the world. So we assume that it will be good.
Since the contributors are from around the world, you can expect to gain good knowledge from LinkedIn Learning.
LinkedIn is giving out a 1-month free trial to check these courses. I think it's enough time to check these videos for a good SEO course and note down the points that will be helpful.
Resource 10: BrightLocal Academy Local SEO Free Course
BrightLocal Academy is a free online school that aims to teach all about Local SEO. A lot of small business owners and agency professionals can take advantage of their courses.
https://academy.brightlocal.com/courses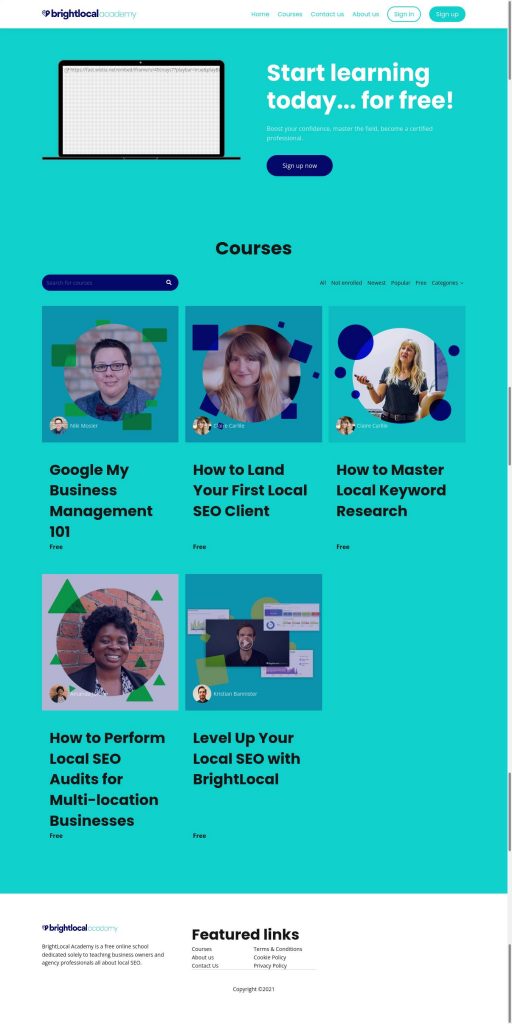 This academy is aiming to educate about local SEO. As of November 2021, all of their courses are free. This can change in future maybe. So grab it while it lasts.
Brightlocal Academy courses talk about basic and advanced local SEO topics in their courses. Local SEO audits for multi-location businesses is one of those advanced topics that can be helpful for advanced SEO experts too.
Resource 11: Squirrly's SEO Basics: Beginner's Guide to SEO Success
Squirrly is the company behind a popular WordPress SEO plugin called Squirrly SEO.
It has come up with a new SEO beginners course here: https://www.squirrly.co/seo/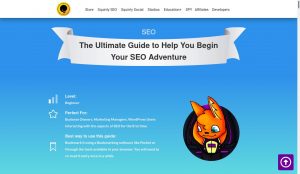 5 basic questions have been answered in this tutorial with good pictures and art.
These are the basic questions that everyone who wants to get organic traffic should ask – and learn the answer to. 
These are the blocks to building a strong understanding of what SEO is and how to get great results in an ever-changing SEO environment.
Resource 12: SEMRUSH Youtube Video
A recently updated video on the Semrush's Youtube channel is making rounds in the SEO community. The video is present by the founder of Gotch SEO.
The Semrush team said that this video will be followed up by many other videos.
This video covers all the basics of SEO. SERP analysis and keyword research was well covered. A more detailed video about keyword research will be followed up as promised by the author.
A good insightful and beginner friendly SEO series by SEMRUSH.
Next Step After Learning By SEO Courses
Now that you have got a basic understanding of SEO, you can start to move to practicals with this knowledge. How can you do that? Just get a domain and good hosting and start applying the things you learned in the SEO course. This according to me is the best way to learn the skills of SEO in digital marketing.
Learn by practice is the best way to acquire the SEO skills required for digital marketing jobs. You will have to put a lot of time and efforts until you start to see the results. Patience is the key to success in SEO. Gaining more knowledge and improving yourself while you move to your next profitable website is also a smart way to learn SEO skills.
Let's see how you can improve your skills while you are practicing what you learned in the SEO course by Google or any other source.
Podcasts
Podcasts are a very good source of information to learn and stay updated with SEO & Digital Marketing. Some of the well known podcasts are:
Blogs
The most valuable information in digital marketing is shared through blogs. Checking them out regularly will help you gain knowledge and expertise. Some of our favorite blogs are:
Facebook Groups
Facebook groups have grown to popularity now and gained some good discussion groups of SEO and digital marketing. Sometimes you find useful information in these groups when people share their journeys and findings. Keeping an eye on these groups once in a while helps.
Reddit Communities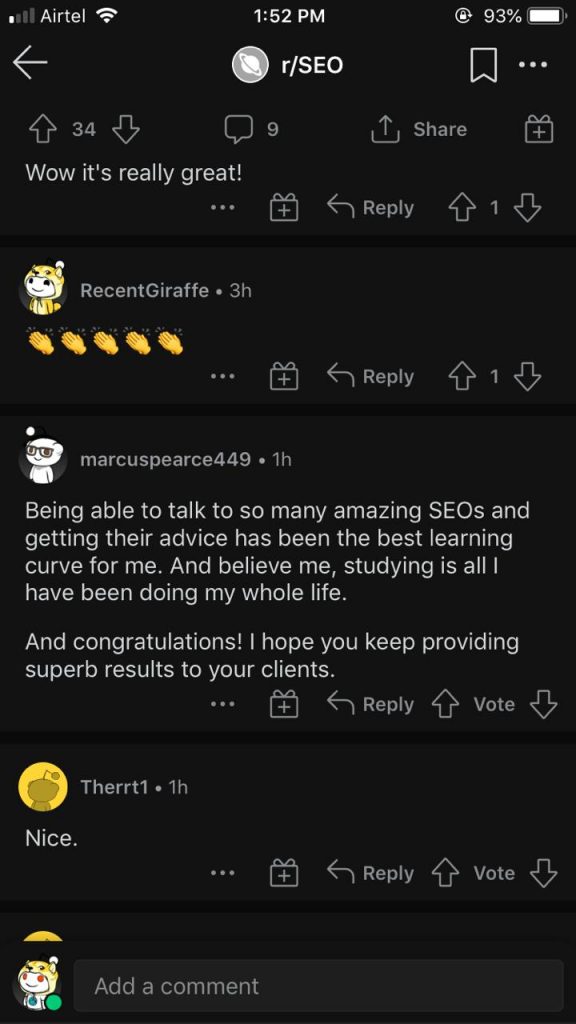 Reddit communities also known as subreddits are a valuable source of information. Here you can ask and get answers from experts. These subreddits are strictly moderated so make sure you follow the community rules before posting anything out of context there.
Final Words
We have tried to cover all the best possible courses which can be an introduction to Google SEO for beginners. And all of them are free. Following these courses and then joining a few communities on Facebook or Reddit will help you get going for your next SEO project.
Developing an SEO curiosity will help you keep updated with the changes in the SEO world. This is one of the most important skills every search engine optimizer has to develop.
Now that you have got all the SEO course of Google, it's time to practice and apply in reality. Remember to keep track of changes and note down what is working for you and what is not. Once you start working on a real project a lot of other factors come into play and then Google search is your best friend to get information about any new SEO concept and strategies.