The logo of a website is called its identity. When you put it in right place with the right values, it can also bring SEO value to the website.
Logos are an important part of any website. A good logo gives a good impression to the visitors too. It is the first impression for any website visitor. So is for the Google bots.
Logo Schema Markup Update In Google
A recent update in Google documents in November 2021 added a new structured data type for the logo.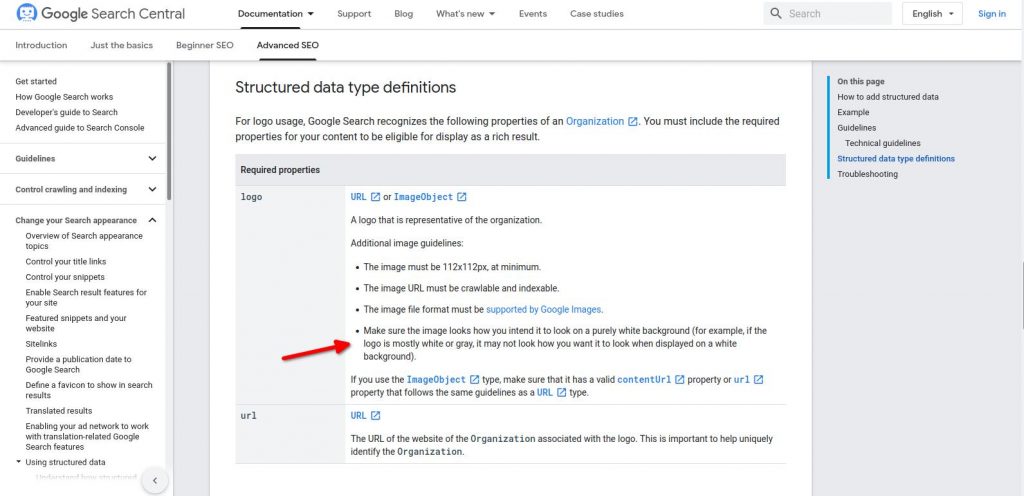 You can read more details about the logo structured data in Google's official documents or SEO here: https://developers.google.com/search/docs/advanced/structured-data/logo
As you can see, the logo schema markup defined by Google gives you the option to add related logo data in your website schema.
With this new Google update, it is giving more options to properly structure a website for its spiders. When you implement this on your website, it will be easy for Google crawlers to understand the data on your website.
Before this update, Google had only URL schema markup for logos just like it did for image files. But this "logo" schema markup gives more options to add logo image data like keywords, alt text, img tags, etc.
Logo Guideline From Google
Fortunately, this new update in the Google documents for logos is not just about the schema markup.
If you look closely, it also talks about white backgrounds. An interesting and helpful tip from Google.
Google says that you should use a logo that will look good on a white background. Because it will show information about your company on a white background in its search results.

As you can see in the above image, our digital marketing company UnderWP is shown like this on Google search results. This is the information Google is talking about in its documents.
Google search results by default are shown on a white background. So when it shows the company information, it suggests you use a logo with white or transparent background.
By the way, if you want to add your company information on Google, use Google Business Profile. Read more about Google Business Profile in this blog post: No More Google My Business It's Now Google Business Profile
With this update in the official documents, we understand that it is good to use logo schema markup in your website sitemaps. And using a white and transparent background logo is recommended by Google itself.
Logo Optimization For SEO
We learned the new updates for a logo of a website from Google documentations. Now it is time to see the best SEO optimization tips for the logo image of your website.
Using Alt attribute: By using the alt attribute in the image tags of HTML is the first and important tip. It helps Google crawlers understand more about the image being used.
Filename With Keywords: Although this is a controversial tip, in our practice, we found that images with good filename help them rank well in Google. Using key words in the filename of a logo also helps.
Schema Markup: As we discussed above, using logo schema markup in your sitemap and other schema files is now preferred by Google. Use logo schema markup for logos.
Link and Titles: The logo file has to be linked to the homepage of the website. This is done by using the link HTML tag. Add a title to the link of an HTML tag.
Small Image size: Using optimized images on a website and for the logo is a good SEO. It helps make your website faster by loading images faster. Make your logo weightless size.
Optimize EXIF data: Google robots are able to read EXIF data of images. If you can edit the Exif data of an image, use it to input your website keywords.
Final Words
Every part of your website matters when it comes to SEO. And the logo is the first part of the website on the front end and on the schema files.
So optimizing a logo for SEO will be the first impression of your website for Google bots. And we all know that the first impression has to be the best impression. Because Google bots are not much different from human website visitors.
Logo optimization for SEO might look simple but it will surely be helpful for SEO. Also of good help in local SEO for your website.
Optimize your logo one time and reap its benefits for a long with our tips in this post. Google will also love it when you follow its guidelines.
If you like this post, kindly share it with your friends and comment below so that we are motivated to write more SEO tips like this.