A server error is a sign of what is wrong with the server and its ability to serve your website files over the internet. Some of these errors are neglected by the search engines. But most of them have a serious impact.
The impact of HTTP errors is so intense that it can also result in the removal of your website from the search engine rankings. Once removed, it will take some time again to get your website indexed in Google.
Today we will see and learn about these HTTP 5xx errors shown by the webservers and how they will impact your website rankings.
What does an HTTP 5xx error mean?
We have written about HTTP status codes in our SEO terminology blog post.
A web server shows a 5xx error when it cannot serve the client browser's request. This response is shown by the server of your website.
HTTP means hyper text transfer protocol. It is the protocol used by the browser and server to communicate with each other.
When you see an HTTP 5xx error like 502 or 503 errors, it means the server has failed to complete the user request.
These errors are usually visible in the browser itself. No need to use special tools to find them.
If your website is huge and got lots of pages, then SEO tools like Google search console are very helpful.
Google search console shows indexing errors in the Coverage tab.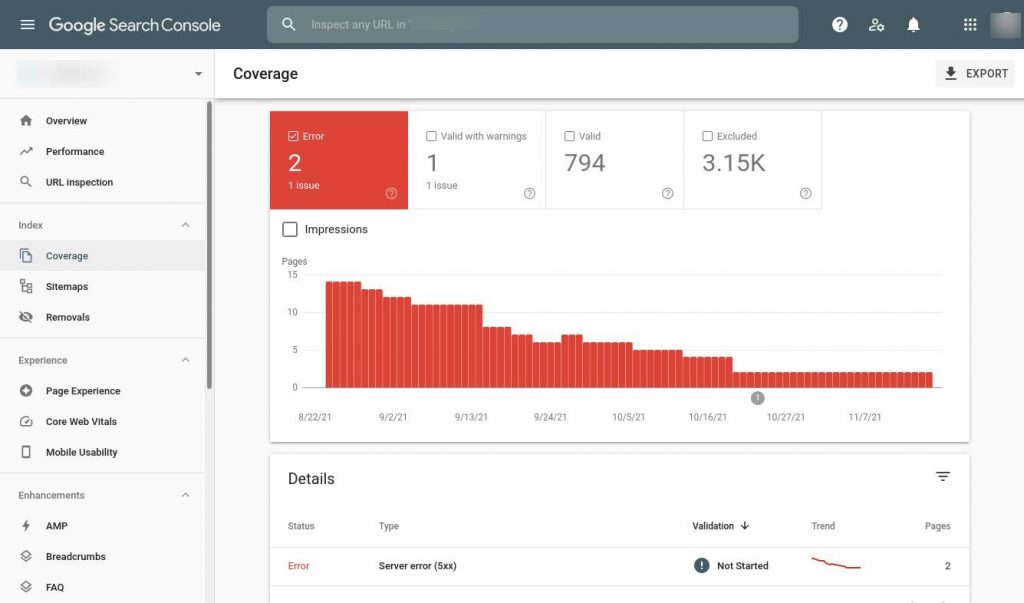 Click on the Server error (5xx) to see all the pages that currently have this kind of error.
Types Of HTTP 5xx Errors
There is a range of HTTP 5xx errors. Let's see the important types of 5xx errors to note.
HTTP 500 error is generated and shown when the server is unable to complete the request unexpectedly.
HTTP 501 error is shown when the server does not recognise the type of request. When a query is not recognisable by the server, this is shown with this error.
HTTP 502 error is the most common type of errors seen on websites. This error is shown when the browser receives an invalid response from the upstream server.
503 – Service Unavailable
Another most seen error on websites shows up when the server is temporarily unavailable due to server problems. This is the error that has a serious impact on your website's SEO.
HTTP 504 gateway error is shown when the server does not receive a response timely. Most commonly shown by Google as well.
509 – Bandwidth Limite Exceeded
HTTP 509 error is shown by the server when it reaches the bandwidth limit for the website. Frequently shown on shared hosting servers with limited bandwidth for websites.
Shown by Cloudflare on websites using its CDN. HTTP 524 error is shown when Cloudflare does not receive a response from the hosting server in time.
Effect Of HTTP 5XX Errors On SEO
When a website's status code is 5xx server error, it will directly impact the search engine rankings of your website. These errors indicate that the server is in error or the website is not present for Google bots.
At first, Google will drop the rankings of your website in Google. Prolonged server errors with HTTP 5xx errors will lead to expulsion from the Google search engine.
These server errors will have a harmful impact on the organic traffic of the website. Also an indication of poor user experience for the website visitors.
John Miller from the Google search team recently answered a user on Twitter about these errors and their impact.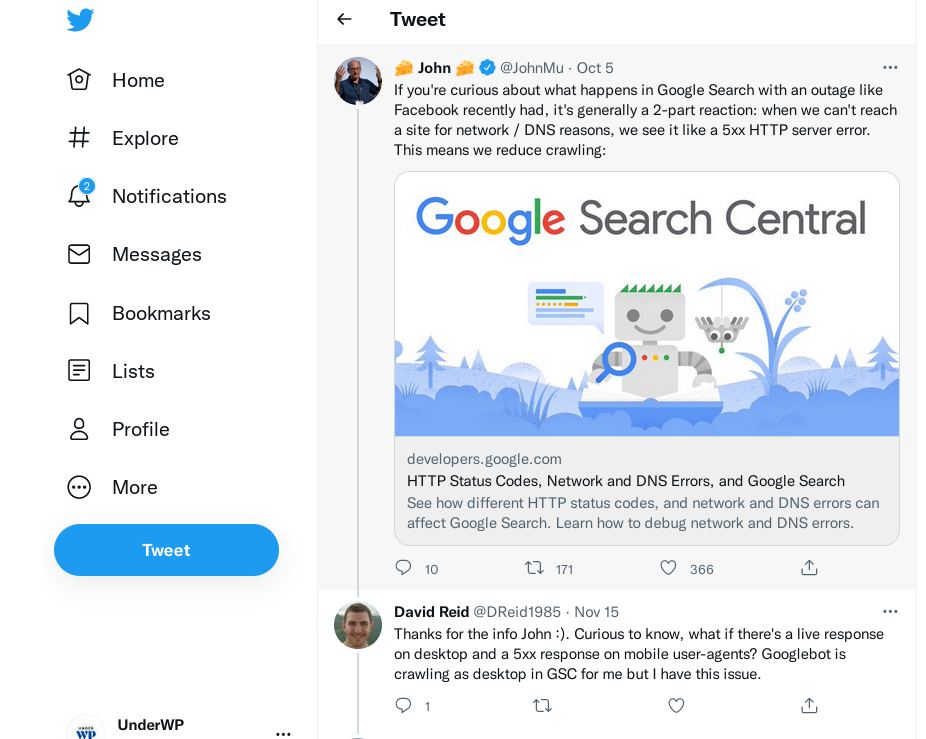 He also said that showing 5xx errors to the specific mobile version of the website or desktop version is also not a good practice. Because it can make some of the requests impossible for the Google crawlers.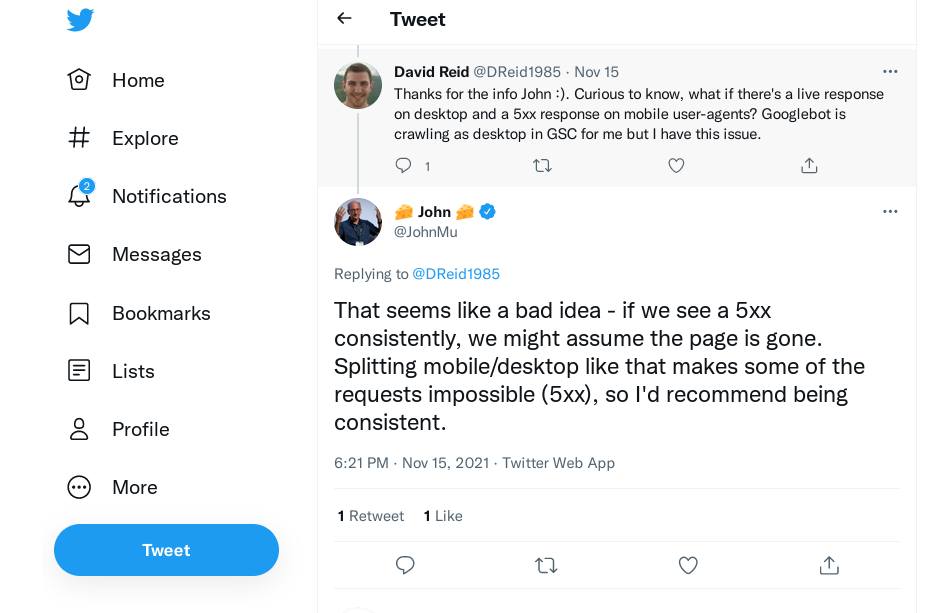 Avoiding and fixing 5xx should be followed strictly by the websites that are serious about the Google rankings. Google strictly prohibits its usage.
How To Fix HTTP Server Error 5xx?
When the server shows a clear HTTP 5xx error like 503 error, we know what is wrong with the request and response received. It means we need to check if the server is online or offline.
But if the server does not show any errors, it is a nightmare for the server managers. You have to dig the error logs of the server to find the type of HTTP server error.
If you are using WordPress as your CMS, make sure to check the list of plugins and themes that you recently updated. Try to deactivate and reload the website after deactivation, if the error goes away then you know the culprit of the error.
If you recently install a server feature or application, then try to deactivate the application. Uninstall the application and try to reload the website to correct the error.
Check the file permissions of the website files. When an important file does not have permissions for the server to read, it can result in an incomplete request.
Try to restart the server if it is a VPS or dedicated server. Not possible in shared hosting.
Check the .htaccess files for rules. Some rules with new WordPress plugins can result in server HTTP 5xx errors.
Check if the PHP and SQL database engines are running. Most of the time it is one of those server engines that throw HTTP 5xx errors.
Also, check our another post where you can learn about How To Fix 'Caught exception in method AmazonAI_Cloudformation::get_dv_dns_info in class AmazonAI_Cloudformation:'
Final Words
Any kind of HTTP 5xx error status code should be taken seriously by webmasters and SEO specialists. Because it can affect your website rankings and also the user experience.
Handling HTTP 5xx response codes is an important part of technical SEO. You should know what this error means and the possible sources of this error response code.
Having knowledge about these error codes will also help you sharpen your technical SEO skills. Sometimes it is a plugin or a script that can result in these errors too.
Having a log of changes done on the website is helpful and a good practice to be followed by the website owners and SEO team.
Let us know in the comments below if this post was helpful to you and how you handle the Server Error 5xx for your website.