It's almost the end of the year and big giants like Google and Facebook (Meta) are on a run to changing their names. A couple of weeks back, Facebook changed itself to be called Meta, now it's Google My Business's time.
Google is not just changing the name but also the way Google My Business operates. With the new name of Google Business Profile, it will now move most of the Google My Business functions directly into Google Search and Google Maps.
How exactly will this happen is still not clear in the Google announcement.
Your Google My Business profile will now move to Google search or Maps. Most of your company and products information can be managed here.
In 2022, Google plans to retire the Google My Business app. The exact date for this is still unannounced.
Google said it is trying to "keep things simple". This indicates that a lot of your business profile features can be managed easily through Google search and maps.
Google also said in their announcement that the existing Google My Business web experience will still be available even though the mobile app will retire.
On Google My Business web service will support bigger businesses that have multiple locations. This web service will be renamed as Business Profile Manager.
If you have a website on WordPress then do check out our blog post about the 5 Best Google My Business Reviews WordPress Plugins Free. These plugins will still be helpful for businesses that will use the Google My Business web service.
New Google Business Profile Features
With this new name comes the set of new features in Google Business Profile. Some of these features are new and some of them are improved features.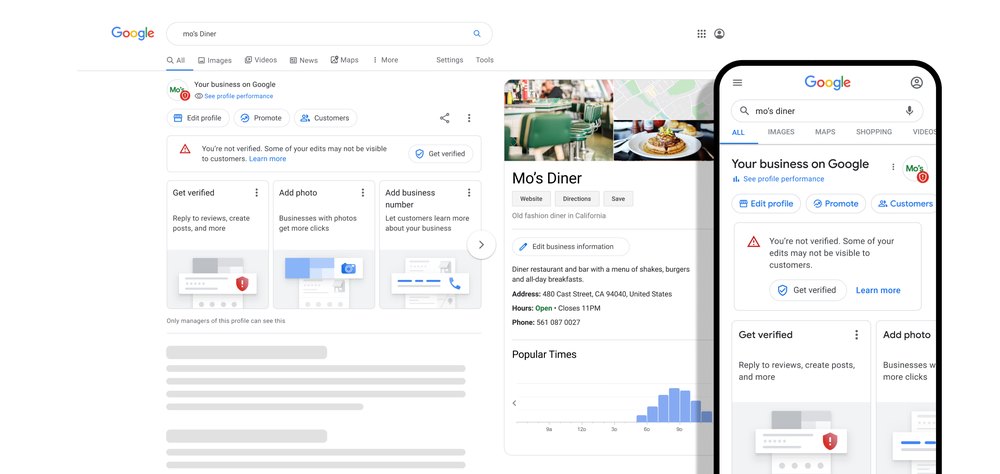 Manage Your Local Business In Google Search and Maps
Now, most small businesses that do not have multiple locations can manage their business directly by signing in to Google search or maps.
Not only manage but if you are a new business owner or existing business owner that has not got their business claimed on Google maps can now claim their business directly on Google search or maps. The exact way of how to do that will be shown by Google in the coming months.
Update your product inventory directly from the Google search now. Because now Google has a new search filter called "in stock" that shows only the products that are in stock.
This part of the Google Business Profile feature is managed by Pointy. Google has a complete tutorial of how you can do that here: https://support.google.com/pointy/answer/10731675
Pointy helps you upload all your product inventory from the same Google platform. Helpful for businesses that have limited products or small products list.
If your business contains a huge number of products, then you can still manage it by submitting its feed to Google Merchant Centre. This can be done in WordPress with the help of plugins and also from BigCommerce platforms for free.
Call History Records
Keeping track of phone calls from the Google My Business profile has been an experimental feature. Google has announced to launch this for everyone in US and Canada.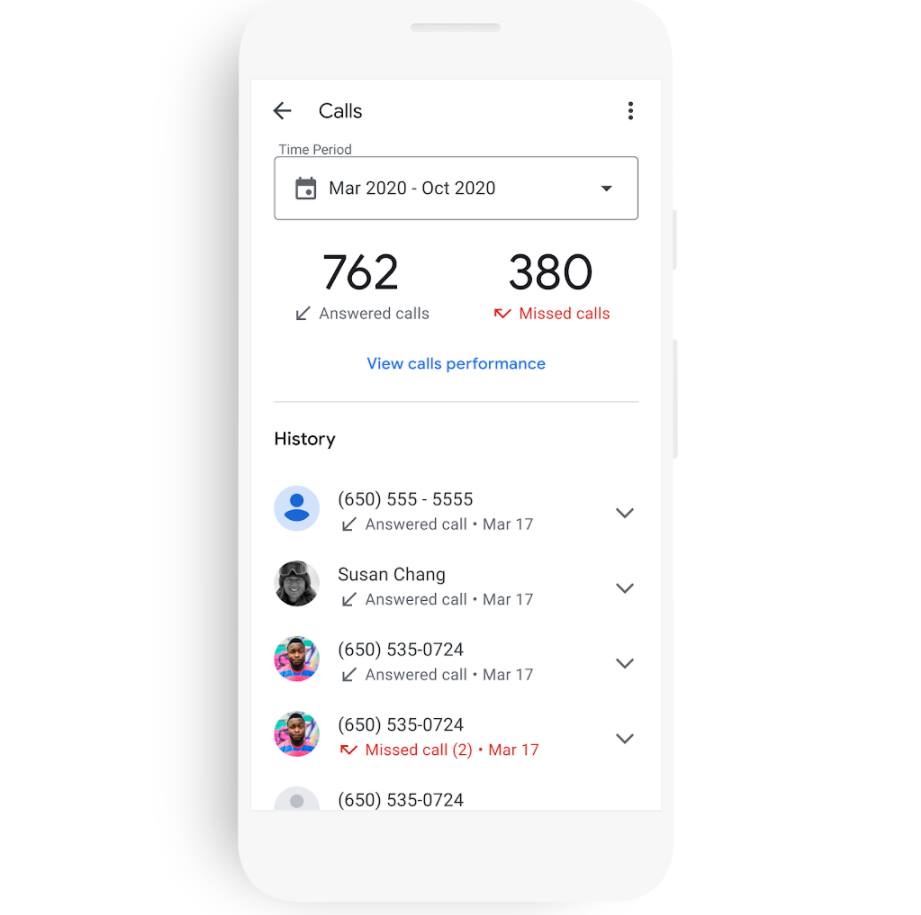 The call history feature is very helpful to keep track of all the calls you get from your Google business profile. It will also help you learn how your business profile is performing on Google.
All the calls then getting from Google's local listings will be forwarded to a Google number and then directed to your listed number. So you might start to see "Call from Google" on your phone once this feature is made public.
Chat On Google Maps
One of the most exciting features that got my interest. You can chat with your customers directly from Google once Google Business Profile is officially launched.
You can get business prospects directly from Google search or maps. Answer questions and also offer customer support through this. A very lucrative feature for many businesses.
Chats can also be exported from Google. And if you have multiple people managing your business profile, all your team members can chat with the customers or whoever is available online.
This can be a big indicator to improve your local SEO rankings. Because Gooogle says that based on the average response time over a period of 28 days will be displayed to potential customers besides your business profile.
The important part that has to be noted by SEO's is this:
When you receive a new message, you should reply within 24 hours. This may promote trust and encourage engagement with your business. To support timely responses, we may deactivate chat for your business if you don't respond within the time frame.

Google.com
So make sure once you enable the chat you are actively replying to it in less than 24 hours. Or you assign it to someone who can reply to it on time.
The chat feature will only be available to US and Canadian businesses at the start. Later it might be available worldwide.
Performance Planner Tool
If you advertise with Google Ads for your local business, then this tool will be of very good help. It will help you plan your local advertisement campaigns based on your budget.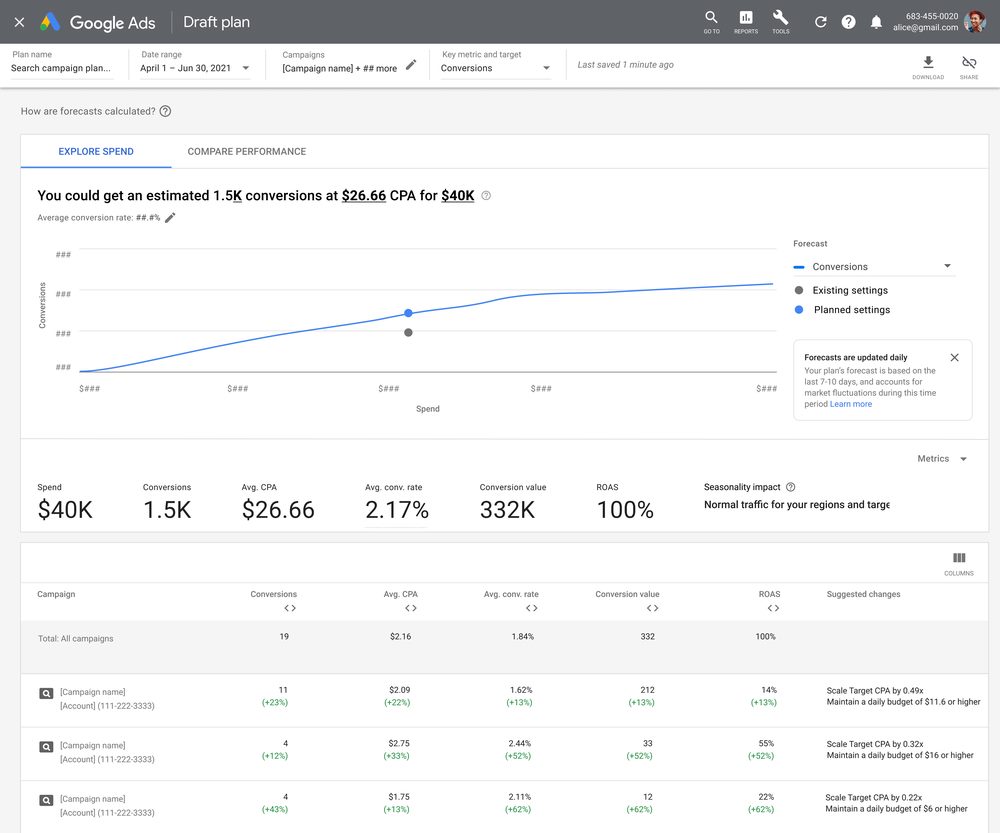 It will also show you the estimated conversions based on your budget. Very helpful when advertising in the holidays season.
Final Words
With this new announcement of Google Business Profile, a lot of new features are on the way for local businesses. Most of them will be for USA and Canada businesses to start off with.
But this is a big move that will help local businesses reach a wider audience and not leave the Google platform. Both you and your audience can use the calling and chat features to stay connected.
This is also big news for local SEO specialists. The features introduced by Google should now be managed and optimized well to rank higher in Local SEO for businesses.
Keep a close eye on this news on our blog by subscribing to our newsletter. Comment and let us know how this update will affect your SEO activities.