Google has announced a new spam update on their Twitter handle on November 4. This update is supposed to be an update to their spam-catching systems.
They have also said that it will take at least 1 week to see the effects of this "November 2021 spam update". Time to be alert and keep your eyes on your website's search engine rankings.
We have already written a beautiful post of what to do when your Google rankings drop suddenly. https://underwp.com/why-did-my-google-ranking-dropped-dramatically/
And if you are still new to the website ranking and analytical tools, read our post here: How To Know My Blog Rank? Answered Using Free Tools
Google's Announcement
This announcement from Google about their search engine spam update is called "November 2021 spam update". It was officially announced on their Twitter handle.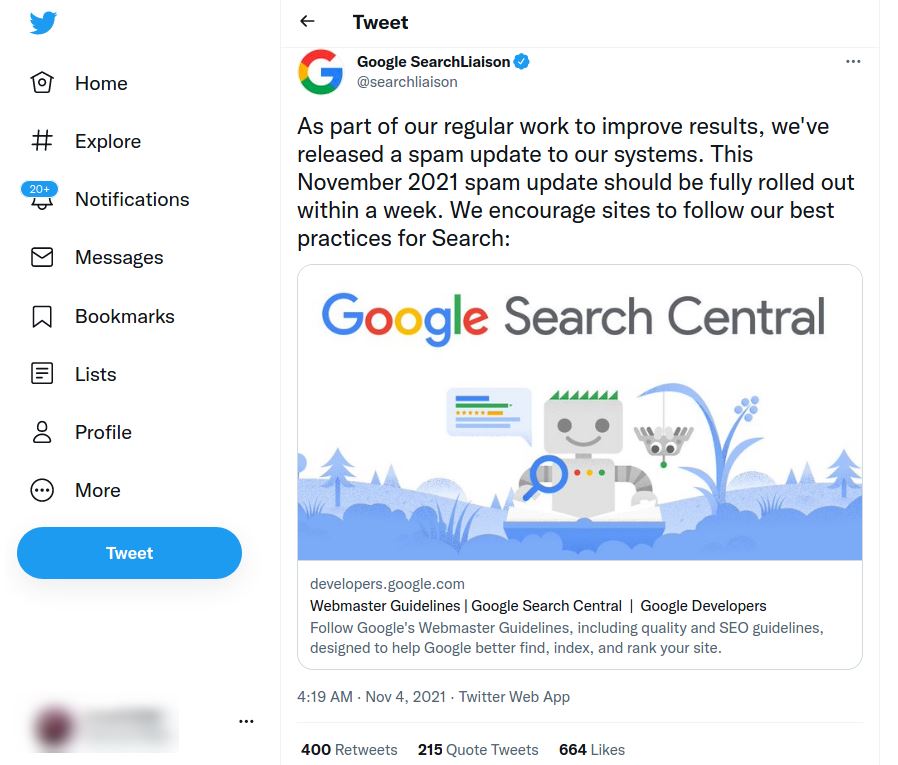 Updates like these are not uncommon with Google. We have covered similar Google updates on our blog in the SEO news category. The most important one of them that we feel is Google's Title Update.
In Google's Title update, it took the liberty to change the website ranking titles that can increase the CTR for websites. It still has mixed reactions in the SEO community.
The spam updates on Google have been going on for almost 5 years now. A lot of SEO experts say that it doesn't make a huge difference to their website rankings as long as nothing blackhat or spammy is performed in their SEO strategy.
Google has itself linked to their best website SEO practices in their tweet as seen above. These are the basic guidelines that are taught in every SEO course. But it is still a good idea to give it a look if you haven't seen it already.
SEO Community Reactions
This Google announcement hasn't got many reactions from the SEO community as it is common news for them. I feel the reactions will pop up when this update will actually affect the rankings.
A lot of the spam updates in the past have failed and the spammy websites were still able to crack the code of SEO rankings. The SEO community is expecting the same now too.
We will have to wait and see how this update will be any different from its past updates and make any difference in the quality of search results.
Final Words
We wrote this news update to keep you warned and alert of upcoming Google updates. These updates can sometimes affect your websites in both a good way and the negative way.
Keep your search engine rank checker tools close to you and see if there are any ranking changes in the next few weeks for your website.
If there is a positive impact on your website and you see an increase in your traffic, then this is good news for you. But if you see a negative impact of this update, then go back to your website and check what you have been doing wrong that affected its rankings after this update.
Since this update is called spam update, make sure you are not using any spammy SEO techniques and using all whitehat link-building strategies for your website. I believe good on-page SEO and good content will not get affected by any of the spam updates not or in the future.
Quality Content + Patience = SEO Success
Google is constantly working to improve its search engine ranking pages with the continuous study of different types of spam. So make sure you avoid any negatively affecting SEO techniques for your website.