In a recent update of Google Developer Docs, Google has added new information for best practices for E-commerce in search. This is big news. Because this clearly lays a foundation for documents on SEO for eCommerce websites.
Today we will see what are the most important parts of this documentation that needs to be noted. And how you can make a strategy for an eCommerce SEO campaign based on Google guidelines.
Content Appearance
It is clear now that Google will use your eCommerce content that can appear on different services of Google. Google has called these services Google surface.
It has written that:
Providing the right content on the appropriate Google surface can help you reach new potential customers.
Various Google surfaces that have been listed in this document are:
Google Images
Google Lens
Google Shopping tab
Google My Business
Google Maps
These surfaces have algorithm each for themselves. So not every result will be the same.
This means each of these surfaces will process your eCommerce store data differently. Based on the type of surface, your Ecommerce results will be different.
For eg: Google images can show a different image of the product than its featured image. Based on your store optimization and data feed, Google will rank your images.
To show appropriate results on these Google surfaces, the document specifies the important points to be kept and highlighted on your eCommerce store here: https://developers.google.com/search/docs/advanced/ecommerce/where-ecommerce-data-can-appear-on-google
About Us Page: Make sure that you have an About us page for sure on your store. It will help you keep your customers be informed about your store.
Offers: Be as descriptive as possible for various offers on holidays.
Reviews: Google has said that you need to put effort to show the best products for the buyers based on reviews. They have quoted "in-depth" reviews of products. This is an important point to be noted.
Catalog: If you are having an eCommerce store on WooCommerce, then this is called the Archives page. Make a good catalog page for your store products.
Educational Workshops: This is something new that was unexpected for me. The document says that you should provide workshops or lessons to increase engagement with your customers.
Live Streams: A new content point to be noted. Show live streams of your products. But it has not been stated by Google how it will use these live streams yet.
Customer Service: Customer touchpoints should be highlighted properly including return and shipping policies.
A very detailed view of these important content marketing for eCommerce stores is very helpful for SEO strategists like me.
Live streams and educational workshops are new content points that focus on customer engagement. It is still unclear how Google will use these on different surfaces but we learn that it will be indicators for Google rankings and authoritativeness for eCommerce stores.
Structured Product Data
To reach more audiences on the Google search engine, it is mandatory to keep your product data in a structured way.
This data can be structured and submitted in two ways.
A structured way of categorizing your products and product pages. A more detailed guide from Google on this is here.
Submitting your feed to Google Merchant Center. Because this service or surface as called by Google has a deeper understanding of eCommerce stores than your usual Google search console sitemap submissions.
Keeping your online store products well-optimized and structured increases product-rich results as stated by Google itself. This will help Google understand all the details of a product like prices, brand, ratings, etc.
Keeping your data structured does not only help in search results but also on other Google surfaces like Google images. Both on Google image search results and Google Lens image search results.
Google has clearly stated in their documents that when your structure your data in the right way, then it will show up on Local Business results too. This is usually also managed in the Google My Business platform.
HowTo feature of Google will also show your product results if proper markup is placed in the structured data of the e-commerce website.

Similarly, FAQ pages or FAQ sections of the product will be featured on Google if FAQ markup is placed in the sitemap of your website.
eCommerce SEO URL Structure
A good URL structure for any website is a good SEO practice because it helps Google find and index your website easily.
And when it comes to an eCommerce store, it becomes vital to have the right structure for URLs that lead to the right product and information for the users and Google.
We recently also wrote about the URLs case sensitivity and its effects on SEO on our blog. Do give it a read. John Mueller from the Google search team answered this question himself.
Now Google has clearly stated it here again: https://developers.google.com/search/docs/advanced/ecommerce/designing-a-url-structure-for-ecommerce-sites
Google says that a good URL should be like this:
/product/samsung-phones
And not look like this:
/product/g304-e4
because the second type of URLs are not clear of what they have on their page.
Adding descriptive words in the URL paths help understand both users and Google of the page you are leading them to.
Having unnecessary URL query parameters is not recommended. But if you cannot avoid them, like /phone?color=white then proper words to be used so that Google bots can understand them in a better way.
Also when interlinking on your eCommerce store, Google has clearly stated the best practices in this document. It has been clearly stated to use proper canonical tags if each product page can be reached with multiple URLs. And avoid linking to pages without useful content.
This is a piece of very crucial information when you are performing on-page SEO for your eCommerce store.
Ecommerce Store Site Structure
In the official Google documents for Ecommerce SEO practices, it has been clearly stated and I quote:
Google tries to find the best content on your site by analyzing the relationship between pages based on their linkages. This means navigation structures on your site (such as menus and cross-page links) can impact Google's understanding of your site structure.

Google
This clearly shows how important is the structuring of your E-commerce store is and how it can affect the SEO rankings of the online store.
The more internal links a page has got, the higher the importance of the page in the eyes of Google. So higher the chances of that page ranking on Google.
Make sure the best products or offers page is well structured and interlinked on your eCommerce website to rank for the most difficult keywords. Because Google rankings are not only dependent on off-page SEO of e-commerce websites, but also on proper interlinkings of pages.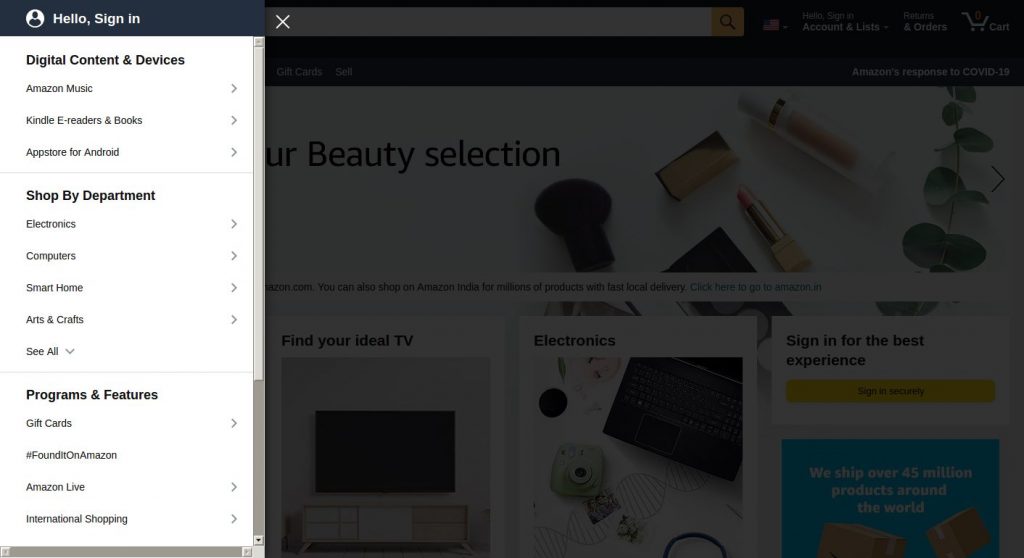 As you can see the example of the infamous Amazon is in the above image. We can learn a lot from this based on the menu structure of their eCommerce website.
Proper linking to category pages and their sub-pages and leading to the product page will increase the reach of your eCommerce website for Google and users together. This kind of structure is easier to build and understand for Google.
Proper interlinking and menu structure on an E-commerce store might also lead to non-discovery of products. Google says this itself in their documentation. So you have to be very careful when structuring your E-commerce store.
The end result to be achieved here is to help users find what they are looking for by creating useful and interesting content and putting it in the right structure.
When the E-commerce store has lots of products, it is difficult to put all of them on one page. This is why pagination is used on eCommerce shop pages.
There are various types of paginations. The most popular one is with the numbers like in our blog. The other is with the Load more button. And the third is infinite loading.
Google here doesn't favor any. It recommends using any of these three types of paginations.
But it also says to be sure that javascript is properly working on the page and Google crawlers can read the data easily. If any javascript errors are found on the page, it becomes difficult for Google to crawl the products data.
It is usually suggested to name each page with a different title. But when it comes to pagination, all the pages can have the same title. And Google crawlers will still understand them well.
The important pages to avoid being indexed in search results will be filters or sorting pages. Because these pages will have the same content that can be found on category pages or archive pages.
And pagination is also a user-friendly feature that fulfills the ultimate aim of both Google and the website user, to build an easy-to-use e-commerce shop online.
Final Words
With this new guide from the official sources of Google, it brings a little relief for SEO experts. It is now clear all the basic on-page and technical SEO issues that need to be set right for an online E-commerce store.
With more businesses coming online and trying to establish themselves, this guide will be very helpful for them. Google has also written how to launch a new eCommerce website here: https://developers.google.com/search/docs/advanced/ecommerce/how-to-launch-an-ecommerce-website?hl=en
This is a handy guide for E-commerce SEO. And since it is coming from the mouth of Google itself, it should not be taken lightly.
Give it a thorough read and update your online store with these Ecommerce SEO tips. And let us know in the comments below if you need to share more tips related to eCommerce that Google has not yet said.