Any digital marketing strategy must include search engine optimization (SEO). It is the science and art of improving a website's search engine page rankings, increasing exposure, and generating more leads for a business or organization. A successful SEO campaign aimed at search engines like Google, Bing, and Yahoo will generate compelling on-page content, attract backlinks, enhance the site's architecture and underlying code, and increase organic traffic.
SEO Campaign
An SEO campaign is a coordinated attempt to boost the Google SEO rankings of a page or website. It's usually a long-term project with a variety of components, including keyword research, site audits, SEO analysis, on-page optimization, link building, and so on.
Whether you're a solo entrepreneur or a digital marketer for a large multinational corporation, a well-executed SEO campaign can support any form of brand or company.
A Good SEO Campaign
A good and effective SEO campaign results higher search engine rankings. It includes:
Keyword research: When it comes to specific pages, you can recognize both primary and secondary keywords.
High-quality content: Once you've chosen the right keywords, you'll need to come up with interesting content that will captivate people's attention and drive traffic. Visitors to your site may be frustrated if the content does not fit with the keywords you've selected, and they may not translate to sales.
On-page SEO optimization: This method improves the readability of internal elements of web pages so that search engines can crawl them more easily. Title tags, meta descriptions, H1 tags, keyword density, and several other elements can be used.
Using a Site Audit tool: You can see all of the problems that your domain is currently experiencing, such as broken links, photos without alt attributes, and more, to help you decide what to prioritize during your SEO campaign.
Competitor analysis: A good place to start when planning your SEO strategy is to look at what is and isn't working for a competitor. For up to three competing URLs, Domain Overview tools like SEMRush provides scores for site authority, organic search, paid search, backlinks, display ads, and traffic engagement.
Quality Backlinks: While having a large number of backlinks from other websites can help improve page rankings, the consistency of the links from reputable sites is more critical. You don't want to include links from places that are just trying to improve their ranking by spamming you.
Social media engagement: Using different social media platforms to share content will help increase traffic to your site and improve page ranking. You should monitor your social media platforms to see how well your target audience interacts.
Now that we understand SEO campaigns, lets see what are multiple SEO campaigns.
Multiple SEO campaigns are SEO campaigns that are devised in multiple ways for targeting a website or a page with different SEO campaigns. This is an advanced digital marketing strategy customized to suit websites that need more work and expertise than usual. Websites that are targeting high-traffic competitive keywords will require to design this SEO strategy to get good results.
Multiple SEO campaigns can be again divided in two parts.
Single Page Multiple SEO Campaigns
Single page multiple SEO campaigns is the SEO strategy where you try to target one main keyword and three other related LSI (Latent Semantic Indexing) keywords. Sounds simple? It's not.
This type of SEO strategy is a risky strategy for websites or SEO specialists if they don't know what they are doing. Because if not properly planned and organized, this can hurt your page SEO negatively and in some cases blow your page out of the search engine results. Scary huh!
Benefits of Single Page Multiple SEO Campaigns
Higher Search Engine Traffic: Results of this type of campaign can be very nice and result in high traffic to your website. Your webpage will start to rank for multiple keywords like an authoritative webpage.
Authority Page: Your webpage will now start to gain authority ranks in the eyes of search engines. This increases the URL rating (UR) and Trust Flow (TF) of the webpage.
Negative Effects of Single Page Multiple SEO Campaigns
Decrease Search Engine Traffic: As I said earlier, if these kinds of campaigns are not designed properly with high precision, they can work in a negative way and result in a decrease in search engine rankings.
Google Penalty: If you haven't heard about it then it is a good thing. Because it is true that Google penalizes websites or web pages if it finds doing something fishy or unethical. Yes, this can also be considered unethical in the eyes of the Google algorithm as it might create confusion for the Google algorithm to place the webpage in the right search engine position.
Kicked out of Search Engine Results: Yes, this happens too. Google's penalty can still be fixed if given a proper time and strategy to the webpage but kicked out of the search engine results is a bad sign for any webpage and can affect the other web page rankings for your website.
Building A Single Page Multiple SEO Campaigns
Now that we have established the merits and demerits of this campaign, I am going to write the initial steps we do at UnderWP for a single-page multiple SEO campaign. Assuming that the page is already built up with a single main keyword.
Step 1: Finding relevant LSI keywords
The first step to find LSI keywords for your target keywords is to search google for relevant questions around the main keyword. Search queries with question format are a good place to start because they often show feature snippets on the search results page itself.
Featured snippets are small boxes that appear at the top of search results and typically contain one- or two-sentence responses or a list. When featured snippets are shown recently, there is always another box nearby that says "People also ask" This second box helps you to examine the search algorithm's reasoning. It displays what the search engine considers to be related topics.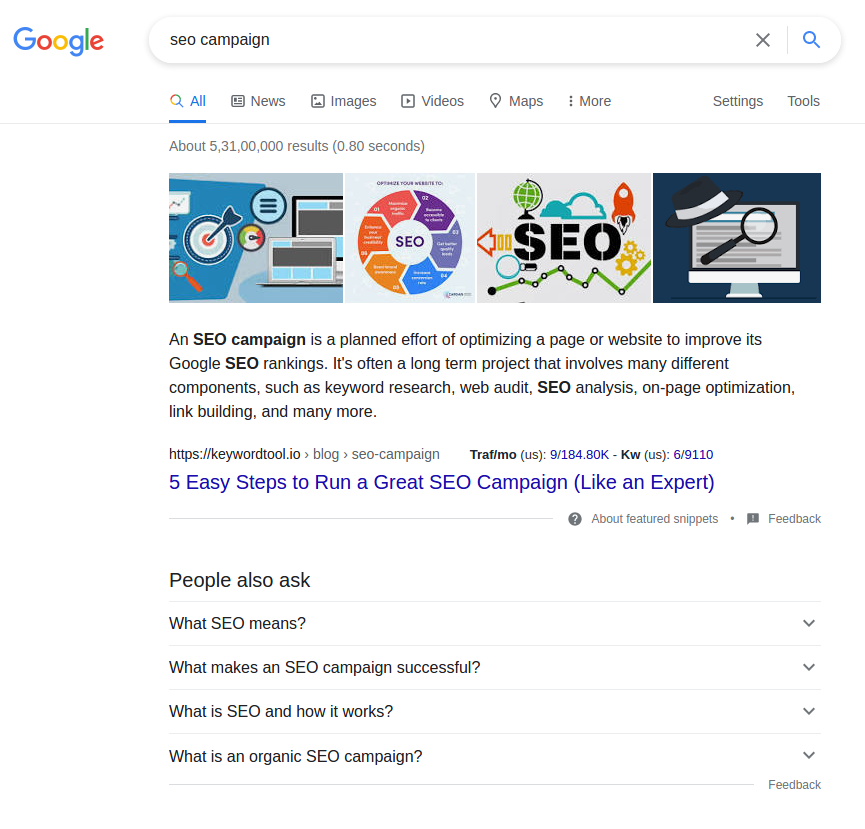 Step 2: Select most relevant question for your main keyword
Consider the original "People also ask" suggestions. They're usually different variations of your question, with slightly different search purposes. Choose the one that best matches your target user's search purpose. So, what happens next? At the bottom of the list, a new set of three "People also ask" suggestions will appear, all of which are related to the first choice you selected. This is why I call them "choose your own content adventure" packets. You delve deeper into the topic identified by the search engine with each pick.
Step 3: Low-featured snippets can give you ideas
Any suggestion from the "People also ask" section is a featured snippet. Keep an eye out for featured snippets that aren't especially helpful as you dive deeper into the subject by picking one "People also ask" after another. This is a search engine that is attempting to produce a simple answer to a question but failing miserably. This is a fantastic opportunity. Keep a list of the ones you believe could be improved. The Featured Snippet in the following example is provided by an article that does not fully answer the question for the end-user.

Step 4: Collect and Analyze Keywords
Once you feel that you have seen enough "people also ask" type of questions, note down the important keywords which can be useful for your visitors. These keywords have to be related to your topic and add more value to your content.
With these collected keywords put them inside your favorite keyword research tool and check their metrics. Keywords should be selected with difficulties less than the main keyword of the page. This is an important point to be remembered while selecting the keywords. Selecting LSI keywords with a higher difficulty than the main keyword of the page can hurt the web page SEO as it would require more SEO efforts for LSI keywords than the main keyword.
Step 5: Apply the keywords
Now apply these LSI keywords of your main keyword in the content of the page. Based on the content length and number of times the main keyword used on the page, place the LSI keyword a few times lesser than the main keyword. Putting in the subheadings also helps. Image alt tags are also a good place to put LSI keywords.
Step 6: Muliple SEO Campaigns
This is another very important step to be done carefully after the keyword selection. Assuming that there is already an SEO campaign in place for this page for its main keyword, you should start with a much smaller campaign for LSI keywords.
As I suggested to start with 3 LSI keywords at the beginning of this post, start 3 small SEO campaigns for these LSI keywords. Try posting articles or informative content with LSI keywords on your social media pages and link back to this page. Based on the niche and content size of the page a small SEO campaign can be designed.
Multi-page Multiple SEO Campaigns
Multi-page multiple SEO campaigns is an SEO campaign where you place different kinds of strategies for different parts of your website targeting different keywords for every page of your website. Easy to understand? Yes, it is.
This strategy is used by many websites with huge content or products. Websites like Amazon, Wikipedia can be the best examples of this. You get to see their website pages for different types of keywords. Every product page or informational page is ranked for a specific keyword targeted for that product/page.
Benefits of Multi-page Multiple SEO Campaigns
High Authority: Your website will get a huge boost in search engines as they will start to get more authority over other websites.
Easy To Rank: Adding good and related content will get you easy and fast rankings once the website is recognized as an authority website by the search engines.
Huge Traffic Flow: Multiple page ranking in the search engine will give you multiple sources of traffic for your website. This will increase the influx flow of traffic.
Negative Effects of Multi-page Multiple SEO Campaigns
Time Consuming: Although the results and benefits of this kind of campaign are lucrative, it takes a lot of time to build a website ranking authoritatively for search engines.
High Price: Huge amount of money has to be input into this kind of campaign before you see anything good out of it. It is definitely not pocket-friendly.
Google Penalty: Yes, it is also possible to get Google penalties with these kinds of campaigns. Say how? If the SEO campaign is targeting something which the visitors do not find useful, it starts to work negatively for your website. And imagine multiple SEO campaigns targeting multiple pages of your website which doesn't help your visitors create a bad impression for Google algorithms and results in a temporary or permanent penalty.
Building Multi-page Multiple SEO Campaigns
A Multi-page Multiple SEO campaign is almost the same as a regular SEO campaign you do for a website. I have already written about it at the beginning of this post about the regular SEO campaign steps.
Target one main keyword for each page of the website. Make an SEO campaign for every page for this keyword. Start driving search engine traffic to it. Do this for multiple pages of your website and you get Multi-page Multiple SEO campaigns for it.
This kind of SEO campaign is a less risky and go-to choice for a new website or established websites as well. The chances of risking a negative SEO effect on this campaign are very less.
Final Words
Building Multiple SEO campaigns is an advanced SEO strategy. As seen above, you need to be very careful when making this kind of campaign. It can work both positively and negatively based on the constructed strategy.
I won't advise this kind of strategy for new websites or small websites with new or low content on the website. This is an advanced strategy better used for websites with a minimum of 2 years of age and content of 50,000 words which is helpful for their visitors. Many other factors have to be checked as well but these two will be the start before planning for multiple SEO campaigns.
The best way to implement this advanced SEO campaign is to hire or consult an experienced team of SEO specialists like our team at UnderWP who are experienced with WordPress development and Digital Marketing Services.