Bold letters in good content add value to its SEO. It is a part of good on-page SEO practices. Google answers this itself.
Back in 2012, Matt Cutt said clearly that the bold letters or bold HTML tags do not help the ranking of content pages. It only helps the Google bots to understand the page better.
The same answer was repeated by Google's search advocate John Miller in 2021.
Value of bold letters in a content
Bolding words and sentences on a page carry a good semantic SEO value. It helps understand the important points of the content for Google spiders.
A lot of content writers and SEO specialists add bolded words to their content to grab the attention of the readers. This is a good practice followed by content writers.
Google's Hummingbird Algorithm in 2013, one of the major updates in the history of Google cleared this bad practice by webmasters.
Before this update, some SEOs who were into blackhat SEO practices used bold and strong tags in their page's HTML to manipulate the Google robots. So with a few link building services and using bold or strong tags in HTML, a lot of web pages were easily able to rank for keywords with little to medium competition.
But now Google has said clearly and direct that using bold or strong tags in the HTML of a page does not help it rank any better than pages that do not use it. It will only help Google algorithm to read it better and understand what the content is talking about.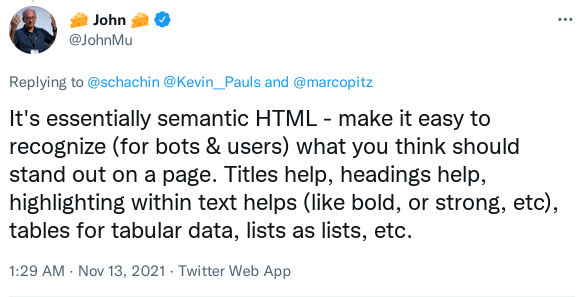 We wrote about the value of the bold text in content also in our blog post Google Title Tag Update In June 2021 And Its Effects. Give it a read as it was an important Google update in 2021.
Strong and Bold HTML tags effect in SEO
A strong tag is not much different from a bold tag. Based on the CSS of the page, each of these tags can show up a little different.
Using a strong tag makes the letters or words bold. It implies that the content inside these tags to be considered important.
Both of these tags show the important parts of the content by highlighting the words.
Bold text affects the SEO of the page the same way it affects the reader of the page. This means it will help the Google spiders to understand the content of the page. The same impression is made on the readers of the page.
A bold text or HTML tag is to be used when the content inside them requires the attention of the readers. Just like we did now.
Google bots are no different from a real user and read the content similar to a real human.
A strong or bold content creates the same effect for Google when you use other HTML tags like lists, bullets, tables, etc. It does not carry any special SEO value to it.
But bolded words in content help create a good on-page SEO for the website. Because it helps Google understand your content better. And if it understands it better then it can easily rank your pages.
So bold and strong words in the content do not help you directly with the SEO but indirectly. That too in a minute way. But hey, every point matters when it comes to SEO, isn't it?
Final Words
We use headings on a page to help our readers understand the content better and categorize it. Bold words in that content just grab the attention of the readers and highlight any important point.
If there is no need to use the bold tags, do not use them just for the sake of it. Use it only when you think it will help your readers.
Bold and strong HTML tags are like the makeup of your content. Use it wisely and don't overdo it.
We have been practising the bolding of words principle from the beginning of our blog posts. Not just because it is a good on-page SEO practice but also because it helps our readers understand the important points of the page.
We practice what we preach. Our SEO and WordPress blog posts are written by well-experienced writers who follow the best practices and share the same with our readers.
Subscribe to our newsletter to get real working SEO and WordPress tips to improve your website rankings.