If you own a business where you need to showcase the prices and features of your product or service, then price listing tables come very handily. These pricing tables show your visitors what they will be getting and how much they can buy it. But WordPress by default does not have a module or widget to add these pricing tables to its pages or posts.
This is where most of the WordPress themes and plugins help the web developers to make attractive pricing tables in WordPress. Most of these themes and plugins come with a pricing table builder to create and edit the pricing lists in WordPress. You can use a shortcode provided by your theme or plugin and place it on any page or post of your WordPress website.
In this post we are going to see different options to create, edit and add pricing tables to a WordPress website both the free and paid ways. And then you can decide which one will be the best pricing table WordPress plugin for your website.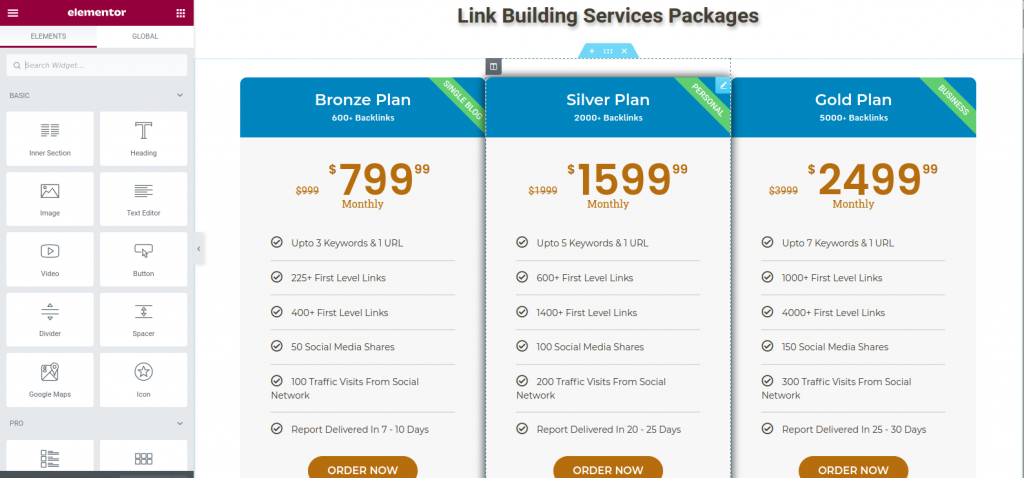 This is my recommended way to create pricing tables for WordPress. We create pricing tables for ourselves and for our clients using this. You can check out pricing tables as shown in the picture above at this link: SEO Link Building Services
Install Elementor plugin from WordPress repository: https://wordpress.org/plugins/elementor/ and you can get Elementor Pro from here: https://elementor.com/pro/
To create a pricing table block for WordPress website using Elementor, open the page editing with Elementor.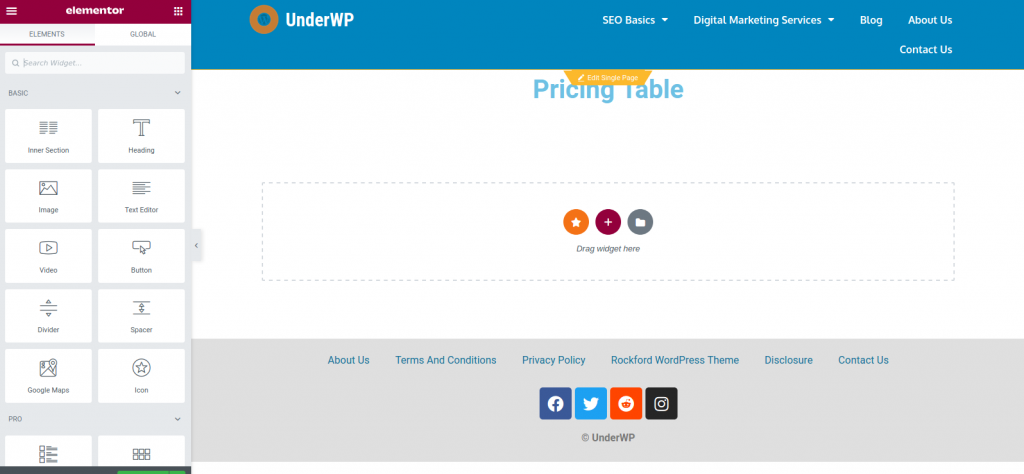 Type Pricing in the search for blocks available in your WordPress Elementor. Ignore the premium pricing table module from Premium Addons for Elementor installed on our website. Another recommended plugin if you are looking to add additional functionalities to your WordPress website.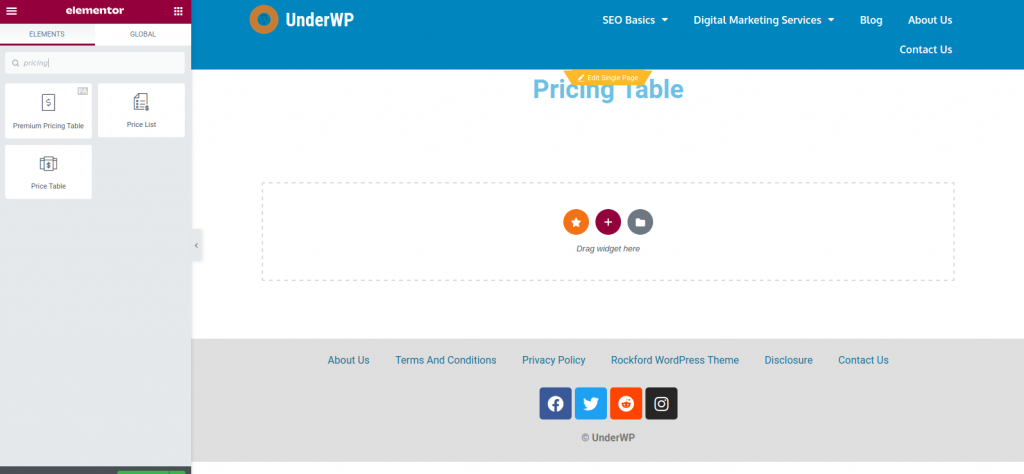 Drag the Price Table module to the main page and you will see the options like this.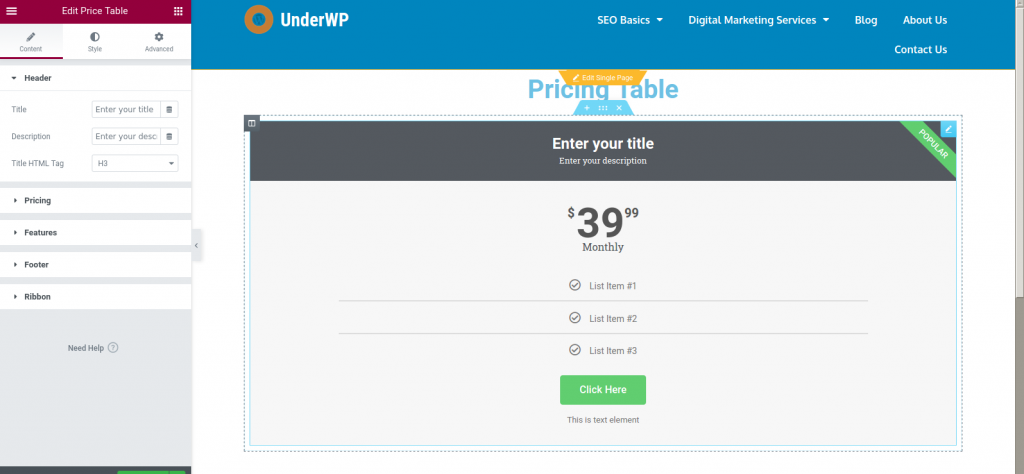 Now you have various options which can be filled up based on your business product and services. After you have filled up all the details you can then clone the table into multiple tables by right click on the table and selecting the Duplicate option from the drop-down.
You can use this pricing table builder for WordPress to create multiple pricing tables on any page of your website with its duplicate feature.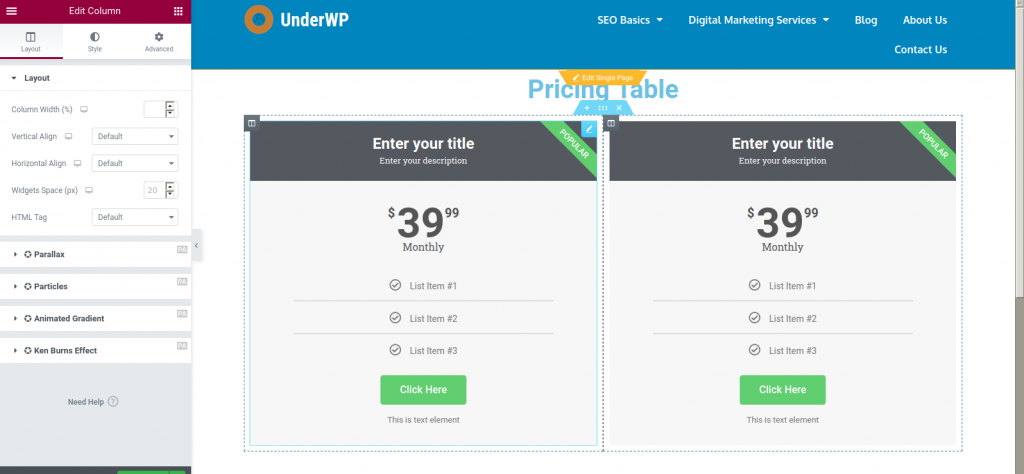 Pricing tables created with this plugin are highly customizable. These tables are also compatible with all kinds of browsers and screen sizes.
Any website made on WordPress usually has other plugins installed on it. Sometimes plugins are not compatible with each other. This is why you have to be careful what you install on WordPress. Some plugins break the website if not compatible with other plugins or not well coded. We use this feature of Elementor Pro mainly because of its compatibility with other plugins on a website, it is well coded and updated regularly.
Create A Pricing Table In WordPress Using Elementor Addons Plugin (Free)
If buying the Elementor Pro addon is not an option for you, the next recommended way is to go with the free modules provided by the Essential Addons for Elementor plugin. This plugin module can be downloaded from the WordPress repository here:
Once you have installed Elementor and Essential Addons for Elementor plugin on the website. Create a new page.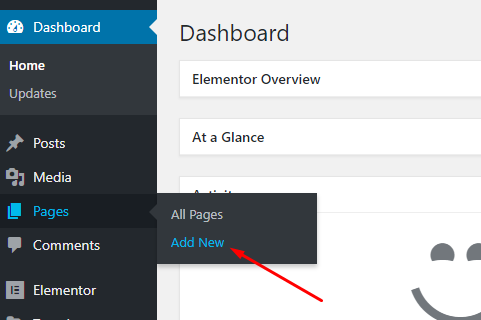 Name your page and click the Edit with Elementor button on this new page to start editing using Elementor.

Now add a new section by clicking on the + button on this new editing page.

Search for pricing table module named as EA Pricing Table in the Essential Addons section. Drag it to the page where you just created the section.
Now you can edit the content of tables based on your requirements. You can change the title, prices, and features of the pricing tables.
Once you are done with one column by setting all the appropriate data in it, you can then easily duplicate the newly create pricing table widget. This will help you make multiple pricing tables easily using this page builder technique of Elementor.
After finishing up with the pricing tables, hit the Publish button and get the page published on the main WordPress website of your business.
This is the best free method we recommend to everyone as it has many customizable options which should suit the majority of the businesses. As said earlier with the Elementor Pro plugin, this plugin has also shown maximum compatibility with WordPress themes and plugins.
Free Pricing Table WordPress Plugins
There are some other free plugins in the WordPress repository which we have tried only on a few websites to create simple pricing tables. Since we haven't tested them thoroughly, we have decided not to write more details about them. But we would like to mention it here so that it can be an alternate for you to choose if any of the above plugins don't work or compatible with your running WordPress installation.
Pricing Table by Supsystic
We are testing this plugin on a few sites and so far it is working well without any issues. It has a drag-and-drop feature to create pricing tables for your website. Some very nice beautiful pricing tables can be created with this plugin. The pricing tables created with this plugin are responsive too.
Some of the example tables created with this can be seen below: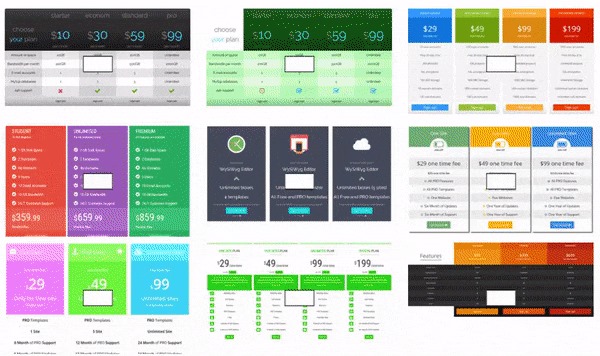 Responsive Pricing Table
Another cool plugin we found is called Responsive Pricing Table by WP Darko which offers some very nice features which other plugins charge for. It boldly says on the plugin page "The Free version of the Responsive Pricing Table plugin is not limited."
You can use custom CSS and change the colors of the pricing tables. Currency changing is the feature that most of the plugins put a price tag on. But fortunately, this plugin promises to offer it for free. It also has custom buttons for PayPal and Stripe payment gateway integration. This is a feature that we haven't tested ourselves and not sure how compatible it is with these two payment gateways.
Pricing Table by PickPlugins
With features like unlimited pricing tables and unlimited rows and columns, this plugin surely looks promising. Packed with many features which make it distinguishable and beat many of the paid plugins for making pricing tables on WordPress.
This plugin has some unique features which it offers for free. Displaying YouTube, Vimeo videos in the pricing table column is something unique and can be used to get the attention of your visitors. If video is too heavy for your pages, you also have the option to go with background images for each table. This helps in improving the UX features of your landing pages.
We are still testing this plugin as it grabbed our attention by offering some unique features which other plugins are charging heavy prices for. We need to see how well it is compatible with other page builders like Elementor or WPBakery plugins.
WRC Pricing Tables
WRC Pricing Tables plugin comes with a lot of features like responsive tables with unlimited colors, rows, and columns. The best part of it is that it offers very in-depth customization of tables. Hiding columns instead of deleting them is one of those customizations which are very impressive for web developers.
The code structure of this plugin looked good to implement. Some of our clients found this plugin to slow down their websites after installing this plugin. We are yet to confirm this. And so we placed it in the last of our list.
Final Words
A simple, attractive, precise, price, features showcase, and diversity between different products or services in a pricing table helps your customers to remember your product/service details. And a good pricing table is more effective than a report or long written articles. Every business that is serious about sales should know that pricing tables play a vital role in sales.
We have listed both free and paid options to get pricing tables for WordPress. Either way should be helpful for you whenever you are in a dilemma of how to add a pricing table in WordPress which is a very common question asked by most WordPress designers.
If you found any plugin with better features and designs, do let us know in the comments below.