Migrating a website, particularly when it comes to SEO, isn't a simple approach that can be slapped together in an afternoon or a day or two before launch.
To ensure that your post-launch site retains and generates as much organic visibility as possible, an SEO migration needs extensive study, planning, execution, and monitoring.
For the tasks to be executed correctly and on schedule, you'll need the help of many teams, including your digital marketing, SEO, and web development teams.
Any significant changes to a website's configuration that may have an impact on SEO, such as changes to the domain, URLs, hosting, platform, or design, are referred to as a website migration.
There are many distinct types of migrations, but the planning and troubleshooting phases are always the same. Migrations can be quite complicated since they frequently include a large number of individuals and moving pieces.
Don't get too worked up if things don't go as planned; practically anything can be fixed.
Keep in mind that the goal of SEO migration is to keep your website's search engine rankings, traffic, and conversions intact. You can preserve and maybe improve your organic performance by undertaking a comprehensive SEO website migration.
Getting prepared for a website migration
You must understand what is changing and who must be involved in order for it to take place. To put it another way, you'll need a strategy and a place to keep track of all the moving elements.
You'll need to know who's involved, their roles, and deadlines, as well as having a system in place to keep track of everything. This is where a project manager and project management system come in handy.
Trying to do everything via email and Slack can quickly spiral out of control.
You should also have a backup plan in case things goes horribly wrong. Even if you only plan to utilize it in extreme scenarios, you should always provide a means to return to the original state.
Make sure you have access to GSC and Analytics on both the old and new sites if you want to understand the impact of a shift (make a combined view if needed to see both). Some changes may take a few weeks or even months to manifest, while others may not show any signs of change at all.
For example, if you're moving a medium-sized site to a new domain, I'd anticipate a few weeks of disruption. However, if you're integrating two sites, you might not notice any traffic issues at all.
You should also conduct some preliminary work. I recommend taking the following steps:
Your website should be crawled. You'll use this as a reference point for future comparisons. You can do this with Site Audit from SEMRush tools. This is a free tool.
Create a collection of test pages like those found on your top-performing pages according to your website's Google Search Console. These will be used to check for errors later.
To avoid getting indexed, limit access to your staging or development site (if you have one).
Make a backup of your website in case you need to restore it.
When it comes to SEO migration, how long should it take?
The length of an SEO migration is largely determined by the size of your website, the amount of material being moved, and the number of pre-and post-audits required. A 100-page website will take much less time than a 1,000-page website, which in turn will take much less time than a 50,000-page website, and so on.
Some SEO migrations take a month to plan and put in place, while others take three. It's critical to allow adequate time to design, create a staging site, QA and audit, and finally execute. To be safe, we recommend allowing at least three months.
Making A Website Migration With Its SEO value
There are two different types of migrations for every website. One where the URL remains the same and the other where the URL of the website changes.
Today we will be discussing both of these in this post.
When the URL remains the same
Because fewer things are changing, this is usually a more straightforward move—at least in terms of SEO. It may still be a difficult adjustment, but many of the duties necessary are often handled by infrastructure/DevOps or developers rather than SEOs.
These migrations typically involve:
Design: template, internal SEO, tags
Creating a staging website
A staging website is a hidden version of your new website that you may use to test updates before they go live on your live site.
By constructing a staging website, you allow your team plenty of time to not only assess the content and functionality of the website but also to test and execute URL 301 redirects before going live.
This implies you won't have to update URLs in internal links and sitemaps as frequently before and after launch.
Items to check after migration
Make sure these things on your final website after the migration is the same.
Meta Descriptions
Heading Tags
Title Tags: Make sure these are still the same when before migrating.
Hreflang
Content: This should be very obvious. Do not change your already existing content immediately after the migration. Make sure the new content is visible to search engines.
Page Speed Values
Canonical Tags
Schema
Meta robots: Make sure your pages are not tagged as noindexed.
Internal Links: Usually related posts, breadcrumbs and other internal linking structure gets disturbed in these cases. Make sure the internal linking structure remains the same.
When migrating URLs are different
These are the complex type of migrations. These migrations can be further classified into two categories:
Protocol: HTTP > HTTPS
Domain: When you change the URL.
HTTP > HTTPS Migrations
This type of migration is the easiest kind of migration these days.
If you are on WordPress you can use plugins to easily do this task. Check out all the plugins related to SSL here: https://wordpress.org/plugins/tags/ssl/
A few points to be careful here:
Domain Migrations
Make sure you are working with your team in sync. This change causes a lot of effect on your website's SEO.
A few points to be careful in this migration are:
Setup GSC: Make sure you immediately add GSC to your new domain. Keep your old sitemap for a while and add the new sitemap with new domain URLs.
Remove any crawling barriers from the old and new sites' pages. Everything must be crawled in order for signals to be consolidated.
Redirecting Pages. You'll want to use a 301 redirect to ensure that old pages are redirected to the new versions of your pages. It's also a good idea to redirect things like photos and PDFs, but don't worry about JS, CSS, or Font files. Don't worry about other file kinds; only reroute things that get indexed by search engines.
You want to catch changes as soon as possible, so if you have a development or staging site, crawl that first to make sure everything is working properly before publishing updates to a live site.
Remember that if an old site used HTTPS and the certificate expired, bots will still be able to access it, but people will get an error message and will not be redirected. This problem can be avoided by using multi-domain certificates that cover numerous sites.
If you see a drop, it's most likely due to redirection, something that can't be crawled, something that's been noindexed, changes to the content or the removal of material, changes to internal links, or whatever else connected to technical SEO that's changed.
Continuous testing and monitoring
There are several ways to monitor the migration's progress and ensure that everything is going as planned. But we will see how we can do this by Google Search Console.
With GSC, you're in good hands.
Google Search Console contains a wealth of information to aid in relocation. The URL Inspection tool, for example, can be used to check for canonicalization errors. Simply type in the URL, and Google will tell you which canonical version they used.
You can also download GSC data and create a unified view of your traffic in Excel or Google Data Studio to keep a better eye on the migration. To debug any losses, you might want to use a combined view of the page or keyword data.
You may use the Index Coverage report to see how your pages are indexed. If you've submitted both the old and new sitemap files, you can track how indexing changes and look for any problems here.
You can get specific coverage reports for the pages in those sitemaps if you have the sitemap files.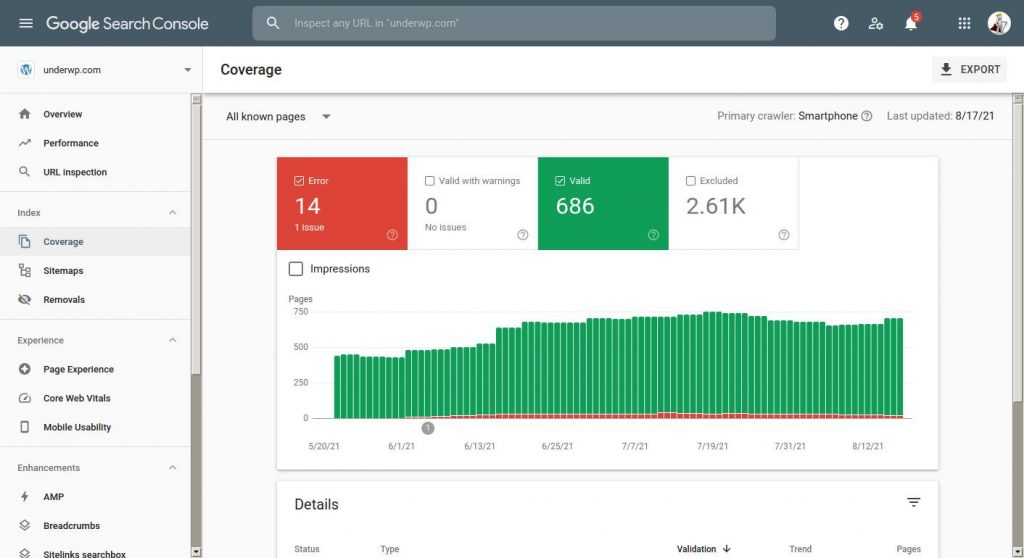 The Crawl Stats report in Google Search Console is the ideal place to look if you want to obtain an overview of Google crawl activity and any issues that have been found.
There are a variety of reports available to assist you to spot changes in crawling behavior, crawling concerns, and learn more about how Google crawls your site.
You should investigate any crawl statuses that have been highlighted, such as the ones mentioned here:
There are also timestamps for the last time the pages were crawled.
Other Checks
Check archive.org to see if they have a copy of any of the pages if you didn't acquire a baseline crawl of the site and need to compare the old and new versions.
They frequently have copies of robots.txt files from sites as well, which might be valuable in determining whether something went wrong and was mistakenly blocked during the process.
You can still check canonicalization if you don't have access to Google Search Console for a site by pasting a URL into Google. The canonical page is usually displayed first.
If you don't have access to GSC, many other crawling-related issues can be found in your log files.
Just a heads up that the site: search operator might be confusing at times. When you use site: you're inquiring about Google's knowledge about a certain website.
Just because you see pages there doesn't indicate they're indexed that way or that the migration isn't working. This has led to people blocking the previous site in order to keep the pages out of the index, which causes issues.
Keep monitoring
Some issues may arise long after the migration is completed.
Keep an eye on the old domain to make sure it's renewed, as well as any others you've redirected to the site. Any signals passed by redirection from earlier sites may be lost if the domains expire.
If you didn't get rid of your old hosting and still have redirects on it, be warned that if it goes down, they'll break and you'll lose some links. You can fix this by using DNS redirection and saving the redirects on your new site.
Make sure to renew security certificates or, as previously mentioned, convert to a multi-domain certificate.
Check Mobile-Friendliness
Google uses a mobile-first indexing strategy, which means they look at your website's mobile experience before indexing it on desktop.
Building a mobile-friendly website that works on a variety of devices and browsers assures that your site will rank well.
Make sure your website's responsiveness stays intact after migration. Always keep an eye on this at every step of website migration SEO.
Backlinks to your old website are almost certain to exist, especially if you have valuable location pages or documents. To view which pages are accumulating backlinks, go to your Search Console, or whatever backlink tool you like.
Then contact the websites that link to your own and request that the backlinks be changed so that you can reap the benefits of all that backlink equity.
This will take time, therefore have someone keep track of these backlinks, handle outreach, and annotate backlink updates in Analytics.
In recent years, search engines have become smarter. When you make a 301 redirect from the domain, it usually transfers the link juice too.
But it is still suggested to contact your previous backlinks website and ask them for the change.
Example of a perfect website migration SEO
One of the very popular websites which migrated millions of pages flawlessly is making news in SEO circles. The company before known as Transferwise and now known as wise has excelled at this task.
Wise currently has over 4 million URLs indexed in Google. All these URLs have been transferred from transferwise.com
Their applauding team has successfully transferred their domains without any noticeable loss in their traffic. It took them 4 months to successfully transfer to a new domain.
From the above image to the present traffic graph which is still growing constantly.

This is a very successful job done by the Wise team. Not losing traffic in this process is their biggest achievement I will say.
Here's what the SEO lead has to say about this process
The most important points to be noted in the above tweet are:
1. Building small tests and monitoring server logs helps a lot. It is a good practice that needs to be implemented by every SEO team.
2. Keep your users and visitors informed about the change. Surprising your visitors suddenly with a domain change loses trust from the regular users. It can also lead to many suspicions. This job was well-taken care of by the Wise team from the beginning.
Final Words
Website migration with SEO value is a no small and easy task. It is as risky as the size of the website.
To be effective, you must conduct extensive research, strategize, execute, and measure your efforts. To maintain and grow your organic visibility after the migration, you'll need to think about a lot of things.
Thanks to many useful plugins like Duplicator in the WordPress repository which makes this process easier for WordPress users. Check out the WordPress repository for more plugins like this: https://wordpress.org/plugins/tags/migration/