After a beta launch earlier this year for limited users, LinkedIn Marketplace is now open for all. Professionals can now opt into it and promote their services as freelancers for free.
The potential reach of LinkedIn in the professional world is much higher than any other social media network. With this freelancer marketplace, it plans to expand its network and compete with other freelancing websites.
LinkedIn freelancers is a free option now. Maybe they will move this feature to premium accounts later. So make use of it while it's free.
Now you can become a freelancer on LinkedIn with just a few changes to your already existing LinkedIn profile.
To access the marketplace of LinkedIn for self-employed, you have to make a few changes in your profile.
Log in to your LinkedIn account and go to your profile. Below your name, you should be seeing an "Open to" button.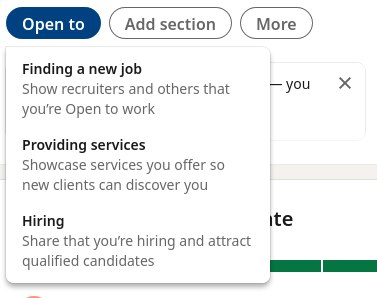 You will see three options here:
Finding a new job
Providing services
Hiring
Select the "Providing services" option. It could have also named as Freelancing services or Gigs marketplace. Don't know why they could not name it like that.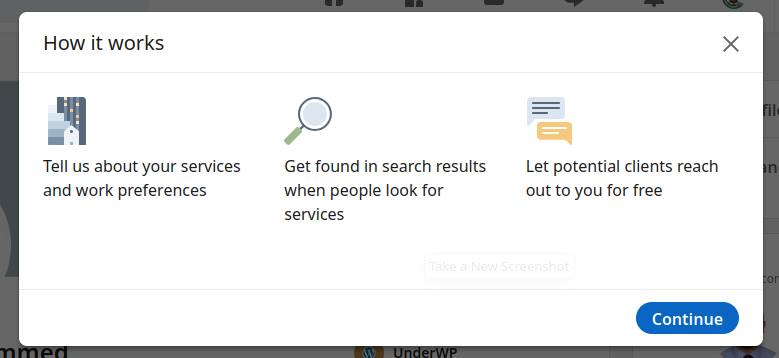 Press the Continue button.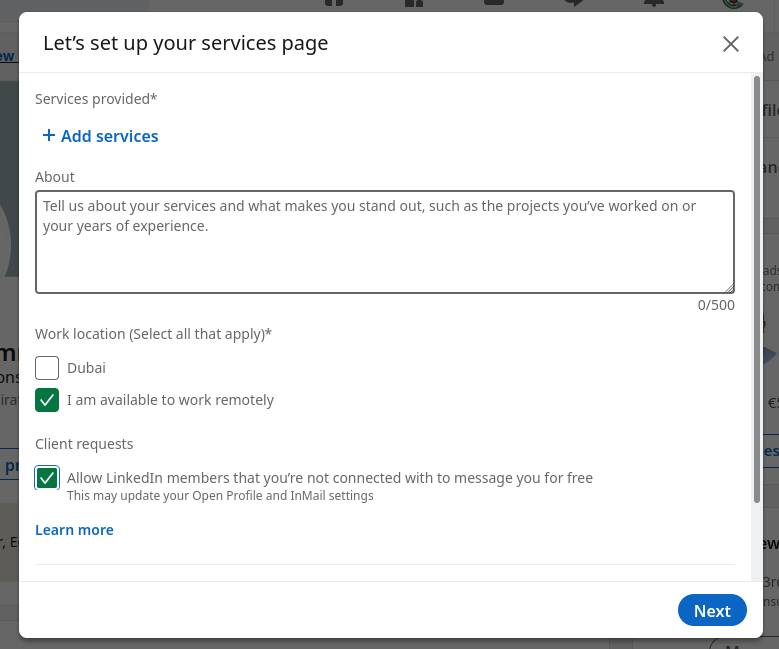 Now on the next screen, you have all the options of creating your basic Freelance LinkedIn profile.
First, we will add all the services that are related to our skills. Click on the Add Services button.
There are like 16 categories under which there are many other categories to select from. Each profile can add up to 10 services.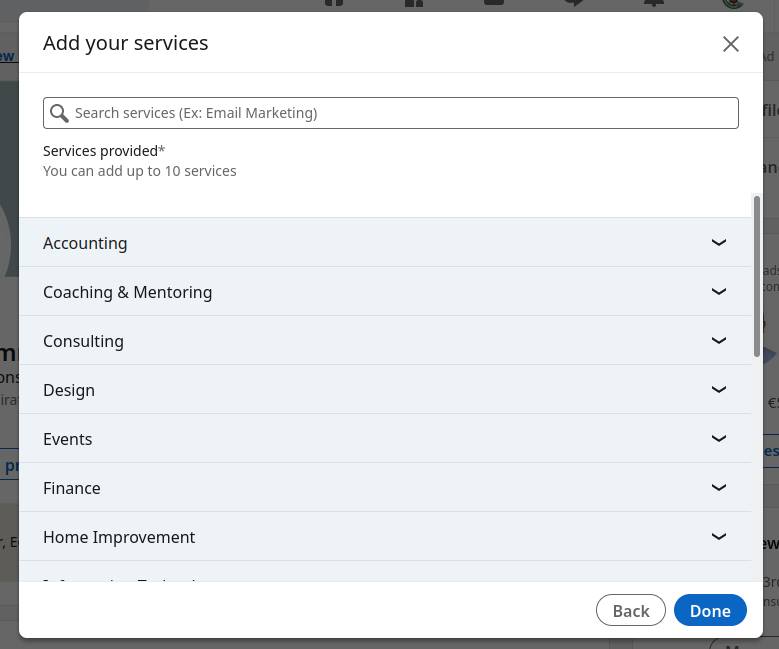 Add all the services related to your skills. Better to use all the 10 options so that you can reach more clients.
Once you add all the services related to your freelancer gig, press the Done button.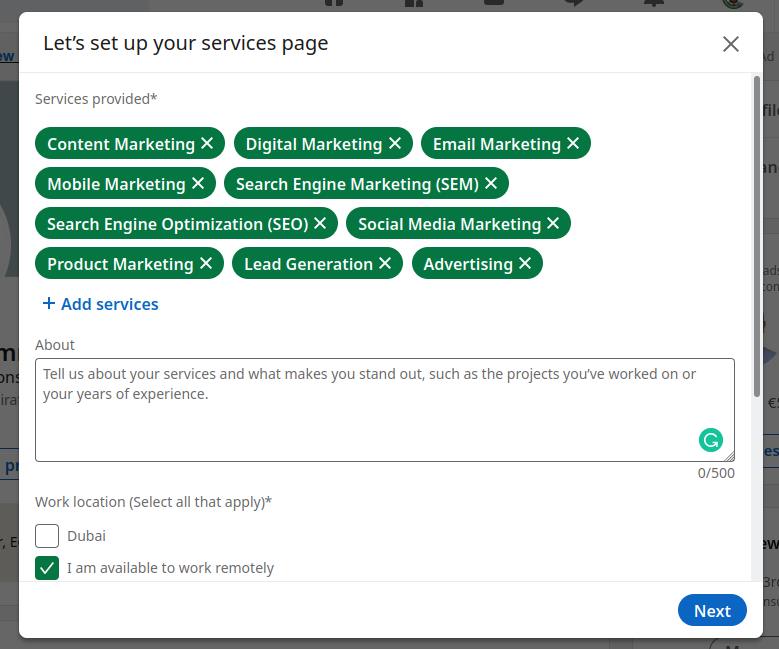 Next is the About section. Fill in all about your freelancing gig in this section. It has a character limit of 500. So try to be brief and direct here.
The next selection is about the Work Location. You can select here all the options or the ones suitable for you.
Tip: In the client requests section, we suggest selecting this option of "Allow LinkedIn members that you're not connected with to message you free" so that your inbox is open for all kinds of messages.

UnderWP
Press the Next button. And then the final screen will appear to confirm or make any other changes. If everything looks as you want, press the Publish button.
You can then publish a post on your LinkedIn profile about this new LinkedIn freelancer gig or just continue using LinkedIn.
If you have a blog or website where you write about your work, you can also showcase your LinkedIn badge. We have a blog post to Add LinkedIn Profile Badge And Card To WordPress
Find Freelances On LinkedIn Marketplace
Not just the freelancers on LinkedIn but also Companies or clients looking to hire freelancers can use the LinkedIn marketplace.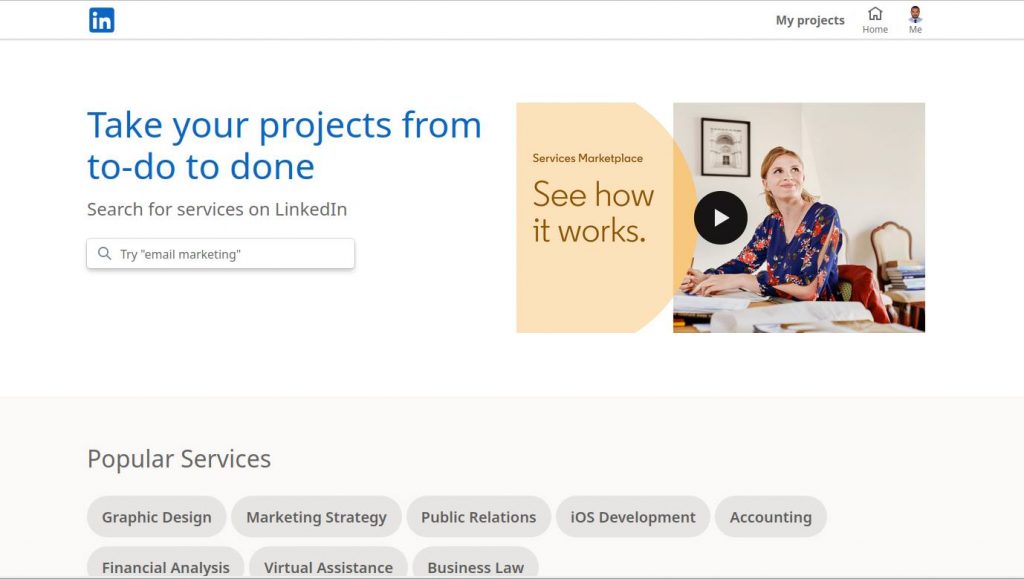 Search for any kind of services that belong to any of these categories.
Accounting
Coaching & Mentoring
Consulting
Design
Events
Finance
Home Improvement
Information Technology
Insurance
Law
Marketing
Operations
Photography
Real Estate
Software Development
Writing
We just did a search for SEO professionals and here is what we got: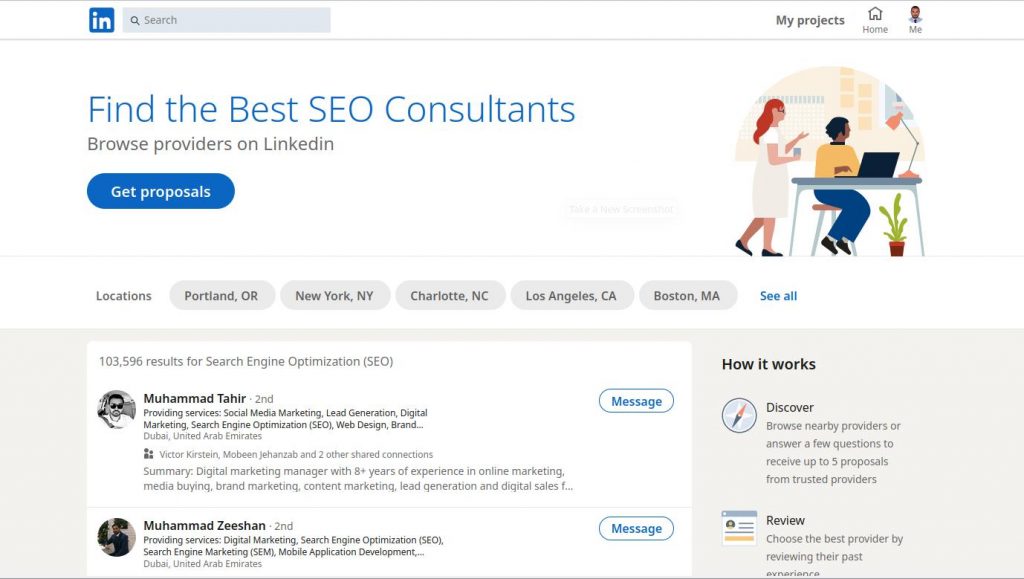 More than 100,000 professionals have already listed themselves here for SEO freelancing jobs on LinkedIn.
These results are ranked based on the people you know first and then others.
So make sure you connect with more professionals on LinkedIn to grab a freelance gig on LinkedIn.
Clients can also review freelancers here. This will be a ranking factor for freelancers in their categories, we assume.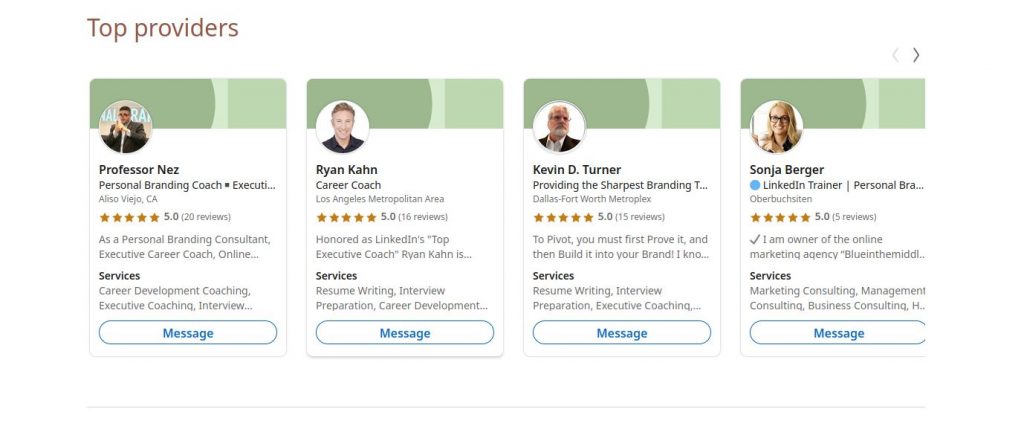 Unfortunately, freelancers cannot review the companies yet. Maybe this feature will be added in later stages.
LinkedIn freelance jobs only connect the company and freelancers. Negotiating prices, payment terms, etc., needs to be discussed outside of this platform.
Get Proposals For Free From LinkedIn Marketplace
Not just search the freelancers on the LinkedIn marketplace, you can also create a project and get free quotes. Many other freelancing marketplaces charge a fee for posting a project on their platform.
https://www.linkedin.com/service-marketplace/create-project/
Creating a project on the LinkedIn marketplace is easy and direct. Just answer a few questions by going to the above link and you will start getting free quotations for your project.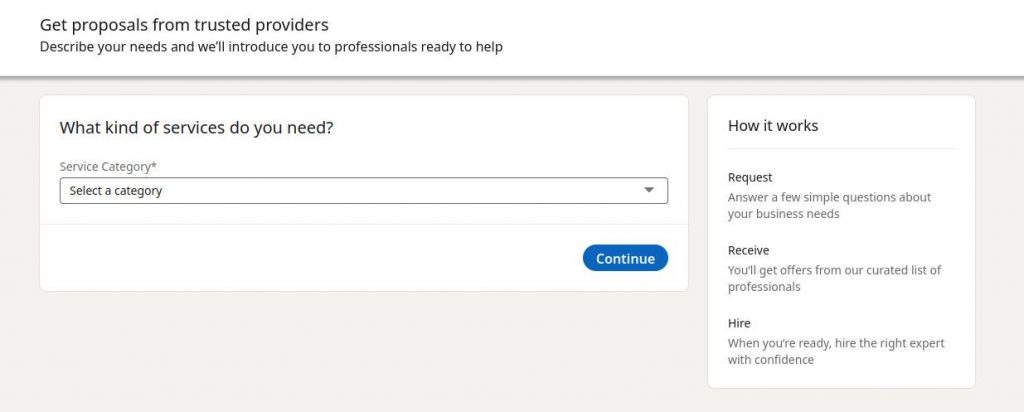 This project created will then be sent to selected freelancers by LinkedIn itself. It will be added to the LinkedIn gig marketplace and open for applications from freelancers.
Final Words
LinkedIn marketplace or services for freelancers is a good move by the company in the right direction. It will enable its users to spend more time on their network finding freelancing work.
Since it is a new launch from LinkedIn, there are still some features that are missing. Freelances cannot search for work. All they have to do is get listed here and hope someone finds them.
LinkedIn talent marketplace for companies is direct and shows a list of freelancers only. Creating a project is simple and not detailed. Improving this part will be helpful for companies that have complicated projects to work on.
The LinkedIn marketplace is a new platform that has just got opened up for all its users. Let's hope things get much easier for both companies and freelancers in the coming months.