A backlink in the SEO world is a link from a post or a page on one website to another. If a website is linking to your content, it means you got a backlink.
These backlinks are also called "inbound links". Sometimes they are also called "incoming links". Carrying a lot of weight in SEO for any website, they are an important part of any SEO strategy.
Today we will share with you a creative way of getting free high quality backlinks. Something which you can gain easily over a course of time.
But before we get to that, let's learn the importance of backlinks in general.
Importance Of Backlinks
Backlinks are important for any website because it shows a "+1" vote in the eyes of search engine bots. It means the other website is vouching for your website.
Backlinks help you get discovered on search engines. When a popular website links to your content, it means you have something important to be shared with others. This is how search engines understand backlinks.
Then the search engines index your content pages, categorize them and show them in search results. A huge help in indexing your website if it is a new website.
Plus backlinks bring you a good amount of traffic from the referring website. A popular website with a huge amount of visitors to its content links to your website means you got something useful to be seen.
And last but the most important benefit of backlinks is search engine rankings. A good backlink can bring your website on top of search results.
Because search engines see backlinks as a vote of confidence for your website. The more votes you have, the more likely you are going to top the search results.
This is why backlinks are the most important part of any SEO strategy. Every SEO specialist designs what kind of backlinks are good for your website based on niche, target country, and other factors.
This is the same thing we do in our SEO link building services. We customize every SEO strategy and link-building plan based on client requirements. Do check out the linked page above to learn more about link building and its related services offered by UnderWP.
How To Get Free Quality Backlinks?
Since we learned how important these backlinks are, it's time to get to the juiciest part. How to get these important free high quality backlinks?
The answer is by creating an image and putting it under a creative commons license. If you don't know what a creative commons license is, then read more about it here: https://creativecommons.org/
Basically, Creative Commons is a system that allows you to use any image, video, audio, etc, under your own name. That means you can add your own "my company name" reserved image to a creative commons image.
All of this is free content available on the internet for anyone to use.
So how do you get a backlink with a creative commons license? Follow these steps:
Create an image or set of images that are most popular or trending or looked for in your niche.
Upload it to sites that offer creative commons licensed images with attribution requests.
Get backlinks from the website which uses your image.
Yes, it is as simple as that. Smart, isn't it!
Let us give you more details about these steps.
Creating a Creative Commons licensed image
Head to Google image search. https://images.google.com
Search for any term related to your niche.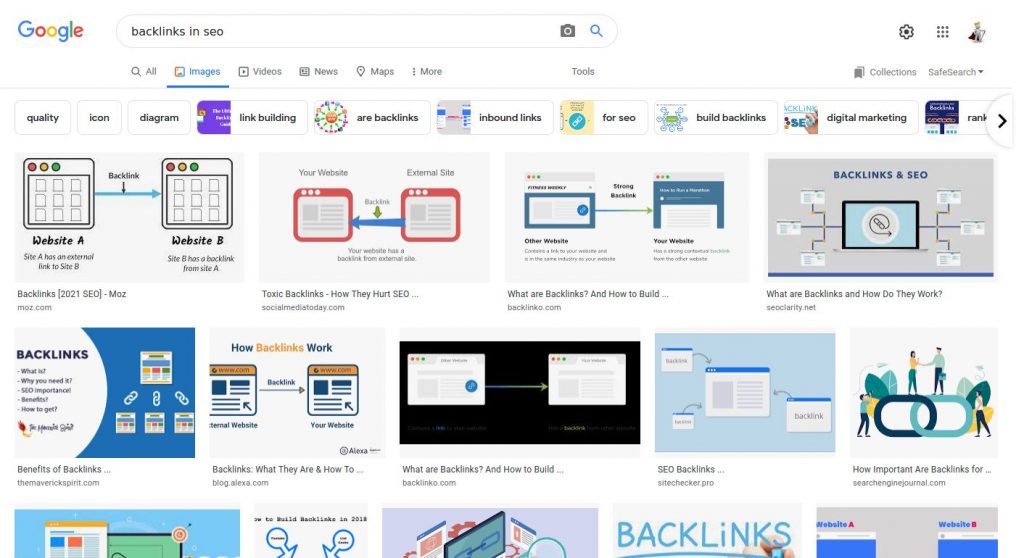 Click on Tools->Usage Rights
Now you see all the images which are licensed under Creative Commons.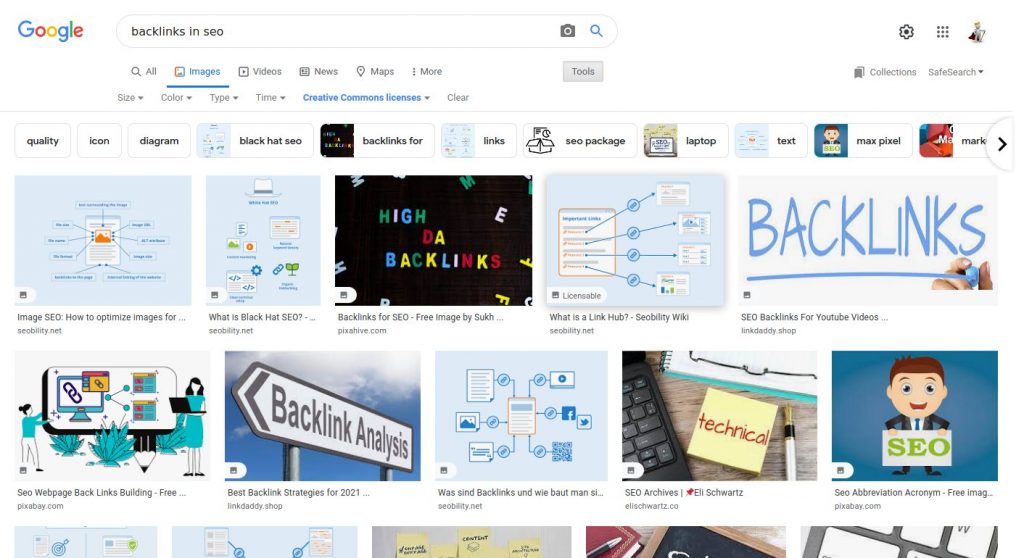 As per Creative Commons terms of use, you are free to download these images and reproduce them with your own name. You are the complete owner of it. You do not have to give a backlink too if you don't want to.
There is also another search engine developed by the Creative Commons organization itself here: https://search.creativecommons.org/Here you can search for all kinds of content licensed under Creative Commons. A handy tool.
Download any image related to your niche and head to free online image editors like Canva. We have discussed more tools like this in another post here: Free SEO Optimization Tools Which Google Loves To Do It
Getting Free High-Quality Backlinks
Now that you have created a new image using a creative commons licensed image, it is time to get those juicy backlinks. Add the CC license to it by going here: https://creativecommons.org/get-cc-savvy/get-a-cc-license/
Head to Google and search for the term "creative commons photos". This will show you a list of websites where you can download free images.
We are not downloading now, we are uploading, so select any one of them and register. Once registered, you can start uploading your images and specify your link which should be linked to if anyone is using your imagination.
Some of these websites prompt users to be kind and link back to the content creator. This is helpful and brings in the most backlinks for your website.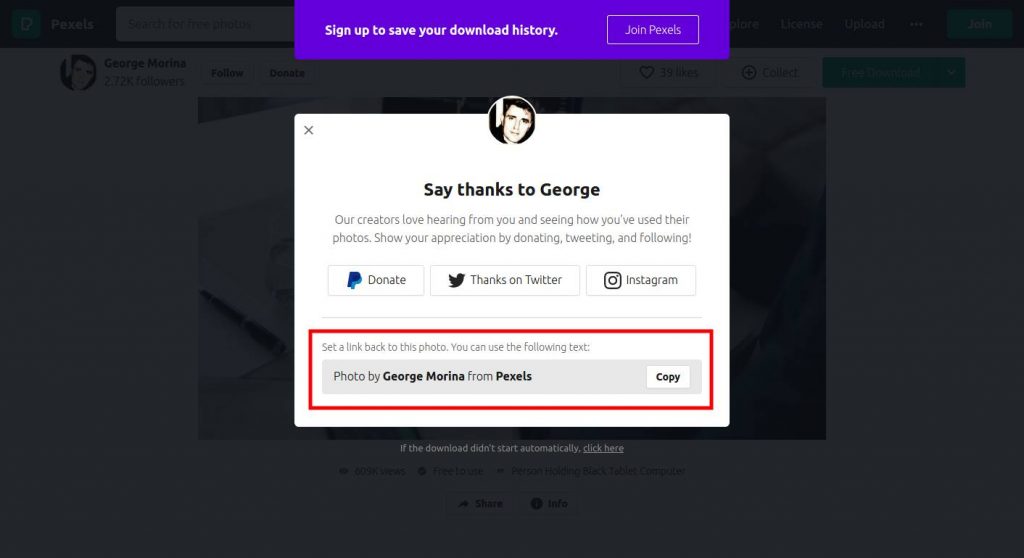 You might think that why would anyone link to a free image? Yes, they do because it is a good practice to link to someone whose content you are using for your audiences.
In our practical cases, we have found that 96% of websites placed backlinks. But I guess this number will vary based on the niche you are in.
Similarly, you can do this on other websites shown by Google and get faster backlinks.
Some of the websites we used are:
There can be many others out there. Research and save it in your SEO notebook to put it for work for your website or your client's business.
Remember, I said this is the creative way, so you have to get as creative as you can to score a good amount of these free high quality backlinks. Our clients have gained tons of these backlinks over the years and gained authority in the eyes of search engines.
That is why we are sure that this method works. Do try it out and let us know in the comments how it worked for you along with your niche.
Let me go ahead and give you one way of being creative to find in-demand images for your niche.
How To Find High Volume Low Competition Images
If you have found an image or term for which you want to build your image but are not sure if it will be used by anyone, then go look in premium stock image sites like Shutterstock, Gettyimages, etc.
Find a premium image related to your term or image you are creating. There will be many attractive ones.
Download the one you like because if you like it chances are others might like it too.
Do a reverse image search on Google and see the number of websites using it. To do that, head to Google images.
On the main search page of Google images, there is an option to upload your image.
Click on the camera icon and you can either paste the URL of the image or upload it directly to Google for reverse image search.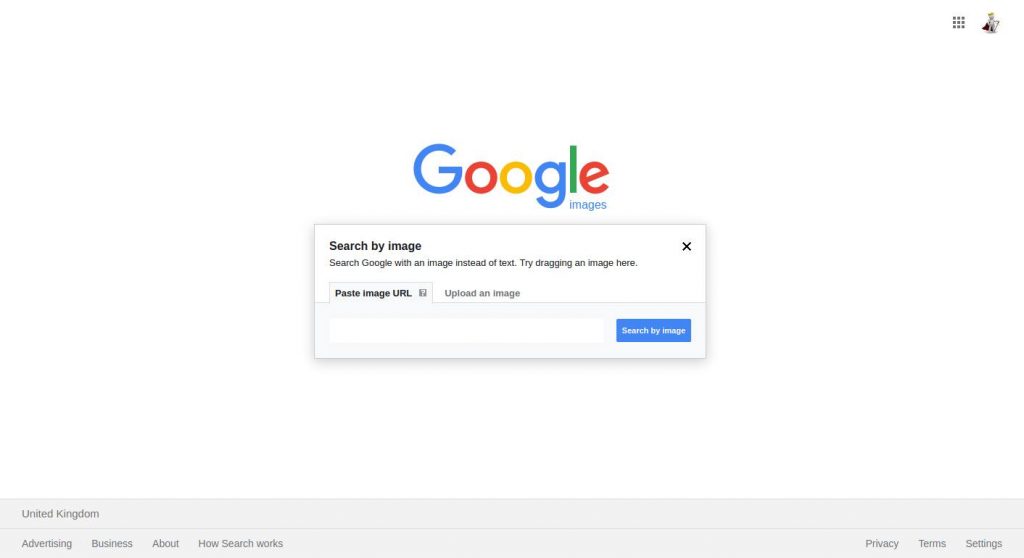 If more of the websites are using it, then it means that many people have bought this premium photo. So the chances of people looking for a similar free image with creative commons license is high too.
I guess you have got the idea of where I am directing. Head to your favorite design tool and create a similar image of this premium stock photo and start uploading to the websites which give out creative commons licensed images.
Now time to get creative and find more ways like these and gain free high quality backlinks.
How To Check Backlinks For Your Website?
There are many free tools out there that can help you check backlinks for a page or domain. But here we will be discussing two free tools which we use ourselves.
The most popular and used SEO tool. Google Search Console gives you the information read and saved by Google for your website. It is an important tool that shows the status of your website and links coming to it.
If your backlink is good and shows up in GSC, then it means that Google has counted it. The value of that backlink cannot be said, but it's a positive sign if you see it here.
To find these links, Login to your Google Search Console and click the "Links" option in the left column.
On the Links page, you can see two sections
External links: This shows you the pages which have got backlinks from other websites.
Internal links: This shows you the pages which have got backlinks from other pages of your website.
Each of these sections again got sub-sections. The external links section has got three sections which are the most important ones.
Top Linked Pages: This shows the list of pages with numbers who have got most backlinks.
Top Linking Sites: This shows the list of sites and the number of backlinks from each to your website.
Top Linking Text: This section shows the most used anchors when backlinking your website.
Check out all these sections to gain valuable information about the backlinks of your website. These are vital to building a successful SEO campaign.
Note that you can find backlinks of the websites which you own using GSC. Websites that you do not own cannot be checked here.
This is the next popular tool for SEOs. It is very simple to use. Just enter the URL and you can find all its backlinks.
You do not have to own a website to check its backlinks in this tool. Very useful for checking your competitor's backlinks.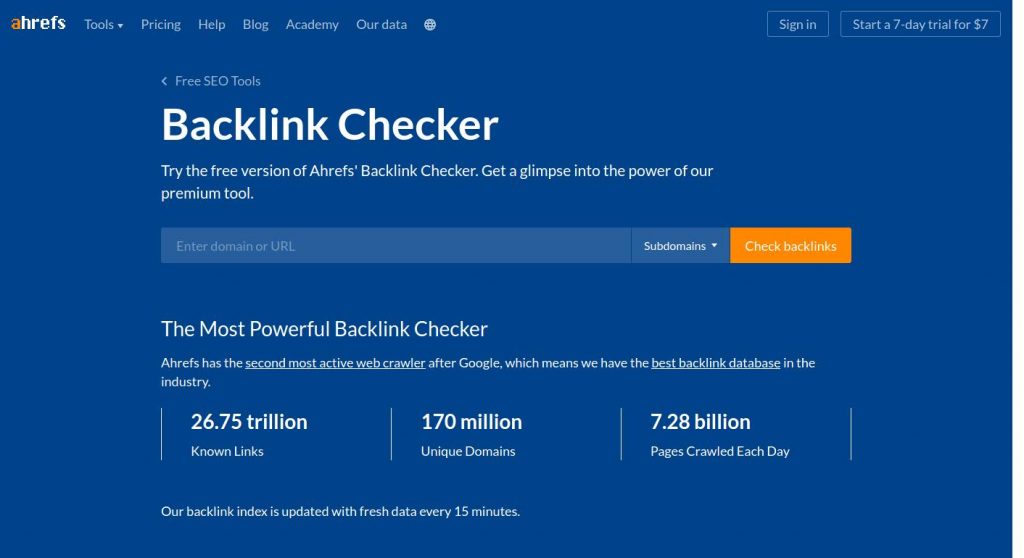 This tool shows some more information than GSC. Which becomes quite helpful in understanding the value of your backlinks.
For each backlink, you can see the following details:
Referring page: The page which is giving you the backlink.
Domain Rating: This is the domain rating as per Ahrefs which is linking to your site.
URL Rating: This is the rating given to the page where the backlink is found for your website.
Traffic: This is the amount of traffic the linking page is getting monthly.
Anchor and backlink: A snippet of the text and anchor used in backlinking your website.
Plus there are other tabs on the same page to see the top 5 pages and anchors used in backlinking to your page or post. Like GSC but more detailed.
This tool might look a lot similar to GSC but it showcases information with more details. They might not be accurate but you can count them to get approximate values.
Final Words
Like I said earlier, the more creative you get with this idea, the more backlinks you can generate. It can take some time to generate backlinks this way. But you get some solid authority backlinks with this method.
Building good backlinks is a time-consuming process. So be patient and see your backlink profile grow with this method.
There are many ways for getting free high quality backlinks out there. We tried to cover only one for now. Subscribe to our blog to learn more about these kinds of tips for your SEO strategies.